Mormons Ambivalent about Romney Spotlight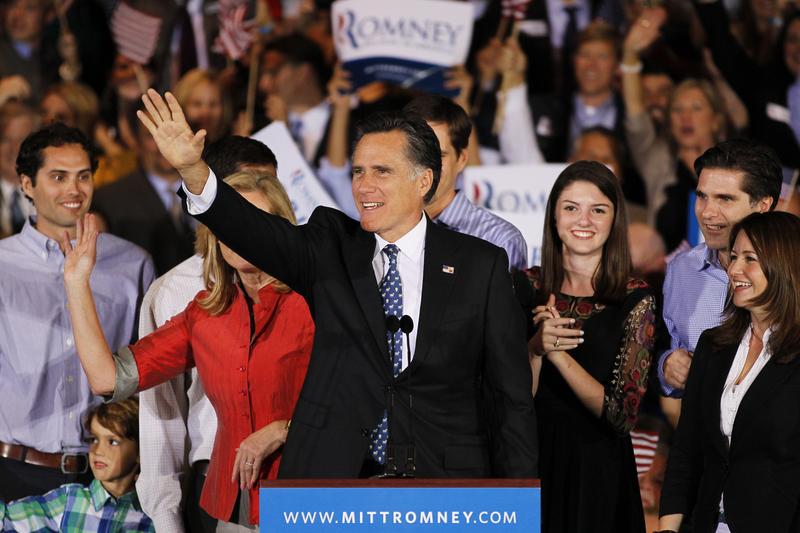 Former Massachusetts Governor Mitt Romney won the Republican caucus in Nevada yesterday by about 25 points, helped in part by Mormons, who made up more than a quarter of the voters who turned out.
This big win cast against renewed scrutiny of Romney's silence about his faith. Frank Rich castigated Romney's silence on his faith in last week's New York Magazine. "Romney's very public persona feels like a hoax because it has been so elaborately contrived to keep his core identity under wraps," Rich wrote in the article, titled "Who in God's Name is Mitt Romney?"
Over the weekend at Columbia University, scholars and students — Mormon and not — were asking the same question. But the broader concern was what Romney's presidential run means for Church of Jesus Christ of Latter-day Saints, and more than a few described deep ambivalence about this new spotlight.
"There's this contrast between Mormons inherent desire to be mainstream, but also our love of being peculiar," Darren Jackson, a Mormon law student at Columbia concluded at the end of the two-day conference on Mormonism and American politics. "We both are hesitant when Mitt Romney gets questioned about his faith because we don't want him judged by that, but we love the fact that people are talking about us. Most Mormons won't go to see the Book of Mormon, but we love the fact that there is one, you know?"
This gathering was small, less than 100 people, but the assembled speakers and participants described a pervasive uncertainty about this "Mormon Moment" of greater exposure and higher scrutiny.
Six in ten Mormons told Pew last month that they feel like the American public is misinformed, and two-thirds said they don't feel like they're viewed as part of the mainstream in the U.S.
"I've actually been very surprised by how little people very educated people on the East Coast know about Mormons," said Lane Anderson, a Mormon who moved from Utah to New York and now teaches English at Yeshiva University. "I do think the prejudice, it feels real. It definitely feels real in intellectual circles sometimes."
Anderson name-checked Christopher Hitchens in particular, who called Mormons "one of the most egregious groups operating on American soil" in Slate last October.
"Yeah, well he's dead," someone yelled in the crowd.
"Take that, Christopher Hitchens," she replied to laughs.
In this conference room at Columbia, this felt like a crowd of allies, insiders. Over and over again, the assembled theologians, scholars, and practicing Mormons described that remarkable sense of community within the Mormon church.
Deeply personal sharing – testimony – is a hallmark of Mormon spiritual practice. And the central tenet in that sharing is the belief that the Mormon church is the one true church.
So Mitt Romney's personal reticence to publicly detail his faith is not an extension of an overly cautious personality or callous strategy. It has its roots deep in Mormon practice, argued Russell Arben Fox, a political scientist at Friends University, a Christian college in Kansas.
"Mitt Romney is able to speak amongst his congregation about how he knows certain things are true. And that's an essential religious language for him. It's an essential religious language for me," Fox said. "It's what we were brought up with."
"We haven't figured a way to comfortable know how to talk inside of church and outside of church in the same way."
In both the 2008 and 2012 presidential cycles, Mitt Romney has emphasized his commitment to God and to his family when talking about this faith. But he's kept it broad and very nonspecific. For example, he gave what was billed as a major speech about religion in America, and he mentioned the word Mormon just one time.
"My church's beliefs about Christ may not all be the same as those of other faiths. Each religion has its own unique doctrines and history," he said. "These are not bases for criticism but rather a test of our tolerance."
And he firmly rejected the idea that he owed American voters more details about his personal faith.
"There are some who would have a presidential candidate describe and explain his church's distinctive doctrines," Romney said, and drew sustained applause with this: "No candidate should become the spokesman for his faith. For if he becomes president he will need the prayers of the people of all faiths."
Romney gave that speech in December 2007, before the Mormon church drew ire from the left for its financial backing of Proposition 8 in California, the ballot measure that prohibited gay marriage in the state. And back then, Romney was the only Mormon running for president Before Jon Huntsman bowed out, 2012 had two.
American voters' attitudes about a potential Mormon president have stayed largely consistent. Gallup found last June that about one in five Americans reported that they would not vote for a Mormon for president. That's been about the same since they starting asking the question in 1967 – when Romney's father George Romney was preparing a run for the Republican presidential nomination.
On the campaign trail, most of the focus this cycle has been the evangelical response to Mormonism, including in my interviews with voters in South Carolina. The Gallup poll showed that non-Christians and Protestants equally reluctant at 22 and 23 percent respectively. (Catholics were more comfortable — only 16 percent said they wouldn't back a Mormon.) And more Democrats than Republicans said they'd withhold their vote.
But if history's any guide, Romney may have to come up with some clearer talking points on what exactly he believes.
"I think he's handled the religion question all wrong," said Randall Balmer, a professor of Religious History at Barnard. "His stock answers are, I'm not a theologian, I don't speak for my church. And I think unfortunately for him politically it kind of reinforces the idea that he is evasive, kind of a moving target."
He suggested Romney look back at candidates like Joe Lieberman, who opened himself up to the most basic of questions about his observant Jewish practice when he was the Democrat's Vice Presidential nominee in 2000. He said voters need to understand, or doubts can fester about Romney's moral makeup which is what religion in presidential politics has really been about in the post-Watergate era.
"What we want to know is whether our presidential candidates are good, honest, decent people. We don't know how to ask the question," Balmer said.
Instead, voters and the media press for details about personal faith and religion.
And to Balmer, that's not the only proxy battle going on this year.
"It's my impression that Mormons in America view Mitt Romney's candidacy as a kind of proxy for their own acceptance into American society," he said. "If American voters accept Mitt Romney, that they will be in some way validating [their] place in American society."
Romney's Faith in America speech - December 6, 2007