Last Chance Foods: Rooting for Rutabagas
Rutabagas may seem like one of winter's more homely vegetables, but chef Jesse Schenker of Recette says they're as versatile as a potato, and even more delicious.
"You could literally swap out any potato recipe with a rutabaga and it would be even better," he said. "It's so underutilized, and maybe people are just afraid of it. "
Schenker notes that just name — which is derived from the Swedish word rotabagge, or "root bag" — sounds foreign and strange. Also, many people tend to confuse rutabagas with turnips, and they're referred to as "Swedish turnips" in some European countries.
"It's actually a completely different vegetable," he said.
Rutabagas also have a noticeably different taste. They are sweeter than radishes and turnips, but not as as sweet as parsnips or carrots.
In the kitchen, Schenker prizes their versatility above all. One aspect of that is their bright yellow color.
"From a chef's stand point, and having a restaurant and wanting to make things visually appealing, you put this bright yellow puree on the plate with a piece of delicious roasted fish and some bright vegetables, it's going to look a lot better than just a muted white," he said. "You know, stain them with a little beet juice, or a little bit of carrot juice ... and now your rutabaga's got a little funky Grateful Dead tie-dye thing going on."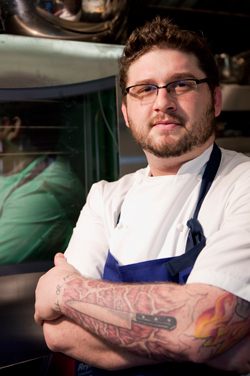 In addition to color, another aspect that Schenker (pictured right, photographer Albert Cheung) touts is the vegetable's functional versatility. "The fact that they're so porous is great," he said. "It's one of those things that you can almost treat as a piece of braised meat."
Rutabagas can be roasted and braised, or just braised in a flavorful cooking liquid, which it will then absorb. At Recette, Schenker currently serves rutabagas with wild striped bass. He cooks the rutabagas in seafood stock, stores them submerged in the stock, and then lets them cool in the refrigerator. The vegetable then picks up the flavor.
Schenker's uses for rutabagas seem endless. He says that the root vegetable can also be peeled, quartered, sliced thinly on a mandolin and then lightly pickled in vinegar, olive oil, herbs and seasonings to make a crunchy, healthy salad. 
Peeling is necessary, though, since oftentimes rutabagas late in the season have been waxed.
"They wax it so that it holds up on the shelf in storage; it doesn't lose moisture," explained farmer Bill Maxwell, who grows rutabagas in Changewater, N.J. 
Below, try Schneker's easy recipe for making a quick rutabaga side dish or snack at home.
Baked and Broiled Rutabagas
Serves 2-3 
1 large rutabaga
1 clove garlic, minced
1 sprig fresh thyme
2 Tbsp extra virgin olive oil
1/4 cup Parmesan Reggiano
Kosher salt to taste
1. Preheat oven to 350F.
2. Peel large rutabaga and cut into 1.5 inch cubes.
3. Toss in mixing bowl with olive oil, thyme and garlic.
4. Spread evenly on baking sheet .
5. Season with salt.
6. Bake for 12- 15 minutes, until fork tender.
7. Sprinkle parmesan regiano on top.
8. Turn oven to broiler and finish for 3-5 minutes until there is a golden brown crust.
Serve alongside any meat or fish or eat by itself as a snack.