Police Commissioner: No Struggle Before Fatal Shooting of Unarmed Man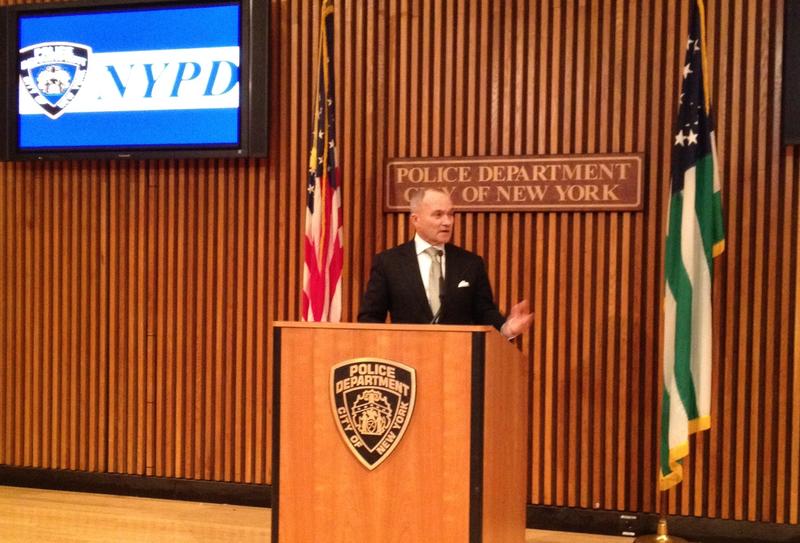 Approximately 100 Bronx residents held a vigil and then marched to the 47th Police Precinct Friday night in the neighborhood where a police officer fatally shot 18-year-old Ramarley Graham. Earlier in the day Police Commissioner Raymond Kelly said a supervising sergeant and the officer who fatally shot the unarmed Graham had been placed on restricted duty.
During the vigil and march, people held signs that read "black men: endangered species" and "stop killing our kids." 
Sharla Buchanan lives on 229th street, across from the Graham family. "I'm here because my neighbor got killed by a police officer in his own home. I'm angry because I live on this block. I got kids, nephews, uncles and their life is in danger by the police. They're ki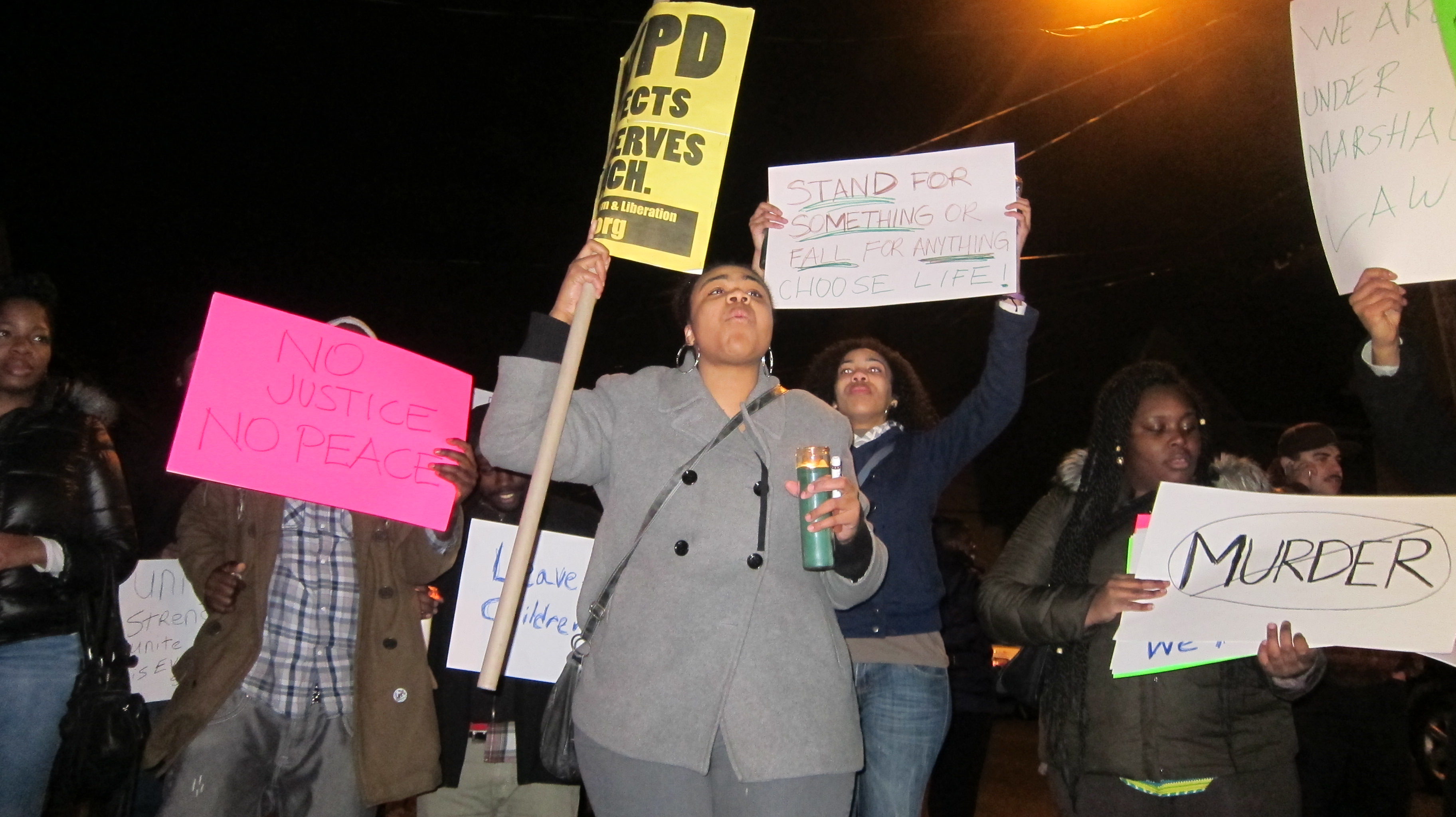 lling us."
Juan Tavares, 26, was one of the marchers that went to the precinct demanding answer. He said young black men can't trust the cops so he doesn't blame Graham for running from them. "I would run from the police, all of us would run from the police, " he said. "I could have been out here with nothing in my pocket and they give me the vibe that they're coming for me and I feel like I have the right to get away, I'm getting away."
(Photo: Community protestors march to 47th precinct. Kathleen Horan/WNYC)
Police say the officer shot Graham in his home Thursday after a foot pursuit.
"We obviously have some real concerns, and until we know what really happened there's not a lot else I can say," Mayor Michael Bloomberg said Friday.
The shooting occurred at about 3 p.m. Thursday in the Bronx. Plainclothes officers wearing NYPD raid jackets were there investigating street corner drug dealing, department spokesman Paul Browne said.
The suspect, Ramarley Graham, took off on foot and rounded a corner toward his home, police said. An officer pursued him into the second-floor apartment, police said.
The officer fired one shot at close range from his 9mm semiautomatic handgun, Browne said. The victim was struck in the chest and collapsed inside the bathroom. He was pronounced dead at a hospital.
Kelly said that a bag of marijuana was found in the home. He also said that Graham "appeared to be armed," but no weapon was recovered.
Browne said two other police officers and family members of the victim, including his grandmother, were inside the apartment at the time of the shooting.
The name of the 30-year-old officer was not released. He joined the police force in 2008 and had not been involved in any previous shootings, Browne said.
Investigators were interviewing potential witnesses, and the shooting remained under investigation, he said.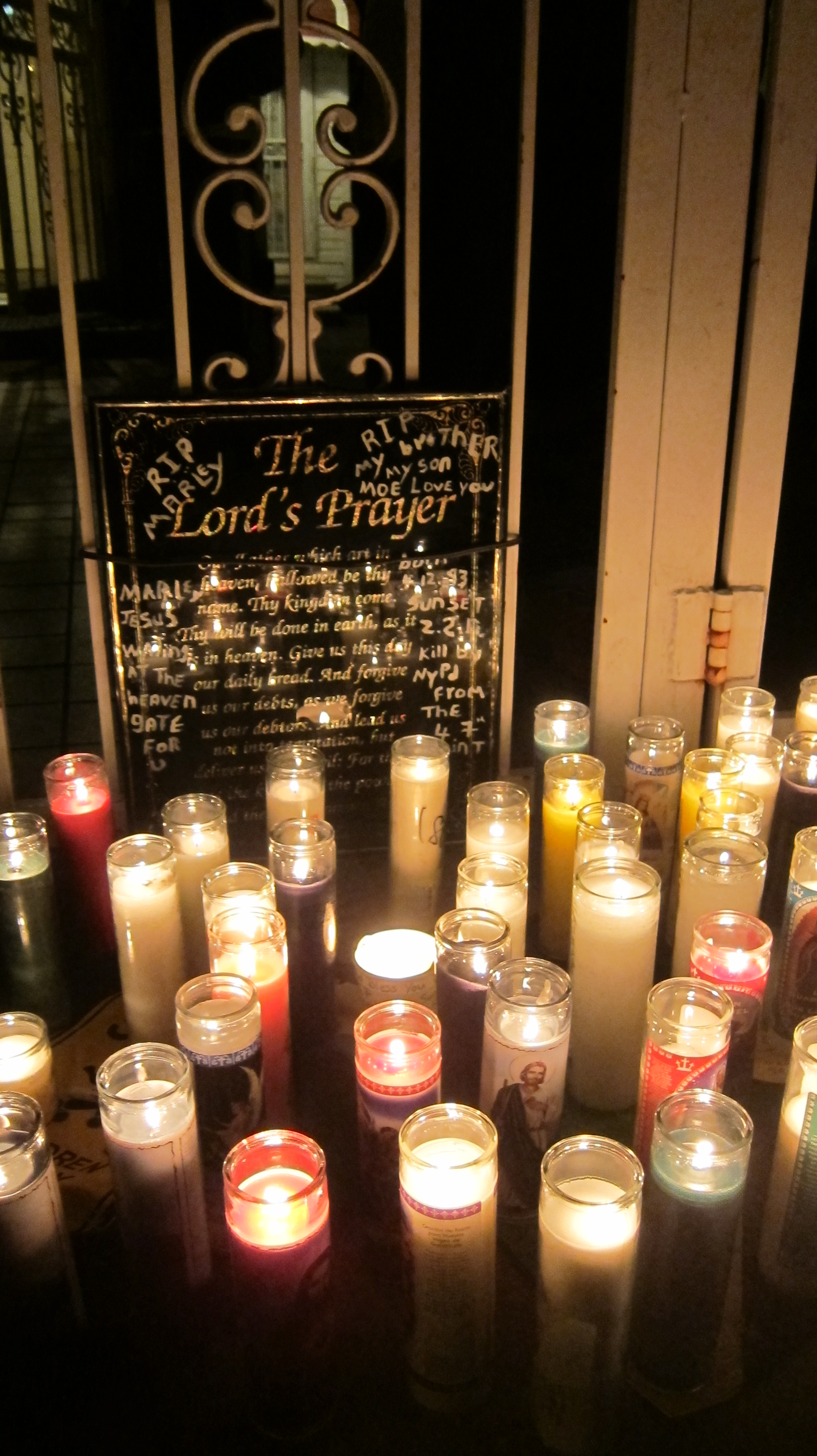 The victim's distraught mother, Constance Malcolm, said nobody deserves "to get shot like that, in your own house."
"Everybody's kids get into trouble," she said. "He smoked a little weed like all the other young kids do, and that's what he had on him when they were chasing him."
When asked if her son had a gun, she said, "He had nothing."
(Photo: Memorial outside Graham's home, where he was shot. Kathleen Horan/WNYC)
The shooting of Graham was the third time in a week that an NYPD officer killed a criminal suspect.
On Jan. 26, an off-duty NYPD officer shot and killed a carjacking suspect during a shootout in Brooklyn. And on Sunday night, an off-duty detective shot and killed a 17-year-old after police say the teen and another suspect hit the officer with a cane and tried to rob him in Brooklyn while he was walking to catch a subway to work.
In a fourth shooting involving the NYPD on Tuesday, a gunman shot an officer in the head after the officer responded to a report of shots fired in Brooklyn, police said. The shooter was caught about two hours after and was charged with attempted murder, they said.
The wounded officer is expected to recover.
Kelly said that police shootings tend to occur in "clumps," but did not believe there was any "connectivity" between the officer who got shot and the Graham shooting.
Bronx Borough President Ruben Diaz Jr. said in a statement that officers "must be better trained to deal with the communities they work in, to better respect the lives of those they are charged with protecting and serving."
"We can no longer tolerate our young men and women falling victim to excessive violence at the hands of our police, or worse yet," he said, "lose their lives unjustly."
Speaking on his weekly WOR radio show Friday, Mayor Michael Bloomberg said there were a "surprisingly few" times that police officers draw their guns and shoot.
With reporting from Ailsa Chang, Bob Hennelly and Kathleen Horan