Donald Trump Eyes NJ Golf Course as Site for Cemetery Plot
For a man who seemingly has everything, there is one thing that has eluded Donald Trump: he wants to be buried on his favorite golf course in New Jersey.
Trump, a New Yorker, owns the 516-acre Trump National Golf Club Bedminster in the rural, Central New Jersey town that is home to rolling hills, sprawling horse farms, colonial-era towns and quaint wooden framed buildings.  But it's not easy to get a cemetery built -- and especially not in one of the toniest communities in the country.
"It's not Atlantic City in any way shape or form," said Ed Russo, a consultant for Trump who is coordinating the cemetery plans.  
Russo got a green light from the Bedminster town council last August, the first step in a long process of local and state approvals.  The current plan now calls for a cemetery that would be open to any member of the golf club  -- who pay about $200,000 to join and another $20,000 in annual dues.
There are three proposed locations, two of which are on the golf club property and the third is on adjacent property owned by Trump.
"If you have everything in the world, where would be that place you'd most like to be identified with going forward," Russo said.  "His point was, this is a place where people respect each other."

Trump has proposed different plans to be buried there over the past decade, Russo said. The Donald's proposal for a mausoleum and chapel were turned down.
More recently, the town council negotiated a deal that will allow 500 graves on the site. But Trump will not be allowed to build anything on property he owns adjacent to the golf club, and visible from the road.

"If he wants a mausoleum and he wants to do it for himself,  and he wants to put that on the golf club proper, I don't have a problem with that, " former town council member Sally Rubin said. "It's a large piece of property and he has a lot more flexibility there. But I did not want it on a scenic rural road in our community."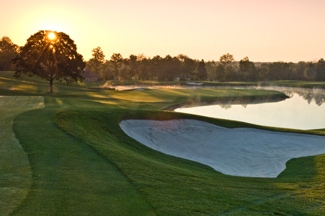 Trump could still put his mausoleum right alongside his favorite fairway, if he can get approval from New Jersey's State Cemetery Board.  
(Photo: Trump National Golf Club Bedminster in New Jersey. Courtesy of Trump National Golf Club Bedminster)
"I just think cemeteries have their place. You have a golf course, and I don't think elite membership should give you the right to be buried there either," resident Anne Melitski said outside the local supermarket. "That's always been a really beautiful area, and I just think the cemetery would bring it down."

But the proposal drew praise from Governor Chris Christie's spokesman, Michael Drewniak, who told the Star Ledger newspaper that Trump can be buried anywhere.
"I guess we should be honored that he's considering New Jersey," Drewniak said.