City Holds First Bike Share Station Planning Workshop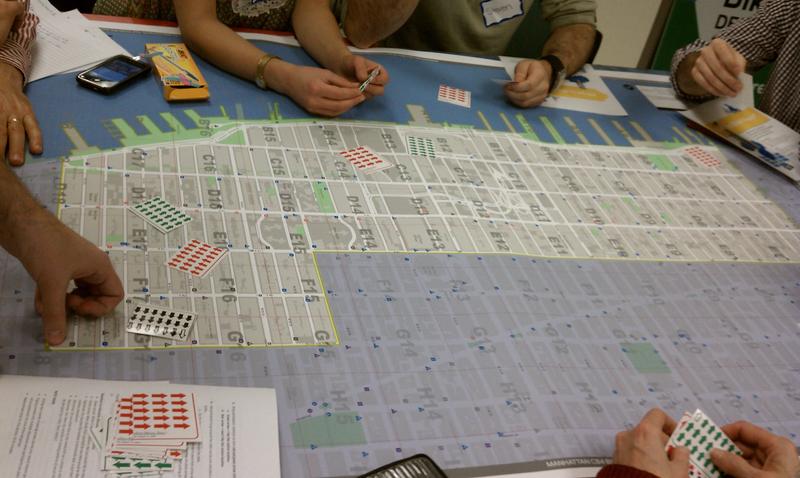 Dozens of people gathered at the city's first bike share program planning workshop at in midtown Manhattan Tuesday night, poring over maps of Manhattan and carving out locations for some of the 600 share stations to be installed before the program begins this summer. 
Members of Community Board 4 — which stretches from 14th Street to 59th Street on the West Side — were shown a presentation by city Department of Transportation employees, who had already done some vetting of station locations. The DOT said it has already held 100 meetings across the city about the program, which will bring 10,000 bikes into the city when it kicks off in July.   

"We have technical criteria," said DOT policy director Jon Orcutt. "You're not going to put one that blocks a fire hydrant. You're not going to block a narrow sidewalk."

He added: "You have to go and plan each single one of these."

So dozens of people gathered around six separate tables and scrutinized the map, block by block.

Ben Donsky, the vice president of the Chelsea Improvement Company, put a red arrow on the map at 14th Street and Ninth Avenue.

"This specific site, I think, is very challenging," he said, noting there was already scant space for pedestrians to relax, and that the sidewalk there is too narrow. "However, I think there are probably a dozen great locations right nearby."  

Richard Gottlieb, who lives on West 44th Street, put a black arrow on West 57th Street: "West 57th Street is a very busy area, and it would strike me as a good place to have a stop. It's that simple."

Others were thinking more macro. "I really like the idea of using the bike share as a means of expanding the transportation network," said Tyler Gumpright, who lives in Jackson Heights, Queens. He'd like to see stations "both close to existing transit options, like the subway, and putting them a little bit further away from existing transit."

Those long cross-town blocks between Eighth Avenue and the waterfront were also on the mind of Steven Collado, who works in Herald Square. "People will come in from the subway and want to get to say all the way down to the Hudson River or even 11th Avenue, they'd have a long walk," he said. "If they had a bike share, they would definitely take advantage of that."

Orcutt said the next step is to take all the public feedback and "synthesize it into a recommendation, and then come back to community boards, business improvement districts, electeds, and get further input, make some further adjustments."

He said the city would have a final station siting plan by early summer.