Romney Wins Fla. Primary as Returns Show Big Lead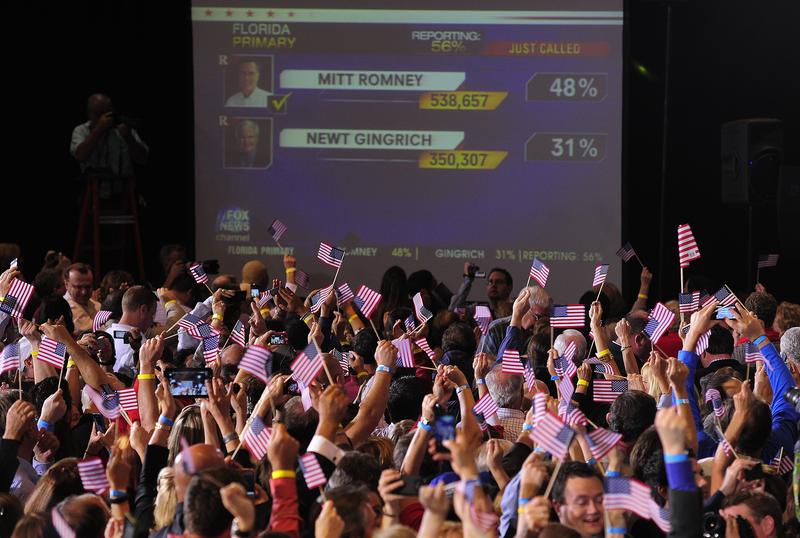 Mitt Romney has won the Florida Republican presidential primary.
The former Massachusetts governor has taken a commanding lead over Newt Gingrich in the winner-take-all balloting, which is worth 50 delegates at the party's national nominating convention.
With nearly half the precincts counted, Romney is ahead 47 percent to Gingrich's 31 percent.
Romney, talking unity like a nominee, said he was ready "to lead this party and our nation" - and turn Democratic President Barack Obama out of office. In remarks to cheering supporters, the former Massachusetts governor unleashed a strong attack on Obama and said the competitive fight for the GOP nomination "does not divide us, it prepares us" for the fall.
"Mr. President, you were elected to lead, you chose to follow, and now it's time to get out of the way,: he declared.
The former House speaker earlier vowed to stay in the race regardless of the outcome in Florida. Former Pennsylvania Sen. Rick Santorum had 13 percent, and Texas Rep. Ron Paul 7 percent. Neither mounted a substantial effort in the state.
The winner-take-all primary was worth 50 Republican National Convention delegates, by far the most of any primary state so far.
But the bigger prize was precious political momentum in the race to pick an opponent for Obama in a nation struggling to recover from the deepest recession in decades.
About half of Florida primary voters say the most important factor for them is backing a candidate who can defeat President Obama in November. That's according to early exit poll results conducted for The Associated Press and television networks.