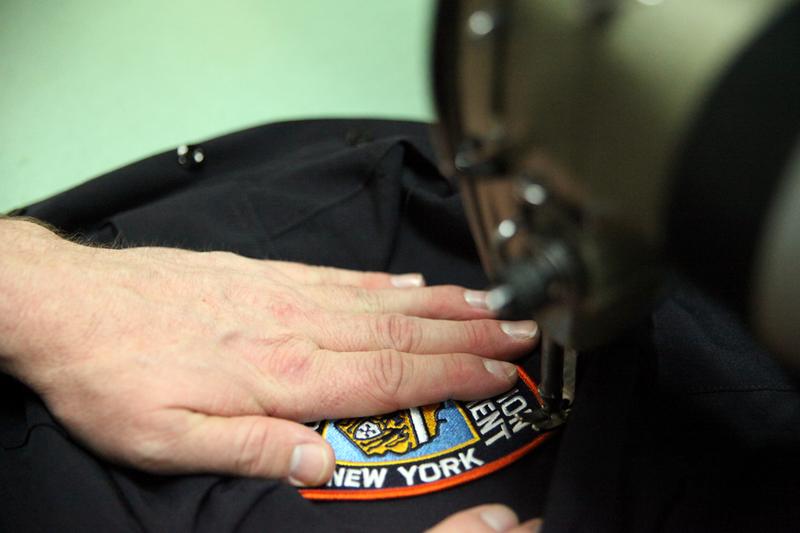 New York is a city of specialists from foodies to academics, laborers to shopkeepers. Every Wednesday, Niche Market will take a peek inside a different specialty store and showcase the city's purists who have made an art out of selling one commodity. Slideshow below.
AD Meyers Uniforms
63 Flatbush Ave
Brooklyn, NY 11217
Police officers adhere to a strict code, and it includes what pants they put on in the morning.
The men in blue have slim pickings, but what wardrobe options they have can be found at AD Meyers Uniforms on Flatbush Avenue in Brooklyn.
This is where — strictly with an NYPD ID — police officers can suit up with new cargo pants, jackets, blue turtle necks, bulletproof vests, gun holsters, belts, warm gloves, flashlights and everything that hangs off their leather belts — even handcuffs, which have an annoying tendency to get lost during the transfer of a prisoner at central booking. Plus, some cops like to keep extra pairs. "Sometimes you need two or three cuffs to cuff one guy," said Kevin Winters, 36, the co-owner of AD Meyers, a family business run with his brother, Joe, and their father, John.
There's one exception to outfitting a cop at Meyers: "No guns and no ammunition. Too many licenses, too many fire proof safes, too many problems," Kevin said.
The store carries uniforms for a variety of city and federal agencies, including Traffic, School Safety, Postal, Sanitation and Corrections, but the vast majority of clients are NYPD, simply because of the size of the force. With a work force of approximately 34,500, it dwarfs the other agencies.
As a result, the store depends heavily on the hiring cycle of the NYPD. The upcoming year is looking good with almost 900 new recruits sworn into the academy this January. Most of the store's business comes from these newbies, who spend their approximately $1000 uniform allowance at the beginning of their training and at graduation.
Of course, all officers need replacement goods, so the department gives them a yearly uniform allowance. "If they're fighting in the street with a criminal and the criminal rips their shirt they're going to need a new shirt," Joe said. "We've got a few of them come in like that."
Sure enough, on Friday, Markell Green, an officer from the 32nd precinct, was picking up a new pair of blue pants. "When I was a recruit I came here about 25 pounds ago, so over the course of the years I've had to buy some new equipment," said the six year NYPD veteran.
Not just anyone can sell a police uniform — you need to be on the authorized vendor list.  When Kevin and Joe's father bought the business from an older couple in 1988, the idea was that it would be stable. There will always be cops, and they will always need uniforms. But Kevin said that they had to lay off employees over the past few years, because of the trickle down effect from budget cuts at the NYPD.
To expand their customer base, they also stock novelty NPYD apparel, which you don't need an NYPD ID to purchase. In fact, as of a new NYPD order from Commissioner Ray Kelly those with an NYPD ID are not allowed to purchase T-shirts, mugs, thongs or any item with a police logo outside of their uniform.
The Police Department itself has a store at headquarters, but the Winters maintain their quality is better. (There may be one authorized uniform — but there are different manufacturers.) AD Meyers does custom tailoring too — hemming all pants, embroidering names onto jackets, and sewing patches on shirts. For Trina Arnold, an ex-NPYD officer now working in corrections, the service and quality is why she keeps returning. She comes for a new set of pants every six months. "I like how they fit. I like how it makes my body feel. Even though I'm in uniform I still feel feminine," she said while looking in the full-length mirror.
As might be expected, Kevin and Joe have their fingers on the pulse of what's happening inside the NPYD through talking to customers. Plus, Kevin's wife is a cop — though he did not meet her in the store. Does she purchase her uniform at Meyers? "Of course!" Kevin laughed. "Where else would she go?"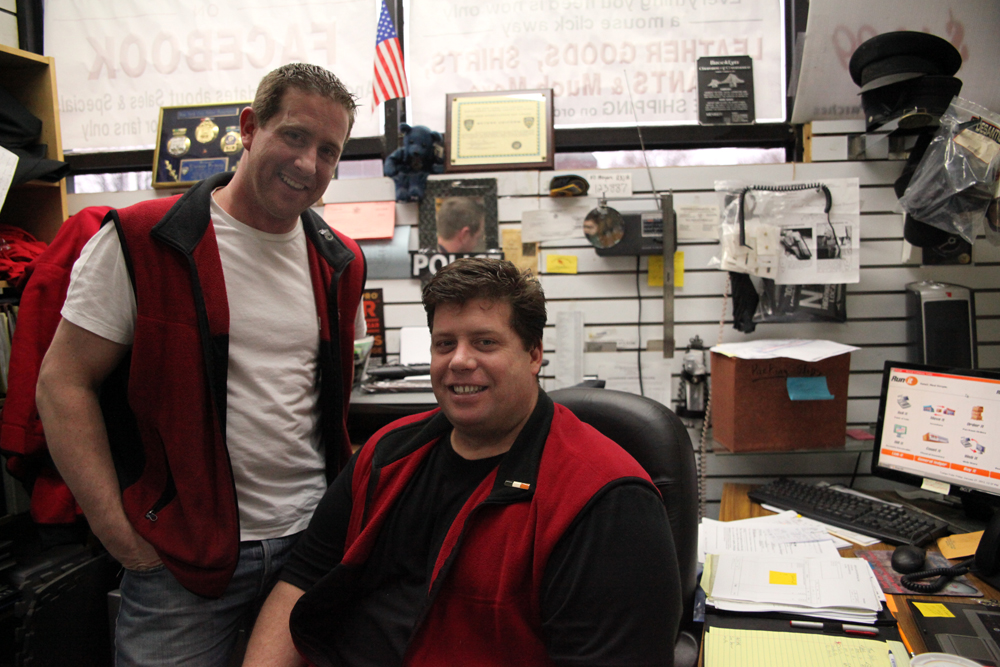 Kevin Winters (left) and Joe Winters (seated), owners of AD Meyers Uniforms

Interview with Kevin Winters.
The agencies don't supply their workers with uniforms?
No. In New York, they only ones who gets supplied their own stuff would be the Fire Department. They have a Quartermaster. Everyone else, Sanitation, even Federal Correction, the Bureau of Prisons, Postal, they all get what's called a uniform allowance — they get money added on to their check at the end of the year. Some are $500-$700, the cops get like $1000. That's supposed to allow them to get all the uniforms. It's given to them in the second week in December, the second check in December, so it's kind of tough for them to go out in December and say, 'let me buy my uniforms for the year.' Because it's Christmas time. It goes towards presents. And then when they need stuff then they go out and buy it.
Why would somebody come here instead of the Police Department store?
The quality and service. A lot of times the problem with the lowest bidder is whoever can make it the cheapest and cut corners, and that's what happens.
Does the business fluctuate depending on how many people are being hired by the police department?
For the most part, yes. Because the new hires, those are the people that buy the most, they're the ones that don't have anything. When they hire new police it's usually new business for us. Granted there are cops and they're out and they lose stuff and they tear a pair of pants or need a new shirt and so on and so forth, but the new recruits are what a lot of the stores like this rely on.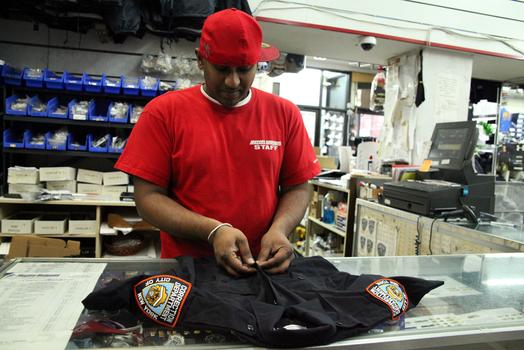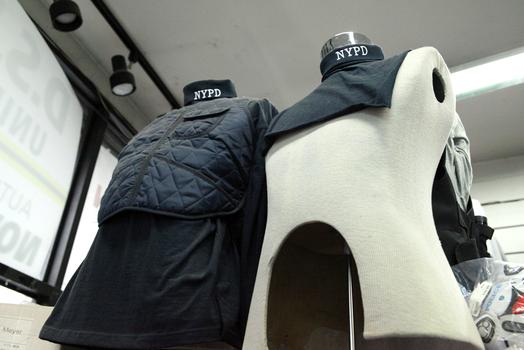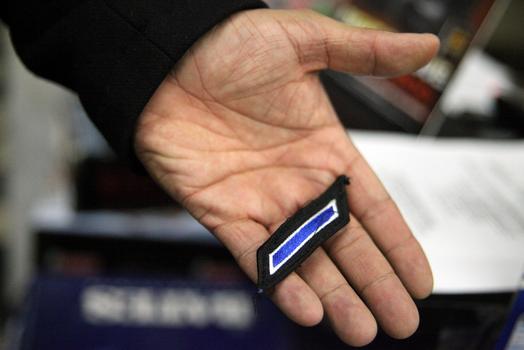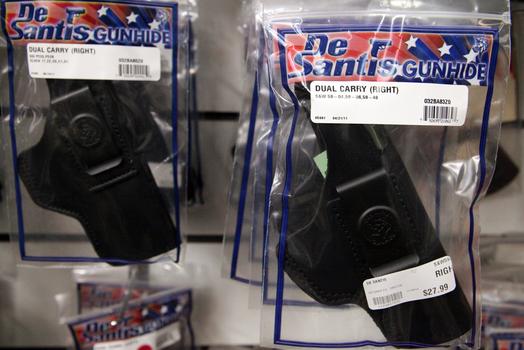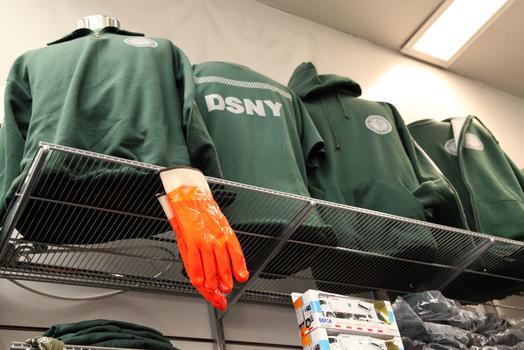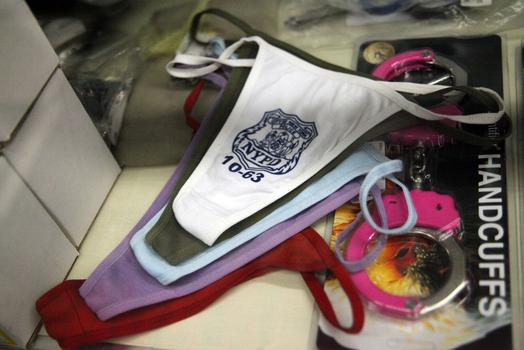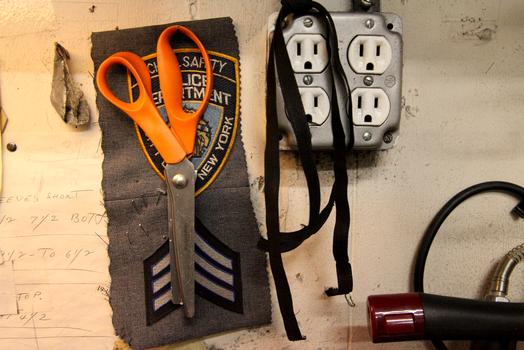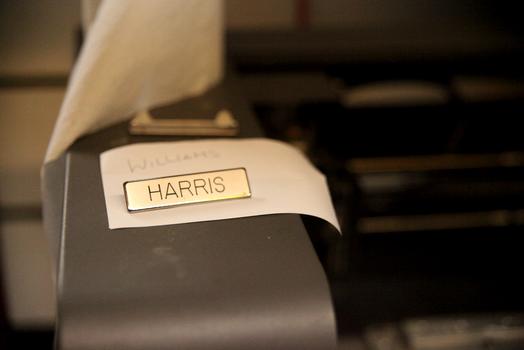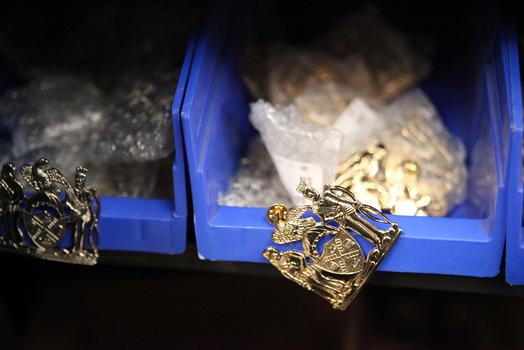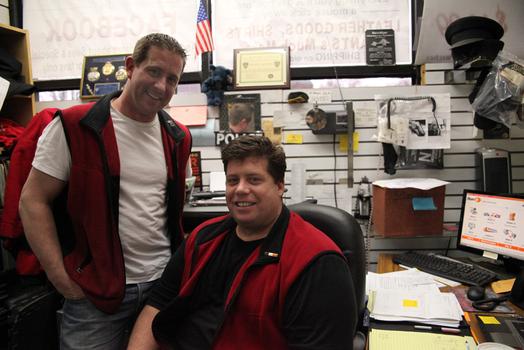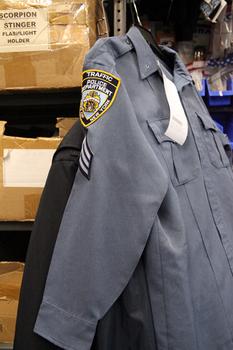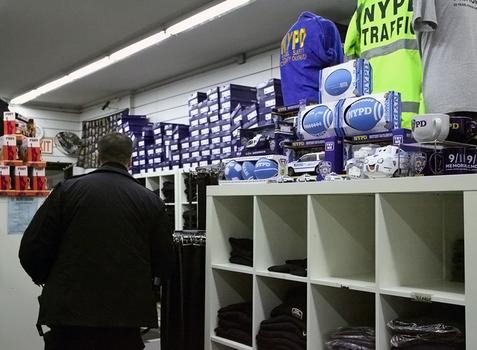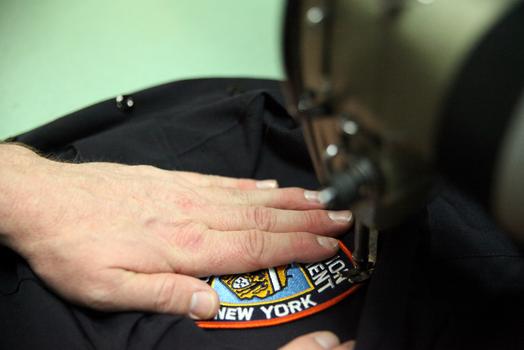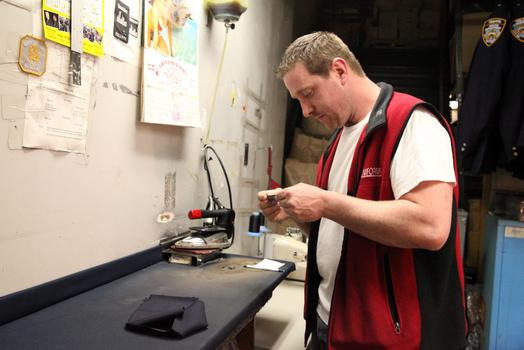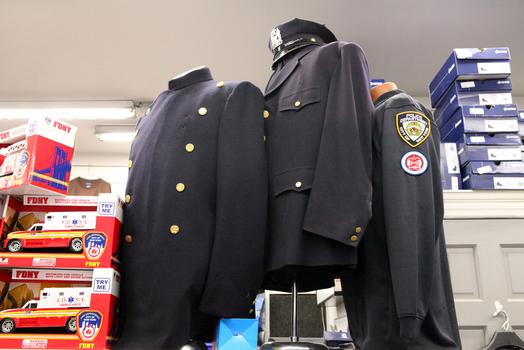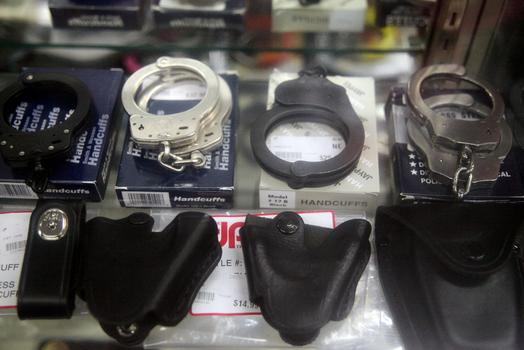 of