Hardliners and Swing Voters: Florida's Fractured Latino Voters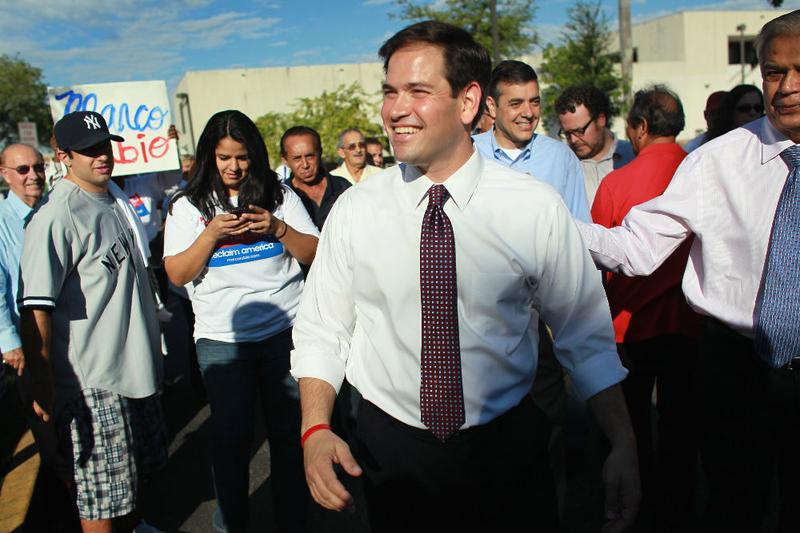 "I don't want them to leave!" Senator Marco Rubio pleaded for two Latino protesters to stay and listen after they interrupted his speech to jeer his stance on illegal immigration. "I'm not who you think I am." 
Rubio might as well have been speaking for the entire Republican Party in their pitch to incorporate Hispanic voters into their ranks.
Rubio was speaking at the Hispanic Leadership Network, an organization formed in 2010 by the American Action Network and the American Action Forum, two conservative advocacy groups in Washington.  This gathering, just the third national conference for the group, was held days before the Florida primary. Both Mitt Romney and Newt Gingrich stopped by make their appeals in person. But it was Rubio's message that stood out. 
"For those of us who come from the conservative movement we must admit that there are those among us who have used rhetoric that is harsh and intolerable, inexcusable," he told the audience that included several Bush administration alums along with local Hispanic GOP activists. "We must admit, myself included, that sometimes we've been too slow in condemning that language for what it is."
The sluggish economy is giving Republicans a clear shot at Latino voters this year, Rubio told the crowd. But to do it, Republicans have to change the way they talk about Latinos, legal and illegal.  
The pitch in Florida makes perfect political sense. Florida Republicans had held the Hispanic voter registration advantage over Democrats in 2008. And President Obama won a majority of Hispanic votes, in a stunning twenty-seven point swing from 2004, when George W. Bush won Florida's Hispanic vote. 
"The Democratic Party has done a great job of usurping the Latino vote," Cuban American blogger Val Prieto told me after Rubio's speech. "Historically, their values are conservative values – strong family, religious, hardworking. The only thing that separates the Latino vote from the Republican Party is the immigration issue." 
Neutralizing the immigration issue may be strategic for Republicans in Florida, but given the distinct histories of and migration patterns of Florida's Hispanic communities, that's anything but straightforward here.
Nationally, Hispanics of Mexican descent make up about sixty percent of eligible voters, but in Florida, they make up only about nine percent, according to a Pew Hispanic Center review of Florida elections data. Two-thirds of Florida's Hispanic voters are Cuban and Puerto Rican, communities with very different experiences with American immigration law.
Puerto Ricans, of course, are citizens. And the United States provided special provisions for arriving undocumented Cubans fleeing the Communist government, and most of them are able to become permanent legal residents after staying in the United States for a year, which as the Congressional Research Service points out, is a provision unique not only among Hispanic immigrants but all other countries.
Rubio didn't offer specific proposals for a Republican solution to illegal immigration. Instead, he called for a focus on what drives people to immigrate to the United States, legally and illegally.
He talked about his grandparents' journey from Cuba to the United States, and compared it to "the desperate look of faces of men who are looking for work," at Home Depot and in homes "where women are working long hours sometimes without documents to send money back home."
The Republican pitch and the appeal to Latinos became one. When government policy makes prosperity and providing for family feel impossible, "there is no fence high enough, no ocean wide enough that most of us would not cross to provide for them what they do not have."
"Yes, we have to have laws. They have to be respected," Rubio said in his call for a new tone. "No, we cannot legalize 11 million people, but they're people." 
The speech drew a standing ovation, but over and over again this week in Florida, Hispanic Republican voters in Florida told me immigration is not a top priority. 
Miraya Linsky, a Cuban American Republican activist in Tampa who's working to recruit Hispanics, said simply "getting rid of Obama" is what's driving her this election year. She opposes legalizing immigrants who settled her without propoer documents, but she said she's willing to be flexible for the good of the party. 
"To just let people stay because they're here? That's not right. How about those people who've been here for a long time," she told me. "In that respect, I am hardcore. But if need be, and it has to be done for the Republican Party, I would do it."
For many longstanding citizens here, though, a particular focus on immigration seems off point for Florida Hispanic voters.
"We're seen as a different community, not as we really are," said Anna Abaunza of Miami, who immigrated from Nicaragua thirty years ago. "I mean, they picture us like we just got here. We didn't just get here. We're part of the community. We speak Spanish and have Hispanic descent, but we're as American as just anybody."
Abaunza sees this slugglish economy in Florida moment as an opportunity for Republicans to broaden their base among Latinos, by appealing to their entrepreneruialism. I heard similar pointed criticisms of the Obama administration, that American dream is under attack, but it was framed a little differently. Not as the threat of "European socialism" as has been the talking point of Republican candidates this year, but links to socialist countries in Latin America that parents and grandparents immigrated from.
"Immigrant Latinos don't come here for welfare. They don't come here for food stamps." Juan Fiol, a Cuban American Republican from Miami told me. "They get taught that here, and they get taught that by the indoctrination of the left. And it has to stop."
Others bristle at talk of welfare and Hispanics. "Too many Republican Party have that anti-Hispanic tone, the result of that is that it's not a welcome place," Anthony Suarez, a Puerto Rican from Orlando, told me. A former legislator, he switched parties left the Democratic Party to become a Republican after he started to feel like his positions on social issues. "That doesn't mean that the message of the Republican Party, a small government party, doesn't resonate. It's just not being delivered."
But Suarez also wants to see the Republican Party incorporate more of the Puerto Rican community's interests into their platform. At the Hispanic Leadership Network conference in Miami, he came with a group of Puerto Ricans who waved Puerto Rican flags during the gathering. When Mitt Romney and Newt Gingrich took the stage, they wanted to be visible – and get some assurances from the stage that the candidates would back Puerto Rican statehood.
So recapturing the Hispanic vote, as Rubio said, is a rhetorical and policy challenge for the Republican Party in Florida. But it also requires creating a pan-Latin American political identity.  
Voters from Cuba, Puerto Rico, and other parts of the Caribbean and South and Central Americans making up 13 percent of the state's electorate. Their different immigration experiences are a central part of Hispanic politics in the state, when just 57 percent in Florida were born in the United States, compared to three-quarters of Hispanics nationally. 
And despite the intense focus of candidates to make a blanket appeal to Hispanic voters across the state, the idea of a coherent political agenda across these differences sounds mystifying for some. 
"You know, my grandparents came from Cuba. Now we're talking about Latinos, and we're talking about Mexicans, Hondurans – I don't really know what the Latino vote means anymore," Armando De La Torre, Safety Harbor told me. "I feel like a Hispanic person. I call myself Latino. The rest of it that's happening, I don't understand it anymore."