OLYMPIC CONTENDER Claressa Shields
CLARESSA SHIELDS (Middleweight 165lb/75kg)
Age: 17
Age started boxing: 11
Record: 2012 Olympics Team USA 
Listen to Claressa's audio diary.
Biography: Like most miracles, Claressa Shields is hard to describe. In a way she's just a kid with a kid's smooth skin, hyperactive mind, and addiction to portable electronics. Then she gets in the ring and the temperature of the room rises ten degrees. In terms of pure talent, she's probably the best woman boxer I've ever seen.

Her father could have been a contender, but jail put an end to his career. When he made an offhand remark about admiring Laila Ali, the 11-year old Claressa thought he was encouraging her to box. He wasn't, but the misreading was typical Claressa, whose innocent optimism may be her greatest weapon. Shields opened up in a recent feature in Essence magazine, revealing a tale of childhood abuse not unlike Underwood's. This shocking revelation makes Shield's radiant self-confidence even more astounding. 
Boxing style: Claressa possesses a ferocious desire to establish dominance over her opponents. She has a naturalness in the ring that only comes to those who took up boxing as children. Her balance and handspeed are superb. She's probably at her best in center ring where the judges can get a good look at her five- and six-punch combinations, but I've also seen her fight quite effectively off the ropes. She slips punches like a pro.
In China, Great Britain's Savannah Marshall stunned Shields – and me! – by handily outboxing her, ruining Shields' unspoiled record. Marshall is a tough, rangy fighter who knows how to use her height. Shields' inexperience finally caught up with her, as she was unable to deal with Marshall's movement and skillful use of the clinch.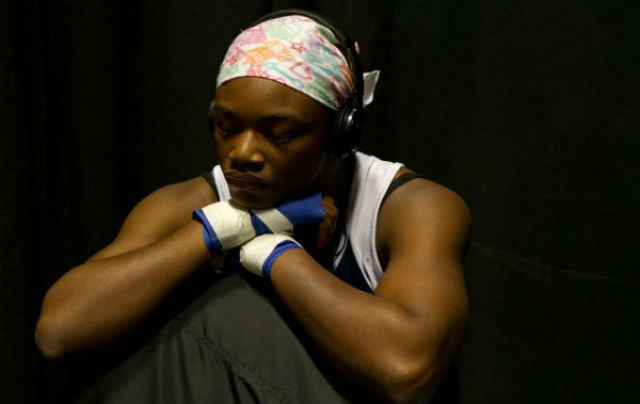 (Sue Jaye Johnson)
Luckily, Marshall was the eventual gold medalist in the tournament, which pulled Shields high up enough in the standings relative to the other middleweights from the Americas to punch her ticket. This was a valuable learning experience for Shields, who goes to London bloodied but unbowed. "God wanted me to lose," she says.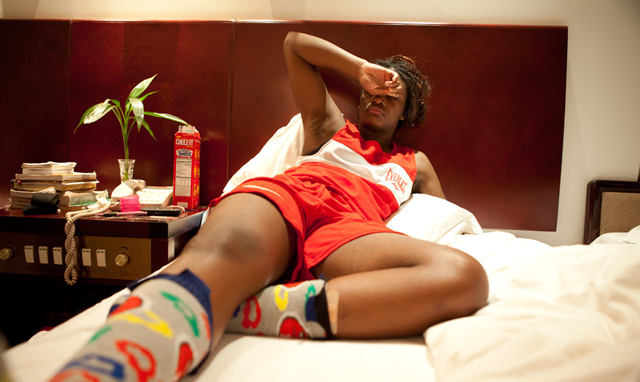 Claressa Shields absorbs her first loss at the Women's World Championship in China. (Sue Jaye Johnson)
Shields' medal chances in London: Shields has seen what Marshall can do, so the question is: Have she and trainer Jason Crutchfield done enough to prepare her for the rematch? I know that US Head Coach Basheer Abdullah and crew will do their best, but the last-minute coaching shifts do not inspire confidence. (The US team was still leaderless just a month before the Games, and Abdullah himself will be banished from the London field of play for an AIBA rule infraction.) The strategic leadership will likely come from Shields herself and the work she's done with Crutchfield back home. Middleweight strikes me as the weakest division of the three, with a big drop off in talent after Shields, Marshall, and the skilled Elena Vystropova of Azerbaijan, a tall fighter who gives great angles. Canada's Mary Spencer could also contend, although she's probably post-peak and has looked sluggish lately. I'm sticking to my guns and betting on 'Ressa to take home the gold.
See Claressa's New York Times Magazine video.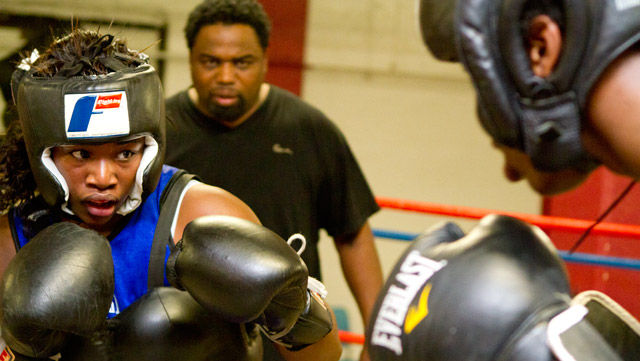 (Sue Jaye Johnson)