Homeless Fix Can Be Found in Vacant Buildings, Lots: Report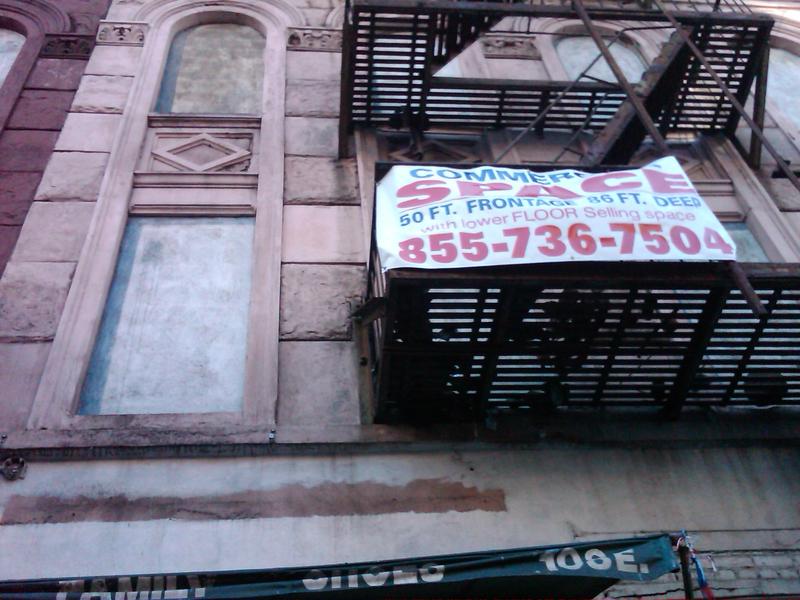 Citywide there are tens of thousands of apartments that are vacant and could be re-purposed to solve the long standing city's homeless problem, according to a report released Thursday afternoon.
The study by the advocacy group Picture the Homeless and Hunter College's Center for Community Development and Planning is based on a block-by-block survey done by 300 volunteers of a third of the New York City. The survey team identified 20 of the city's 59 Community Board districts based on existing data obtained through FOIA requests of city agencies that flagged potential vacancy, or blight hot spots: eight in Brooklyn, seven in Manhattan, three in the Bronx and one each in Queens and Staten Island.
The "Banking on Vacancy-Homelessness and Real Estate Speculation" report estimates that, when the lots and vacant units they identified are added up, some 65,824 people could be housed in Manhattan alone. The report identified 987 vacant building in Manhattan alone that researchers said could house more than 32,000 people. Canvassers spotted 257 vacant lots.
The block of East 116th Street between Lexington and Park in East Harlem exemplifies the findings found in the report, according to Kendall Jackman, with Picture the Homeless. Walking around the neighborhood, she pointed out multi-story buildings where the first floor commercial space is used, but several upper floors are boarded up. On this one block stretch, five of the 12 buildings fit that description.    
"We have proven that there are significant vacancies in the city. We have proven that we don't have to have homeless shelter system and no one needs to be sleeping on the streets," Jackman said. "These are the old brownstones, these are the old huge apartments   with the high ceilings. So we are talking about five buildings on one block. So we are talking about 30 apartments maybe."
On the East Harlem block, a long time property owner approached Jackman. He had a commercial store and several well-maintained apartments above his store. He did not want his name used, but said he too was troubled by the appearance of boarded up and cemented in windows. He said the cause for the blight was complicated, and included anxiety over investing in the neighborhood.
"People are a little afraid of what's going on. Our taxes have tripled over the last five years," he said. He added the rising water rates and the city's rent control regulations were also impediments.
(Photo: A block in East Harlem where commercial space is rented, but apartments above are boarded up. Bob Hennelly/WNYC)
City officials had not seen the report, but expressed skepticism about the study.
Eric Biederman, a spokesman for the city's Department of Housing Preservation and Development, said with out detailed research into each location it is hard to draw any solid conclusion about the status of any property.  Elyzabeth Gaumer, a top analyst with HPD, said what may appear anecdotally to be vacant may be occupied part time or be in the legal process of being re-developed. Gaumer added the city's research shows vacant proprieties don't remain idle long. "And a vast majority, within a relatively short period of time, actually transition back into occupied and active use."
Tom Agnotti, director of Hunter College's Center for Community Development and Planning, said the Picture the Homeless survey is more accurate than the city's sampling "because it is an on the ground survey and is able to pick up a lot of vacancies that are not reflected in statistical data HPD has."
Picture the Homeless and their supporters can be expected to use this report to support their proposal pending in the City Council to require a comprehensive census of the city's entire structural stock, as well as vacant land.
Critics have said such a survey, which require looking at hundreds of thousands of properties and structures, would be prohibitively expensive. Additionally, municipal officials can't compel private property owners to rent out a potential apartment they choose to keep vacant.
Currently, the city determines its official vacancy rate through a tri-annual scientific sampling of 18,000 addresses performed by the U.S. Census. The city has just collected the latest data for the next report. Officials said that data shows the official vacancy rate for New York City has been consistently below 5 percent.
HPD officials said under the 1974 Rent Stabilization Law the city's vacancy level had to be documented at, our below that 5 percent vacancy threshold in order for the city's rent controls to remain binding.