Mayor Michael Bloomberg Defends NYPD Top Cop Ray Kelly in Anti-Muslim Film Flap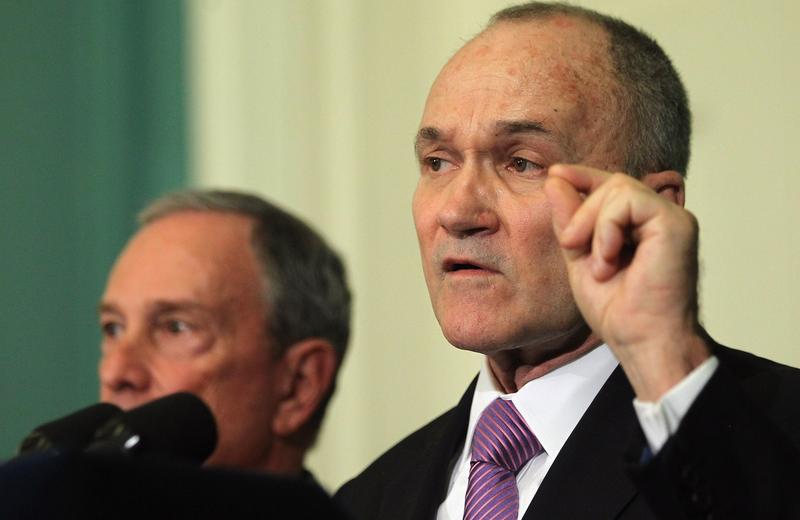 Mayor Michael Bloomberg defended Police Commissioner Ray Kelly on Thursday, dismissing calls for the city's top cop to step down over the showing of a controversial anti-Muslim film — one that he was interviewed for and appeared in — to nearly 1,500 officers.
The mayor also said he did not see a need to re-train officers, as some critics have called for, and isn't willing to push for an additional oversight body for the department.
"Commissioner Kelly should not step down," Bloomberg said. "I think it's fair to say that it was a little bit of an embarrassment that this film was made."
Meanwhile, the makers of the film, Clarion Fund, claimed the Muslim community was unfairly targeting Kelly because of his "aggressive" counter-terror strategies, which includes surveillance of Muslim communities.
"When we called up Ray Kelly, we didn't anticipate this situation four years later," said spokesman Alex Traiman. "You know, we just thought 'Here's the head of one of America's most forward-thinking counter-terror organizations in the world. Wouldn't it be great if he'll be in our film?' And we were fortunate that he said, 'Yeah.'"
Ibrahim Hooper, spokesman for the Council on American Islamic Relations, said that blaming the Muslim community for the controversy was "utter nonsense." He noted that the organization brought its concerns about the film to the NYPD a year ago, and it's taken that long for the details to come out. "It's never the crime, it's the cover up," he said.
Also Thursday, a few City Council members and several dozen members of the Muslim community gathered on City Hall steps Thursday to call for greater oversight in the NYPD and, in some cases, the resignation of top department brass over the anti-Muslim video that was seen by nearly 1,500 officers last year.
"This is not one bad apple. This is not one incident of something going wrong. This is not just one officer who is doing something wrong," said City Councilman Jumaane Williams of Brooklyn. "There is a corrosive culture going through the NYPD that neither the mayor or the commissioner has what it takes to admit there's a problem."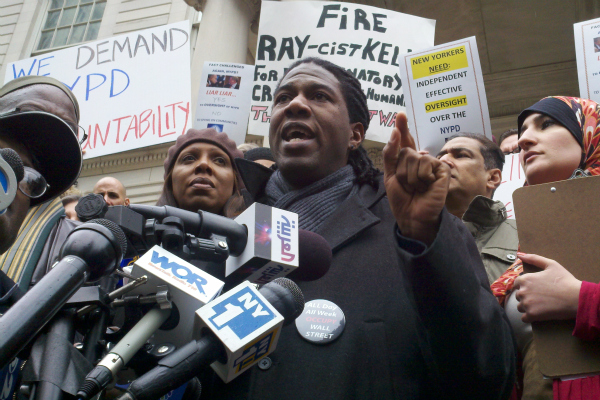 Imam Talib Adbu-Rasid, the head of the Mosque of the Islamic Brotherhood, said he asked Kelly about the use of the video at a Pre-Ramadan briefing and that commissioner said the video was only playing in the background of particular session before it began.

"It is now clear that someone deceived Commissioner Kelly or Commissioner Kelly deceived us," said the Imam.
(Photo: City Council member Jumaane Williams was among those who rallied against the NYPD on the steps of City Hall Thursday. Yasmeen Khan/WNYC)
In addition to calling for an independent investigation by the City Council, and the retraining of officers who viewed the video, Abdu-Rasid said that he and other imams plan to ask State Attorney General Eric Schneiderman and if necessary, U.S. Attorney General Eric Holder, "to investigate the showing of that bigoted video by NYPD personnel as well as the systematic violation of civil and human rights of Muslim American citizens."
The Muslim American Civil Liberties Coalition is also demanding re-training of all officers who viewed the film.
On Wednesday, Kelly issued a statement apologizing to members of the Muslim community over the showing of "The Third Jihad" — a film the Muslim community have described as "hateful propaganda," which played on a loop for three months in a Brooklyn breakroom and for which he was interviewed.
"While it never became part of the department's curriculum, and was not authorized for any training, regrettably it was shown in a room where officers who were filling out paperwork or on break from actual training had an opportunity to view it over an extended period in 2010," Kelly's statement read.
In a signed letter (below) from Kelly to the MACLC dated March 2011, the commissioner said that the NYPD "did not participate in the production and we do not believe the content is appropriate for training purposes."
Browne now says he was approached by the film's director in 2007, and that he recommended Kelly be interviewed.
"I agreed, and regret that considering I thought that somebody with those credentials would have produced a more objective production and that turned out not to be the case," Paul Browne, deputy commissioner for the NYPD, told WNYC's The Takeaway on Wednesday.
The film shows TV images of Hezbollah rocket attacks, children being held hostage by Muslim militants and a woman it says was arrested in Iran for wearing immodest clothing.
With Brigid Bergin and Yasmeen Khan
READ BELOW: A signed letter Kelly sent to members of the Muslim community - March 2011 NYPD Letter 7 March 2011 (Received After March 10, 2011)