Chasing Crime With a Spot News Photographer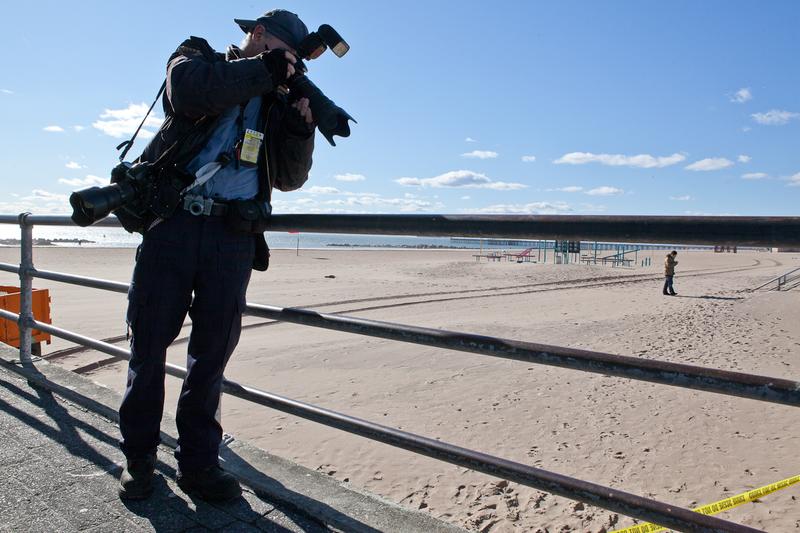 In honor of the latest Weegee photo exhibit at the International Center of Photography, titled Murder Is My Business, WNYC tagged along with a modern crime photographer from the New York Daily News to see how shooting for the tabloids has changed from the days when Weegee was shooting lurid images of fresh murders and breaking news. [SLIDESHOW BELOW]
Two police scanners and a handheld radio crackle as photographer Todd Maisel's car lurches and carves its way through south Brooklyn. It's nearly 11 a.m.
A police dispatcher calls for back up at Coney Island there's a DOA (dead on arrival) under the boardwalk. Maisel's spirits lift.
"I don't hope for a disaster, I just hope that I'm there when it does happen," he said, scanning traffic considering the fastest way to get to south Brooklyn. "After 9/11 you start to be careful what you wish for, you might get it."
Maisel, a 51-year old with a salt and pepper goatee has been a New York Daily News spot news photographer for the last 13 years and has been shooting professionally for 14 years before that. He's not the only photographer who chases scanners, but he's one of the city's veteran shooters.  
Maisel's beige, beat up Hyundai SUV doubles as his office.
There's a 20-year old yellow police light planted on the dashboard next to a porcupine stuffed animal. Maisel's cell phone is constantly beeping with alerts from BNN (Breaking News Network) and colleagues at the News and rival paper the New York Post.
"I chase fires, police incidents, accidents, homicides, you name it, whatever's going on the street, that's what I'm at," he said. "No story is too small for me."
He then uploads photos to the photo desk at the Daily News.
Born and raised in Brooklyn, the married father of two lives in Marine Park. He knows when he's crossed a precinct line, and he also knows the radio codes by heart. He keeps a hand typed laminated cheat sheet on the overhead visor where most people keep the garage door opener. He's the national director of the National Board of Press Photographers Association and a regional director of the New York Press Photographers.
He knows the tabloids are printing more national stories and fewer local stories in recent years and can't say for sure if his pictures will even run in the paper the next day.
"I don't know. God knows. Only God knows, and his name is Colin Myler," he said, referring to the Daily News' editor in chief.
A Body in Coney Island
1:00 P.M: Maisel parks on an empty West 12th Street at the Coney Island boardwalk. The whistling wind is strong and cold. He hustles down the sandy planks, a Nikon camera dangling from both shoulders. He greets a fellow Daily News photographer who also just arrived.
Maisel leaps on top of a bench and begins snapping photos of a half dozen detectives in long black coats. They quickly disappear beneath the boardwalk behind yellow police tape. He jogs around to the other side of the public restroom and peers behind the chain link fence. A man in a black trench coat straddles the lump of clothes. Maisel wedges his body against the fence, aiming his telephoto lens at the scene.
"Maybe a parks worker?" he muses out loud.
A medical examiner flips over the stiff body, and a rigid leg shoots in the air. Maisel grimaces, then returns to his car to file the photos.
He tosses his cameras in the back seat and flips open his battered Apple laptop with a cracked screen (he ran it over by mistake, but it works fine). It is Velcroed to a stand within arms reach.
Maisel shot 120 photos at Coney Island. He chose one: the medical examiner hovering over the body. He crops it tighter and uploads it to the Daily News. He then watermarks it, and sends out two Tweets with photos:
  Nice day but wind making it cold at Coney Island Beach where a dead man was found under boardwalk
Was able to giggle [sic] gate open a bit to see medical examiner checking out the body. A male white, workboots, blue coat.
The body, a 40-50 year old, remains unidentified, according to DCPI.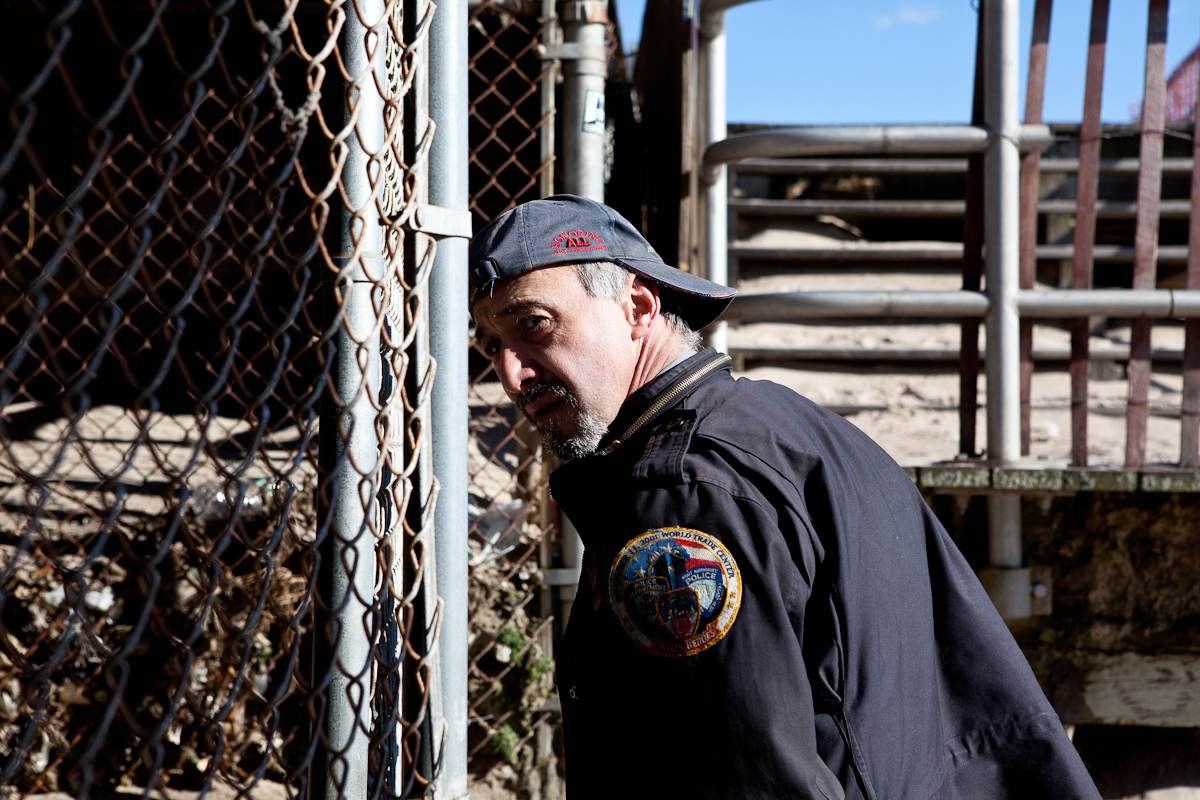 Todd Maisel at Coney Island boardwalk shooting photos of DOA (Stephen Nessen/WNYC).
A Smoldering Brownstone
1:45 P.M.: Maisel is now in Bedford-Stuyvesant, where a half dozen firefighters with air tanks stream out of the basement of a burnt-out four storey brownstone. Maisel waits for them to pass and then climbs into a window on the ground floor of what firefighters call a "Collyer's Mansion." 
Balancing his body he leans against the blown-out frame holding the camera away from his body. Then he takes one step in. Then another. Now he's inside with the remaining firefighters.
"I've always had a sense for danger, and what to avoid, what to go close to," he said, "and we've had explosive devices where I'll get up really close and be able to hide. I pride myself on being stealthy, and being bale to get close to things without people knowing it until it's too late, until I've already gotten the picture."
Emerging from the burned building with his FDNY hat on backwards and his back speckled with water, he begins showing the firefighters photos on his camera. He chatted with a neighbor and then consoled the burned building's tenant, who was sitting across the street in a black fur coat sipping coffee.
Maisel, who always wanted to be in the Army, said he never considered a career in journalism until he started writing at his college paper.
Later, he found his photos were better than his writing, and he's been shooting ever since.
Maisel is not strictly a city photographer. The Daily News has sent him to Iraq to shoot the invasion in 2003; to Peru to cover a plane crash; and the 2010 earthquake in Haiti. But his proudest and defining work was shot on September 11.
"After going to almost 70 funerals it became very difficult, psychologically, to continue doing it the way I was doing it," he said. "Stuff does take a toll on you, especially when you know all the people who were killed. Some of them were very good friends. It had a tremendous impact on me."
Maisel generally doesn't ask permission before he snaps a photo, and he often gets closer to crime scenes than the NYPD is comfortable with. He claims his NYPD press pass has been confiscated 17 times. Today, it's displayed prominently on his chest in a plastic sheath.
"It's important for me to have good relations with the police—they can make or break a story," he said.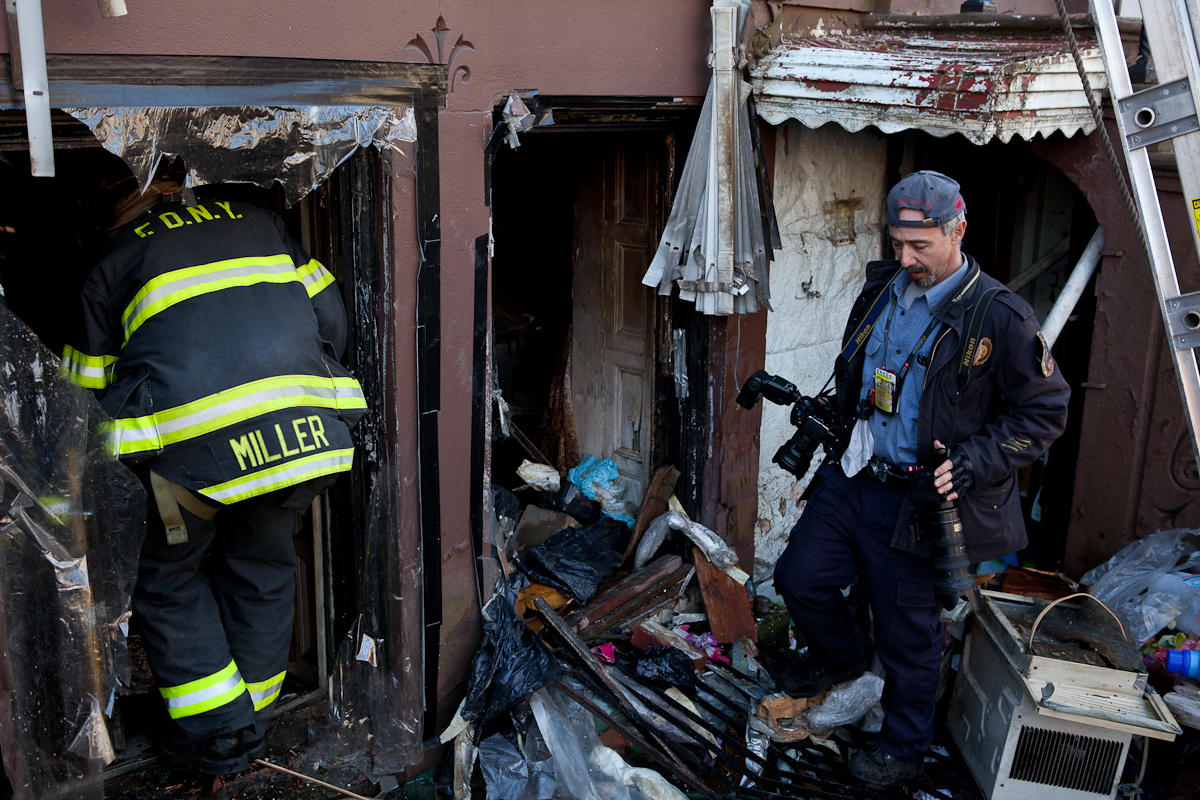 Todd Maisel emerges from a burned out Brownstone in Bedford-Stuyvesant (Stephen Nessen/WNYC)
A Perp Search
3:08 P.M.: The police radio in Maisel's pocket crackles. 
"Three male blacks—by the BQE—fire arms still outstanding—three male blacks," the dispatcher's voice said.
Maisel says goodbye, and sprints back to his car.
He wants to catch one of the suspects as bad as the police. He hurtles down Bedford Avenue. When he sees traffic is backed up, he veers into the bike line and speeds down the narrow chute. He rolls through a red light, and high tails it the wrong way down a one-way street. The fasten seat belt sound chimes all the while.
He parks on the sidewalk, pushes open the door and runs over to police, who already have the suspect in the back of the patrol car. Other officers are driving the alleged victims to the site to identify the suspect.
They drive up and officers drag the suspect out of the car, pulling back his grey hood and yanking off his black knit hat. An officer flashes a thumbs up. Positive ID.
With his elbows firmly tucked against his body for stability, Maisel stands in the middle of the street and shoots it all.
"I look for those nuances, those moments when people are not ready to see, or the perpetrators trying to hide," he said. "You try to get their personality out of the photo, that's always a pretty important thing."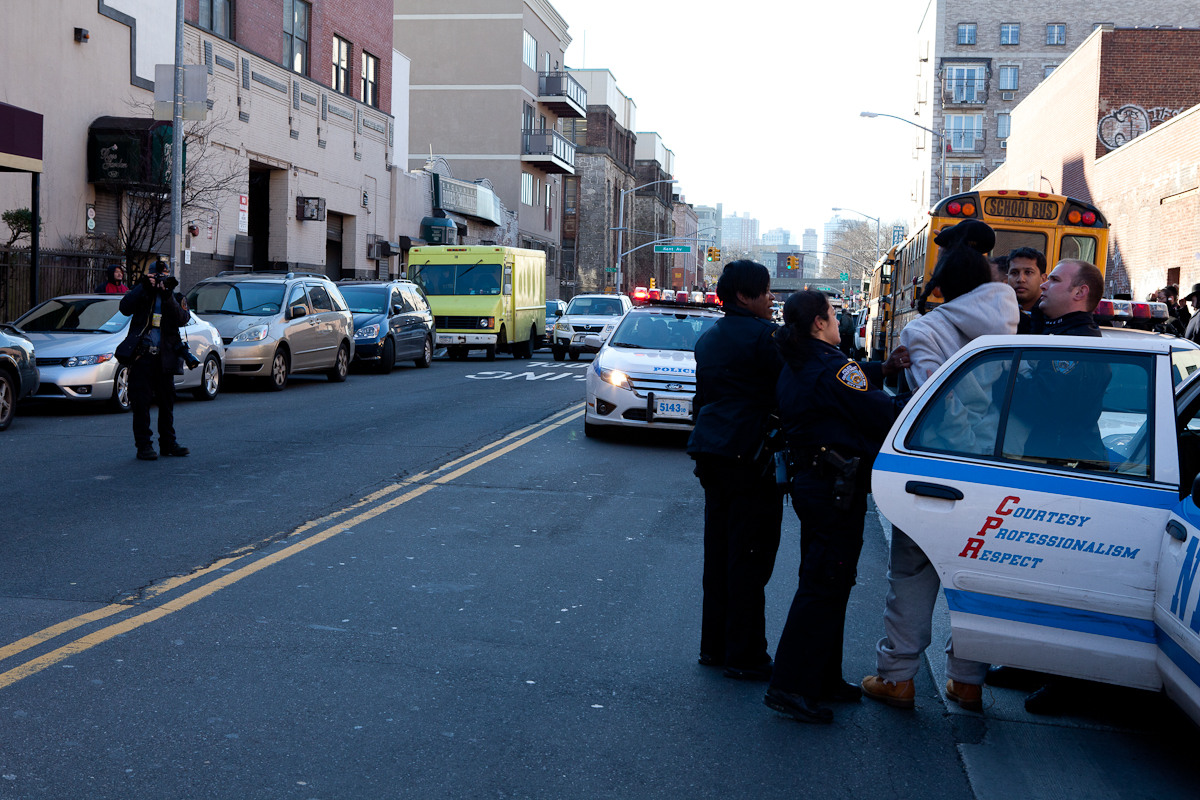 Police pull a suspect out of the car for the victims to identify in Williamsburg, Brooklyn (Stephen Nessen/WNYC)
Back on the Road
3:40 P.M.: As he coasts toward the Brooklyn Bridge, filing photos, typing captions and phoning the desk, he laments that he didn't get a shot of the gun in the police car. Once he files the photos, he takes a quick peek at his stock portfolio.
Doing well today. He slams the laptop shut.
Maisel has violated dozens of driving rules and put himself in harms way multiple times today to get the shots.
He admits a desk job or a teaching position might be nice, but he's content to keep working at this pace for now.
"I'm going to turn 52, next month, and yeah it's starting to wear on me a little bit more," he said.  "I could be busy and get home and feel all refreshed. I can have a whole day where you're getting almost nothing. I find that more stressful."
Maisel is active on Twitter, so even if his photos aren't printed (none of the photos appeared in the paper the following day) he's happy to keep posting a visual record online.
"I tell you, the energy, you get so much out of it, it's like a heroin fix," he said. "It's all part of the adrenaline rush, the whole job is an adrenaline rush when things get going, and I live for that."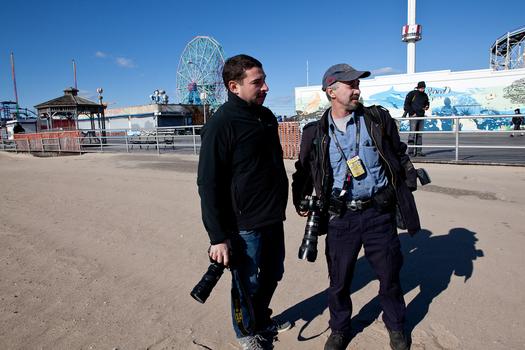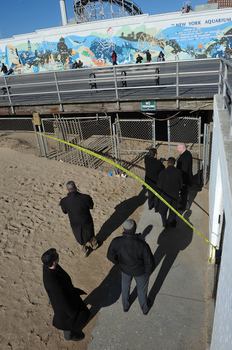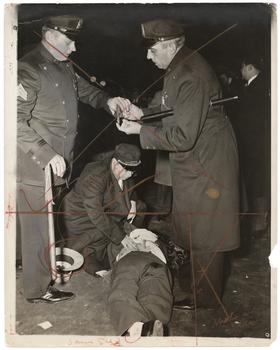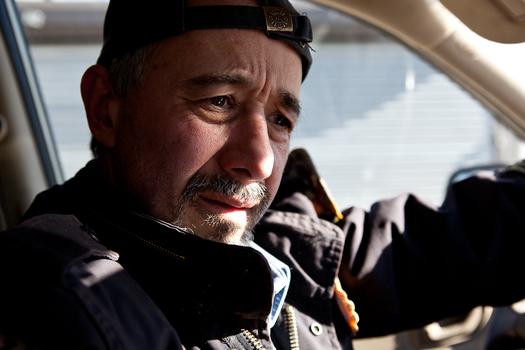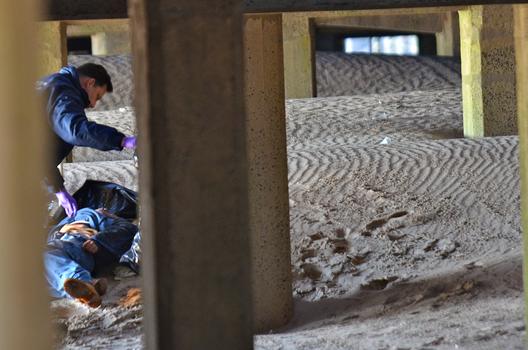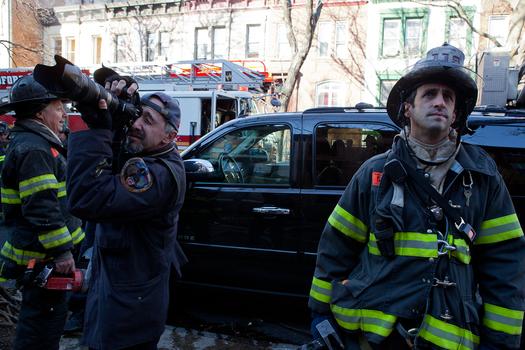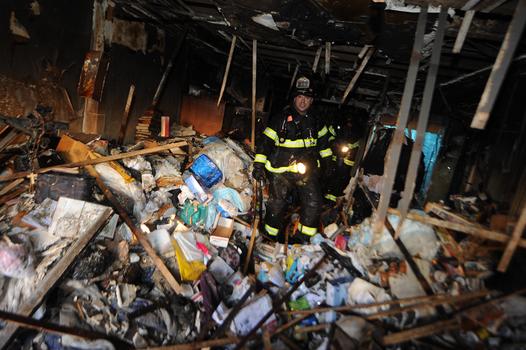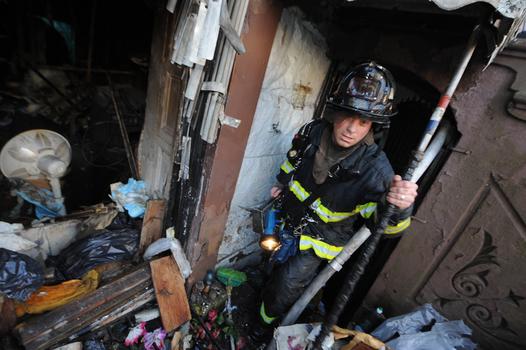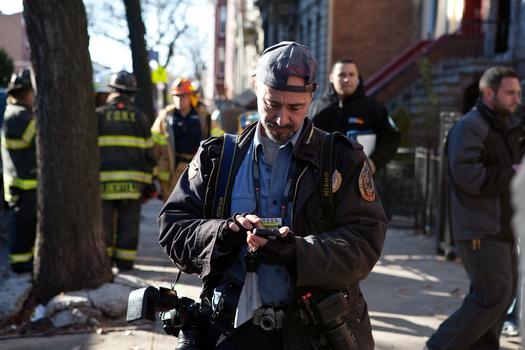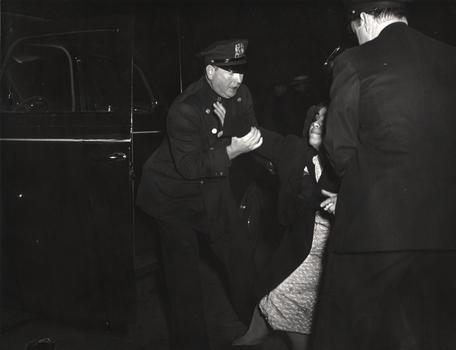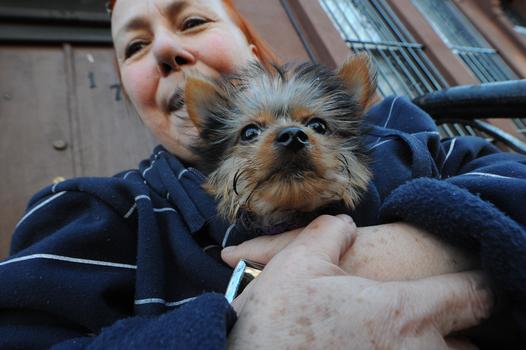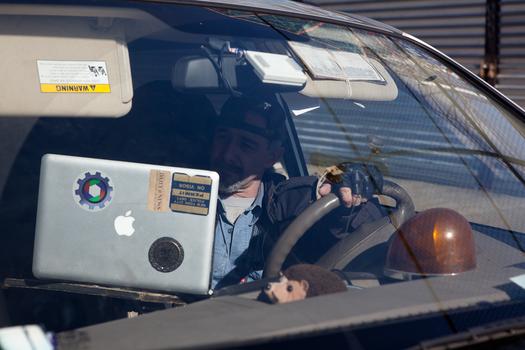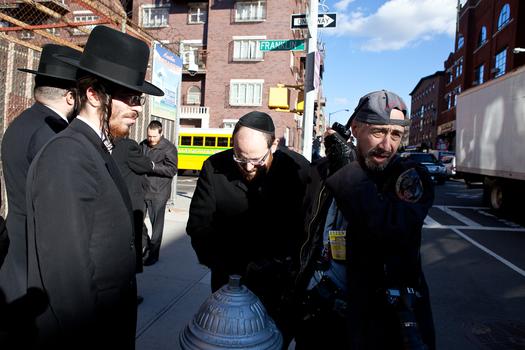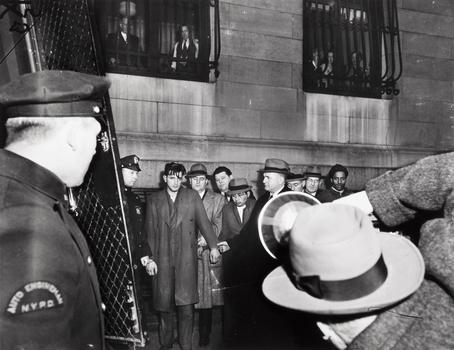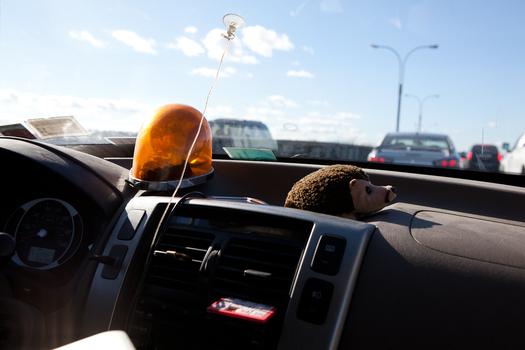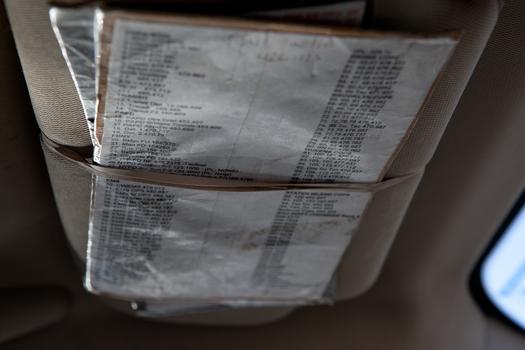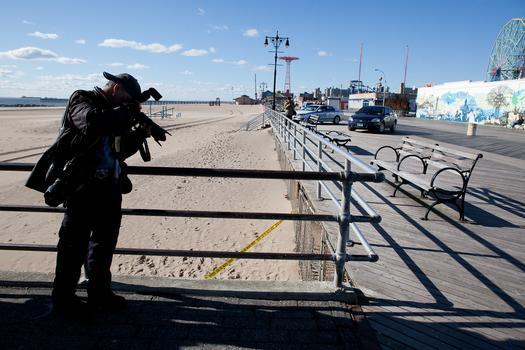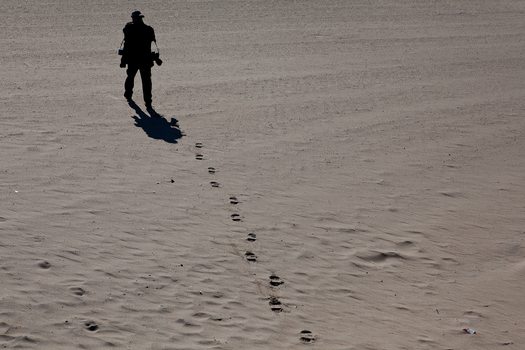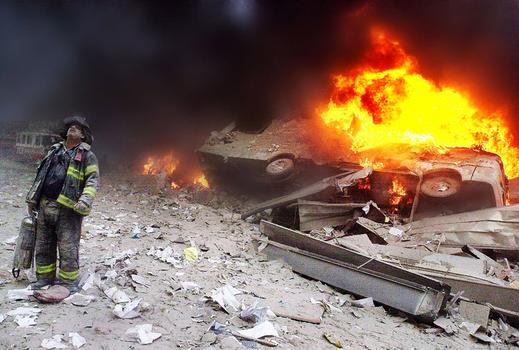 of