MTA: Nighttime Shutdowns a More Efficient Way to Maintain the Subway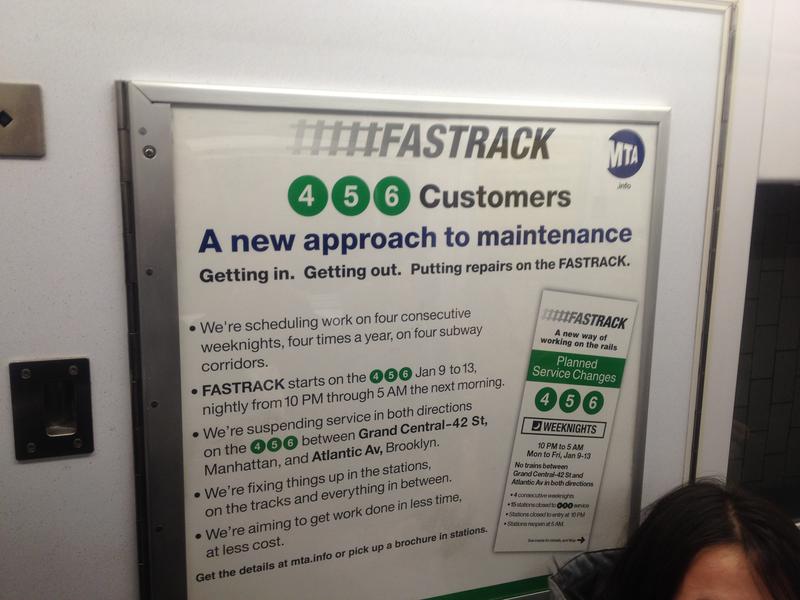 Transit officials say shutting down sections of subway lines for several nights in a row could be a new model for how to do maintenance work on the city's subway system.
At an MTA meeting Monday, board members reviewed the first so-called "Fast Track" project that halted service on the Lexington Avenue lines from Grand Central to Atlantic Avenue in Brooklyn from 10 p.m. to 5 a.m. from January 9-13.
Carmen Bianco, head of the Department of Subways, said crews can work more efficiently when they don't have to back away from the tracks every few minutes. "We're able to complete work that we would not normally be able to do in our normal customary way of doing it," he said. "Also, the level of safety, the level of exposure goes down for employees, because we're not running trains."
Bianco added that workers completed all 324 tasks they had set for themselves, including rebuilding stairways and scraping the tracks clean down to the concrete.
Still, New York City Transit President Tom Prendergast said it's too soon to say if Fast Track will become standard operating procedure. "This is the first time ever in the history of this organization that we've done this. So we need to actually have three or four more experiences before we can ascertain how successful it is and how we can improve upon it, and what the impacts are."
Transit officials said they're still studying the data from the shutdown of the No. 4, 5 and 6 line to see what changes they might make as they prepare for three other "Fast Track" operations scheduled in the coming weeks.
"The thing we are very sensitive to is that it is an inconvenience to our customers," Bianco said. "We've got a little bit of work to do in terms of making sure we're getting the right message out" to riders about service changes.
The next "Fast Track" operation will shut down the Seventh Avenue line (1, 2 and 3) between Penn Station and Nevins Street in Brooklyn from  February 13-17. Crews will then tackle the Sixth Avenue line (B, D, F and M) at the end of February, followed by the Eighth Avenue line (A, C and E) in March.