Winter Storm Brings Snow, Sleet to Region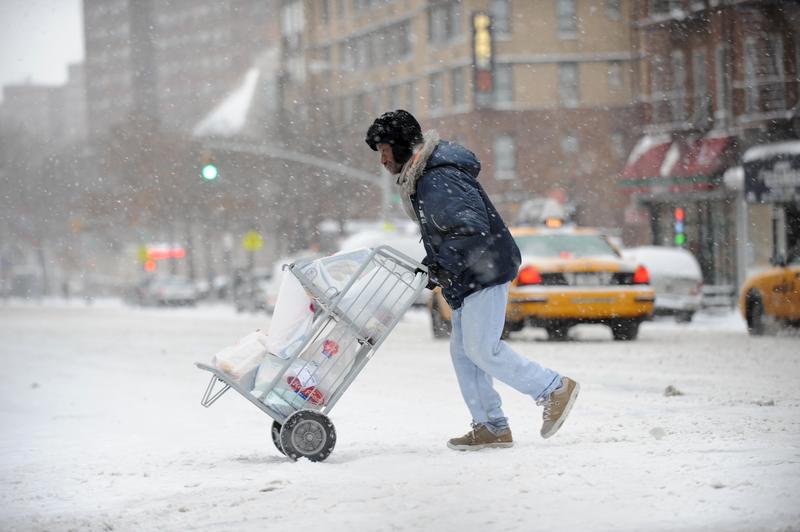 A winter storm of snow, sleet and freezing rain hit the area early Saturday morning. It dropped between 2 and 4 inches on the city and its suburbs before the bulk of the storm passed in the early afternoon.
By midafternoon, 4.3 inches of snow had fallen in Central Park and 3.4 inches at LaGuardia Airport. Central new Jersey saw about 4 inches, with some areas reporting as much as 6 inches of snow.
"We've been very lucky, so we can't complain," said Gloria Fernandez of New York City, as she shoveled the sidewalk outside her workplace. "It's nice, it's fluffy and it's on the weekend."
The wintry weather has made roads slippery and caused some accidents. The New Jersey Turnpike lowered the speed limit to 45 MPH due to the weather. Some delays at regional airports were also reported.
"It's a fairly moderate snowstorm, at best," said weather service forecaster Bruce Sullivan.
Mayor Michael Bloomberg Saturday morning said the city had 1,500 snowplows ready and they were equipped with GPS to allow supervisors to update locations on command maps every 30 seconds. The new equipment was installed following December 2010's blizzard.
The city's sanitation department spokesman Vito Turso said the GPS will also allow dispatchers to see areas that have been plowed and those still in need of plowing. Additionally, he said the department has 230,000 tons of rock salt at the ready.
The snowfall was the first substantial snowstorm since the unusual late October snowstorm.
In New Jersey, the heaviest snow fall in the morning had been in the northwest and northeast parts of the state, which had received approximately one to five inches of snow, according to the state's Office of Emergency Management. The central and coastal parts of the state received from one to three inches of snow.
Forecasters said New York City and Northern New Jersey will see snow showers turn to rain Saturday afternoon. That's when the danger could really begin for pedestrians and drivers, according to Joe Picca, a meteorologist with the National Weather Service

"Temperatures will get below freezing into the mid-to-upper 20s so any of that water or slush could easily refreeze into patches of ice on roadways as we move into Sunday morning," he said.
Alternate side parking rules were suspended in anticipation of snow. The MTA said it's bringing in extra personnel, and has equipment at the ready — but expects to run normal service tomorrow. NJ Transit says it's closely monitoring the storm – and is cross-honoring all tickets on Saturday.
About 12,000 people will be working overnight and 2,000 Saturday beginning at 6 a.m.
With the Associated Press