Through the Doors of Perception: Doug Wheeler's Mind-Bending Installation at David Zwirner Gallery
Since the 1960s, the artists of California's "light and space" movement have been using light and paint and other subtle materials to create room-sized environments that toy with a viewer's sense of perception (and sometimes balance). One of these artists, Doug Wheeler - a figure who has rarely shown his work in New York - now has an installation on view at the David Zwirner Gallery that employs brilliant lighting, lots of white paint and some cleverly-placed architectural elements to create an experience that completely wrecks all sense of depth perception.
Step into the space and you see what appears to be a luminous, white light box that occupies an entire gallery wall. But get closer -- as in: one millimeter away from it -- and it begins to become apparent that the light box is actually a recess in the wall that you can step into. But the combination of the lights and removal of all horizon lines (Wheeler has curved off the corners of the room with wood and paint) remove all sense of depth from the space. Each step inside the recess feels achingly tentative since the eye can never tell when the room is going to come to an end. It's like walking around in an unbearably thick fog -- and the effect is hallucinatory and unsettling. Once inside the piece, the illumination slowly (over a period of about 15 minutes) fluctuates from the dimness of dusk to the brilliance of a desert high noon.
If you're going to go see the work, a tip: the effects are at their most extraordinarily trippy if you step in when the piece is empty. If it already contains viewers, Wheeler's depth perception tricks will be revealed. So, if you have the time and the patience, ask the gallery staff if there's anyone inside before going in (or even looking at it). And only step inside once the recess is empty of people. The things it will do to your head will be more than worth the wait.
Doug Wheeler's SA MI 75 DZ NY 12 (yes, that's the title) will be on view at David Zwirner Gallery in Chelsea through February 25.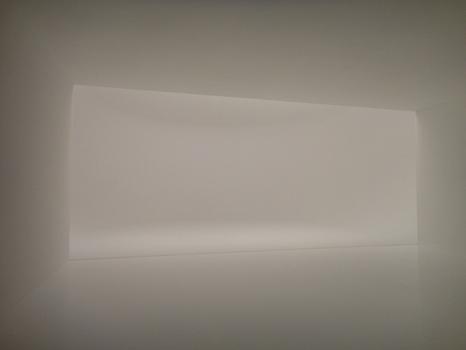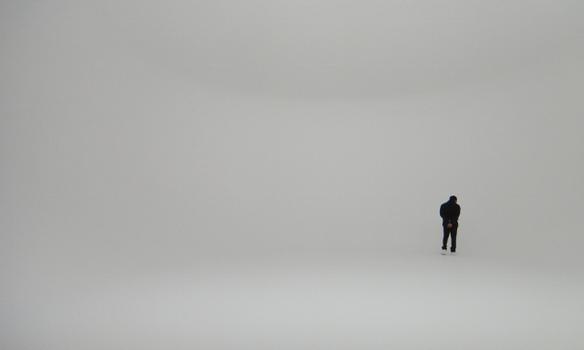 of