Judge Hears Motion to Dismiss OWS Brooklyn Bridge Arrests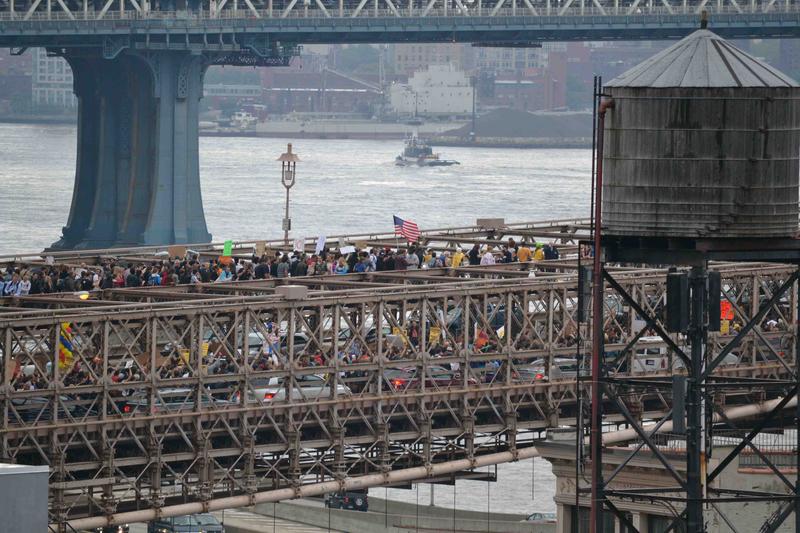 Attorneys representing Occupy Wall Street protesters asked a federal judge to dismiss the mass arrests of 700 demonstrators on the Brooklyn Bridge in early October. The protesters' lawsuit, brought against the city, argues that the arrests, which took place during a march, were unconstitutional and resulted from the "entrapment" of demonstrators by police officers.
In addition to requesting that the arrests be dismissed, the plaintiffs seek an injunction that would prevent the NYPD from conducting so-called "trap and detain" actions, in which demonstrators are encouraged to assemble before being arrested.
Attorney Mara Verheyden-Hilliard, who represented the protestors, told Judge Jed Rakoff that NYPD officers lured demonstrators off the sidewalk, where they were legally permitted to march, and onto the roadway of the bridge. She argued that the eventual warnings by police officers that demonstrators had to clear the roadway — made over megaphones — were inaudible to the vast majority of those arrested.
The mass arrests resulted in a propaganda battle between protestors and the NYPD, with both sides releasing videos online to support their narrative of the events that day.
In defense, the city's attorney, Arthur Larkin, said police officers had provided "consistent warnings" to demonstrators to stay off the roadway, and argued that the demonstrators had been committed to civil disobedience.
"They were chanting 'Take the bridge!'" Larkin said. "That is a defiant chant."
Judge Rakoff pushed back against attorneys on both sides, suggesting to the plaintiffs that the demonstrators may not have heard the warnings issued by officers because they were simultaneously chanting. But he also suggested to the city's attorneys that he would consider the issue of whether the NYPD "acquiesced" to the demonstrators' presence on the roadway. Rakoff did not indicate when his decision would be issued.
The group clashed with police on other occasions, most notably when pepper spray was used against some demonstrators in Union Square Park.