Mitt Romney Supporters Flock to Midtown Manhattan Fundraiser
A few days ahead of the South Carolina primary, GOP presidential hopeful Mitt Romney held a fundraiser in midtown Manhattan on Tuesday where economy was a keystone of the frontrunner's remarks and the topic that was at the forefront of supporters' minds.
Ken Abramowitz, a heath care venture capitalist from Manhattan, said the crowd of several hundred supporters who shelled out up to $2,500 to attend the event at the Sheraton Hotel was excited but remained reserved.

"Everyone in the crowd was very excited to hear what he had to say," Abramowitz said, "but I can't say we were jumping up and down like we would have when we were younger."

Former Rep. Rick Lazio from Long Island Rick Lazio, who now works in the private sector as a consultant, attended the event at and said Romney has the know-how to create a successful jobs program.

"A Romney administration is going to provide the kind of boost that this area desperately needs so you're going to see more growth, more jobs and more opportunity if he wins," Lazio said, standing in the coat line before heading into the party.

Romney has come under fire for not releasing his tax returns, something he said he would consider doing in April.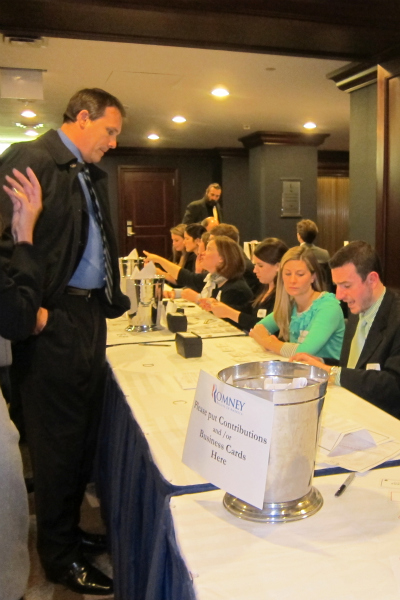 Robin Travers, a tax lawyer-turned-investor from New Jersey, said she understands why Romney hasn't yet made his tax returns public.

"Given Occupy Wall Street, it's going to be problematic," she said. "Whatever he does it's going to be a lot of money and it will look bad to many people, but I think he worked hard to get there."

Supporters said they didn't hear anything unexpected from the Republican frontrunner, but were eager to be a party of the event nonetheless.

 "He's on his way and I'd like to see him off," said Cameron Smith, who lives in Connecticut and works in the investment industry.

A handful of protestor's stood at the entrance of the hotel holding handwritten signs that said "Veto Romney" and "Romney Is Not a Friend to Latinos." Robin Andiola of Staten Island said she doesn't understand why Romney has come out against  pending Dream Act legislation that would allow immigrant students to become citizens.

"I have my degree in psychology, but I can't really use it as someone who is undocumented unless the Dream Act passes," she said.
(Photo: Mitt Romney fundraiser in midtown Manhattan. Kathleen Horan/WNYC)