Last Chance Foods: Parsing Pantry Staples
With blustery winds whipping across frost-hardened fields, eating seasonally during the winter months requires innovation aided by a well-stocked pantry. Recently, Last Chance Foods focused on cleaning out old spices and expired condiments in the interest of starting off fresh in the new year. This week, chef Amy Chaplin discussed pantry basics and suggests ingredients that will help liven up sometimes starch-heavy winter meals.
Chaplin, whose pantry was recently photographed for Martha Stewart Living, says having a well-organized storage system is crucial to being inspired to cook. "I really think the best way to store grains and beans — and other things, as well — is in glass jars," she says, adding the recycled food jars or mason jars scavenged from flea markets work well. "[The jars give] everything a deserving place. It's important, and it keeps much better. No weevils can get in and you can have your grains and beans for a really long time."
As for the crucial spices to keep on hand, Chaplin recommends cinnamon as a go-to. It can be used in both sweet and savory applications. "It actually helps digest carbohydrates," she says.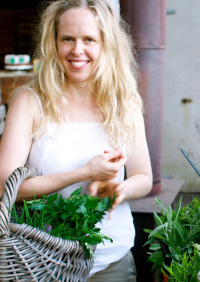 "The other thing that I try to use more because it has anti-inflammatory properties is tumeric. You don't want everything to taste like tumeric, but it's a great one spice to have." Chaplin explains that while tumeric won't replace an Indian curry spice blend, it can be combined with a few fresh ingredients like garlic, ginger, cilantro, and peppers to approximate a Thai curry, for instance.
Dried herbs also hold an important place in the pantry. In particular, Chaplin like to add a pinch of oregano to beans and stews. She adds that seaweed is also a great addition to a pot of beans.
"Kombu is an amazing ingredient that actually enhances the nutritional value of food that its cooked with," Chaplin says. "I've always cooked beans with kombu, because it helps them digest more easily and can help prevent gas." Kombu may be less well known than traditional pantry ingredients but is ideal for winter, since it stores well and adds a robustness of flavor.
Keeping a few healthy snacking options on hand also helps reinforce any New Year's resolutions. Chaplin says toasted almonds and almond butter are healthy (in moderation), as well as filling.
"Pumpkin seeds are really good," she says. "You can toast them with a little cayenne pepper and lemon juice and sea salt, and it makes it a little more flavorful."
Chaplin has a list of pantry essentials on her website. Below is Chaplin's recipe for coconut curry using tumeric.

Coconut Curry
Serves 6 to 8 people

The jalapenos I used were not at all hot, so I decided to add some cayenne pepper. Make sure you taste your curry before adding the cayenne. —Amy Chaplin


6 cups filtered water
3 cups dried coconut
2 stalks lemon grass, chopped
2 tablespoons extra virgin coconut oil or coconut butter
1 onion, sliced
Sea salt
6 cloves garlic, minced
2 ½ inch piece ginger, minced
1 red jalapeno, seeded and minced
1 green jalapeno, seeded and minced
1 small bunch cilantro
1 small leek, sliced
2 teaspoons turmeric
2 red turnips, cut in ¾ inch wedges
4 cups kabocha squash, cut in ¾ inch pieces
3 small carrots, cut in ½ inch pieces
1 tablespoon arrowroot powder (optional)
2 cups cauliflower florets
2 cups cooked chickpeas
2 teaspoons extra virgin olive oil
2 red peppers, seeded and sliced
Large handful baby spinach leaves
Cayenne pepper to taste

To make coconut milk, pour the water and coconut into a blender and blend on high speed for at least 2 minutes. You can do this in two batches if you have a smaller blender.
Place a strainer over a medium sized pot and line with a thin kitchen towel or nut milk bag. Pour the coconut milk into cloth or bag and gently squeeze out as much liquid as possible. Compost the pulp and place the pot over high heat. Add the lemon grass and bring to a boil, cover, lower heat and simmer while you make the curry for up to 30 minutes. Remove lemon grass with small strainer and discard. Set milk aside.
Warm coconut oil in a large pot over medium-high heat. Add onions and sauté for a few minutes. Add a pinch of salt, the garlic, ginger and jalapenos and cook for another couple of minutes. Finely slice the cilantro stems and add to the pot along with the leeks. Roughly chop the cilantro leaves and set aside.
Stir in turmeric then add the turnips, squash and carrots. Pour in homemade coconut milk and bring to a boil. Stir, lower heat, cover and simmer for 5 minutes. Add cauliflower, raise heat to bring back to a simmer and cook for another 10 minutes. Stir in chickpeas and continue cooking for a few minutes. Slowly drizzle in arrowroot and gently stir until mixture thickens slightly. Season to taste with salt and add a pinch or two of cayenne pepper if you want it spicier.
Warm olive oil in a skillet over medium-high heat, add peppers and a pinch of salt and sauté for a few minutes or until they begin to brown in parts. Remove from heat and add to the curry. Stir in cilantro leaves and spinach until wilted. Remove from heat and serve.