Honoring Dr. Martin Luther King, Jr., 1964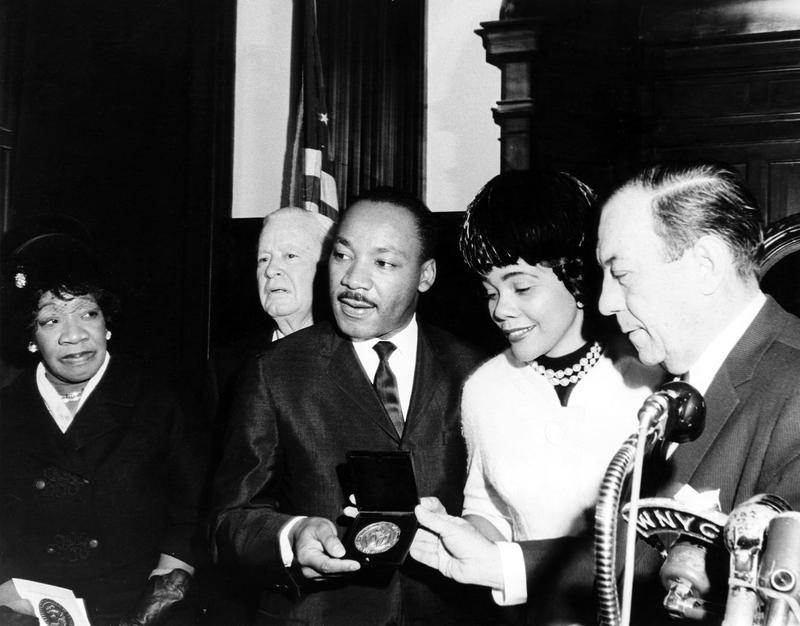 On December 17, 1964, Dr. Martin Luther King was honored by the people of New York for his unparalleled contributions to the civil rights movement in a City Hall ceremony presentation of the Medallion of Honor.
Just six days earlier, Dr. King had stood before an audience at the University of Oslo and become the youngest recipient of the Nobel Peace Prize. King ultimately donated the prize money of over $54,000 to various civil rights organizations, including the Unity Council and Southern Christian Leadership Conference and established a non-violence education fund.
In this excerpt from the morning's City Hall ceremony, Mayor Robert Wagner addresses the packed City Council chamber, speaking of the pivotal moment in the struggle for equal rights in the United States nine years earlier, when Rosa Parks refused to sit in the back of the bus, and of the resulting Montgomery bus boycott led by Dr. King.
Wagner touches on King's leadership during the Birmingham campaign and the March on Washington D.C., stating: "It is not the American Negroes who must prove their right to full equality, it is all Americans who must prove that they are equal to the responsibilities of a free society."
He goes on to present Dr. King with the Medallion of Honor, saying "Dr. King, with this historic symbol of our city goes the abiding admiration of all our citizens for you, for the movement you champion and for the ideals of brotherhood and peace which you so nobly advance."
King, accompanied by his wife and parents, extends his thanks to the city of New York and to Mayor Wagner. His speech echoes his words in Oslo, saying in part, "these joyous moments are experienced not for myself alone, but for all those courageous devotees of non-violence ... These noble people for whom I accept these honors are the real heroes of the freedom struggle. Many of them are young and cultured, others are middle-aged and middle class. They include both white people and Negroes. The majority are poor and untutored. All, however, are united in the firm conviction that segregation is evil and they will not stop until total freedom is won."
The morning's ceremony was followed by an afternoon press conference at the Waldorf-Astoria Hotel, where King announced plans for an economic boycott in Mississippi. Later that evening Dr. and Mrs. King attended a reception at which Vice President-elect Hubert Humphrey spoke, saying "I can think of no one who has done more to give true meaning to that precious word called peace - peace in the finest sense of that noble word. The peace that comes with dignity and the peace that comes with harmony."
Finally, later that evening King was met by an audience of 8,000 at the 369th Artillery Armory in Harlem; among the attendees were Governor Nelson Rockefeller, A. Philip Randolph, and various performing groups.
Audio courtesy of the NYC Municipal Archives WNYC Collection.