Q&A | MTA Chief Joseph Lhota on Improving the MTA's Image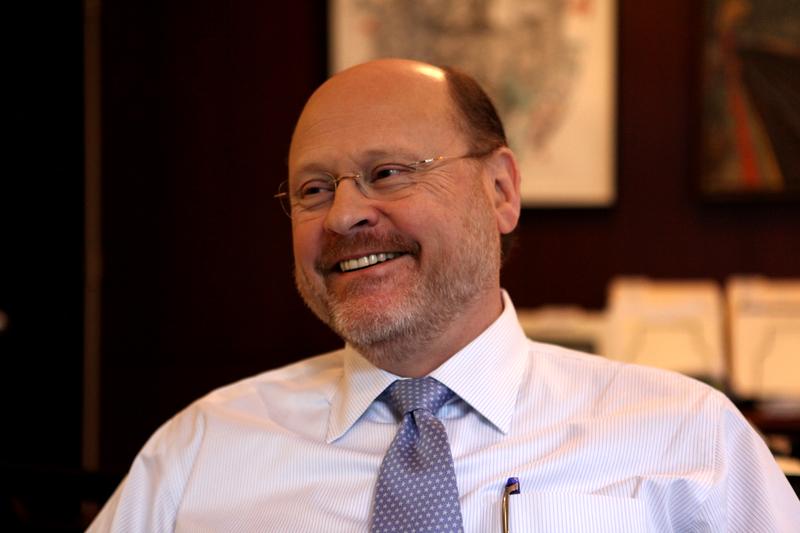 MTA Chief Joseph Lhota believes the Metropolitan Transportation Authority deserves more respect. Confirmed Monday by the New York State Senate, Lhota's main goal seems simple enough on paper: getting the public not to hate on the nation's largest transit agency. 
But how does one accomplish that? He's vowed to make the agency more efficient and responsive. And he says he's encouraged by the Transport Worker's Union decision to extend the deadline for contract negotiations — making the prospective of a disruptive strike even more unlikely.
Under your predecessor, Jay Walder, a set of his main accomplishments were innovations like the countdown clock and real time information for riders. What innovations do you have in mind?
I think you're going to see a continuation of more information, more communications with all of our customers, our riders. The ability to tell them how soon a train is coming or how soon a bus is coming is a very important thing. I'm going to spend an enormous amount of time on increasing the efficiency of the MTA and also changing what most people think of the MTA.
I'm finding a lot of people don't have a whole lot of respect for the MTA.  It's an organization that allows 8.5 million people to travel to and from work every day, and to travel home every day and to school, to dates on Saturday night. I want people to understand how important the MTA is to their live. At the end of the day I'd like them to feel good, or feel better about the MTA.
Do you have any ideas in the technology realm?
In the technology world there are an enormous amount of innovations. We started a contest for apps, so we can provide data to people who develop apps for iPhones and smart phones. The best thing to do for technology is not for a government agency to determine what to do, but to harness the power of young people who seem to have a much better understanding, a much better grasp of technology.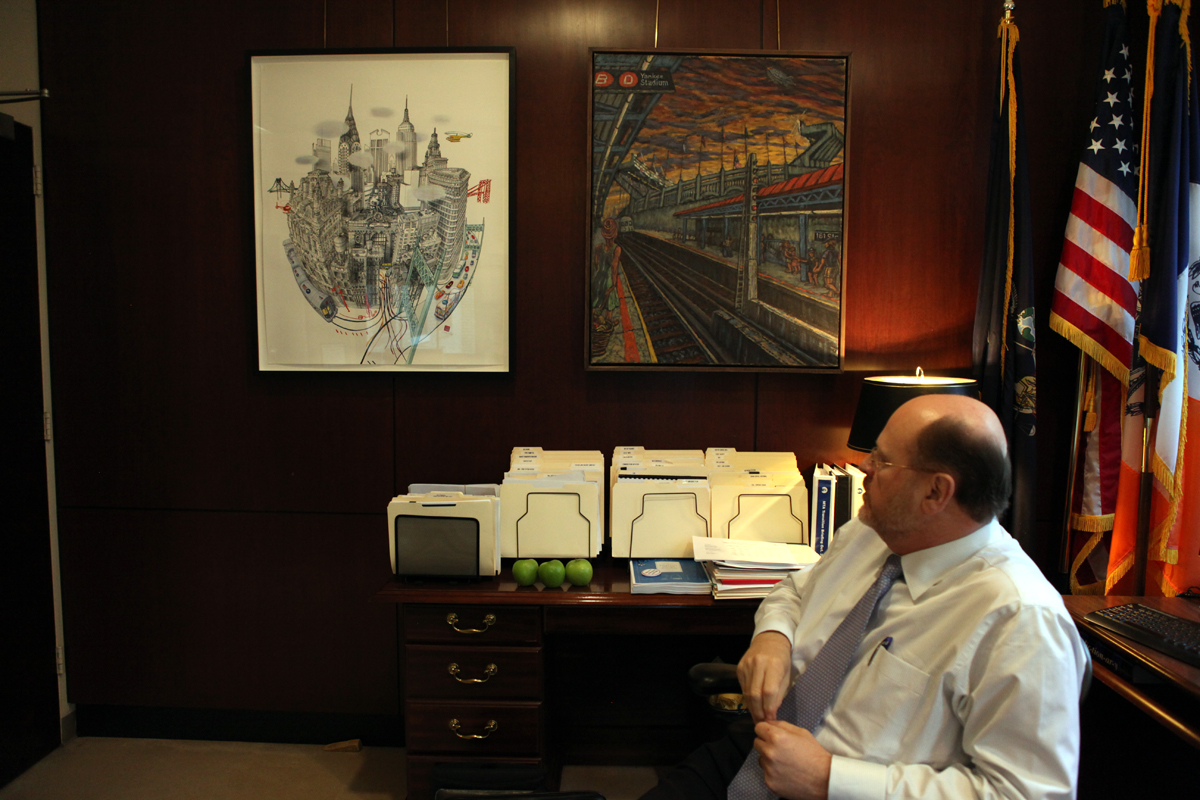 (Photo: Prints of NYC transit decorate MTA chief Jospeh Lhota's office. Stephen Nessen/WNYC)
Why ideas do you have for funding the MTA?
Some of the senators yesterday [Monday] said they wanted to find a way to end any taxpayer funding for the MTA. And I reminded them in 1968 when the legislature back then, with then Governor Rockefeller, they created the MTA with the intent that the burden of the transit system would not be solely on the rider, that it would be more broad-based, that there would be tax revenues. The concept of totally eliminating tax funding for the MTA would be inconsistent with how it was created. There's not a transit agency in the country that burdens their riders with solely paying for the system.
Where's that money going to come from?
I don't know where the money is going to come from but I'll work with the state legislature and I'll work with leaders across the state. The question of revenues right now is not isolated to the MTA. All government agencies are under pressure. The current condition of our economy is really providing the lack of revenues.
Jay Walder said in Hong Kong that New York's transit system underfunded and under developed.
I heard Jay's comments. They were taken out of context. Jay was comparing the brand new system in Hong Kong to a hundred plus year-old system here in New York. It's really tough to compare something that is brand new with something that is being operated for over 100 years. The comparison is not apt.
Give me your general impression of how it's going with the Transport Workers Union.
Negotiations are ongoing, they've been constructive, they've been very helpful. [TWU President] John Samuelsen and I have tried to do everything to create a relationship with each other. We're open and honest with each other. We tell him thing that we like. I tell him things I don't like and there are no repercussions from it. The negotiations are ongoing but will remain behind closed doors.
Are you going to hit the deadline?
We're going to do everything we can to hit the deadline. The executive committee of the TWU has already extended the deadline by saying if they don't have a contract by that date they're willing to extend it out. That was a very encouraging sign by the leaders of the TWU, so the pressure we normally have on us is not there. That being said we're going to do everything we can to have it resolved by midnight next Sunday night.