Niche Market | Paper Dolls
New York is a city of specialists from foodies to academics, laborers to shopkeepers. Every Wednesday, Niche Market will take a peek inside a different specialty store and showcase the city's purists who have made an art out of selling one commodity. Slideshow below.
Dumbelle
145 Front Street,
Brooklyn, NY 11201
The two young designers hunched over their coloring sheets, grasping their markers with intention. At their drafting table in DUMBO, which had a tiered paper cake as a centerpiece, the BFFs discussed the latest fashions.
"I colored her tank top pink striped with blue and I'm going to do her shorts blue dots in a green background," said Zoe Katagas, 7. The "her" in that sentence referred to "Sunny," a young fashionista whose cartoon-like image was printed onto a black and white sheet in front of Zoe.
On her own sheet, Zoe's best friend Esme Baptista, also 7, was carefully inking in a Halloween outfit for "May," a girl living in a Brooklyn brownstone. (Dark purple princess dress, pink shoes).
In less than an hour, with the help of designer Elaine Pedlar, Sunny and May would literally spring up from the page. These fashionable paper dolls, which stand upright on nifty circular stands, are Pedlar's invention, and they encompass the merchandise at her tiny shop, Dumbelle, Pretty Smart. Pedlar, 46, sells sheets of her three paper doll characters: May (an African American girly girl with a pet rabbit named Bunny Bunny), Sunny (an Asian American crafty and quirky girl who frowns on anything that matches) and Katie (a white teenager who is preppy, sporty and popular, and who's best friend is a pug named Moose). Black and white sheets are $15, while pre-colored go for $25. She'll also sell pre-assembled dolls, but says most kids like to design and cut the dolls out themselves.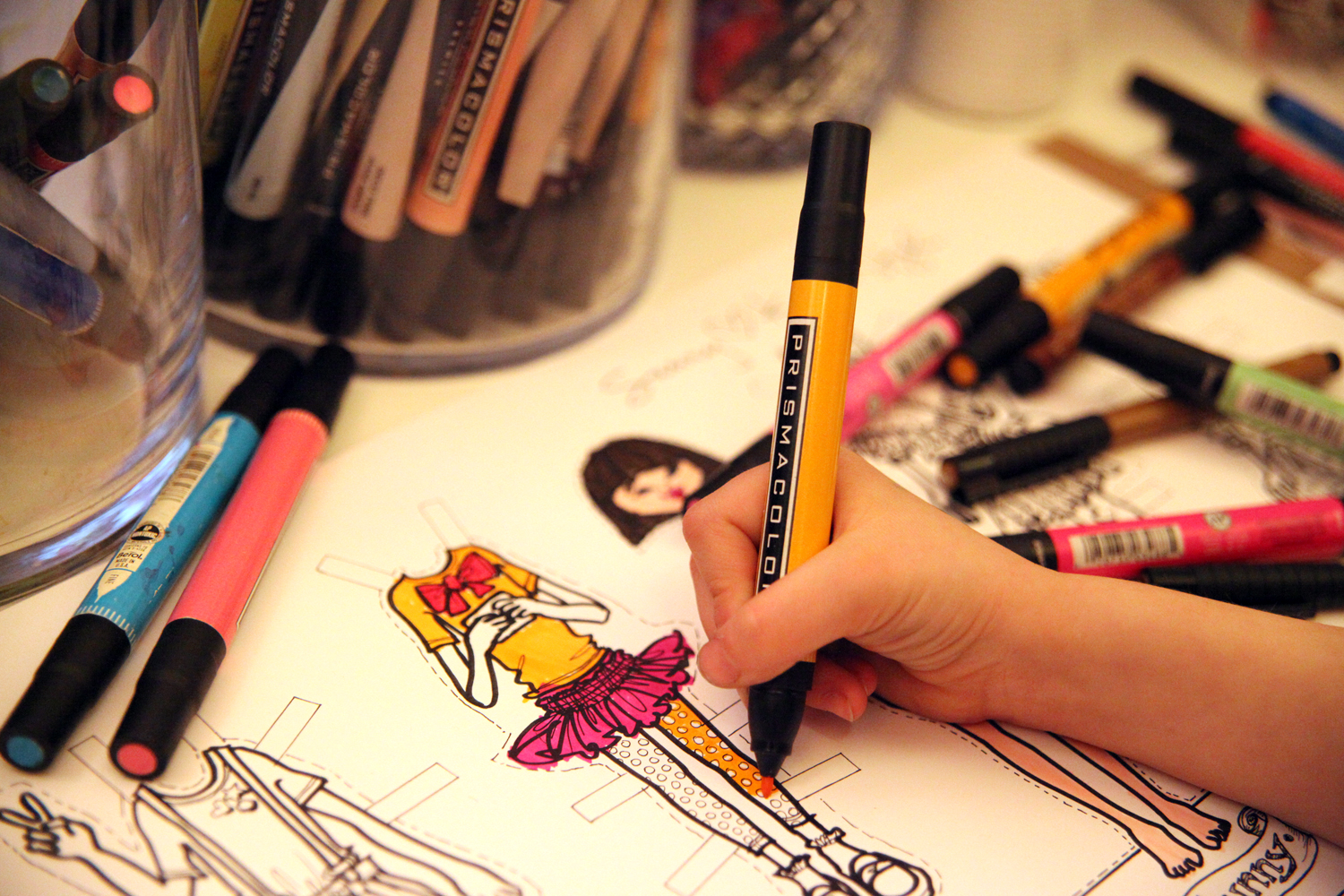 Pedlar grew up making paper dolls with her mother and sisters in their cramped public housing apartment in Queens. She attributes the craft in helping her become a fashion designer. "I was the youngest of the girls in my family so everything I had was a hand-me-down. So the idea of this little doll that could change her clothes and I could be responsible for creating them and coloring them and kind of putting them together, it was like magic for me," she said while sitting underneath a drop-ceiling made of colored paper lanterns.
After years of working for major brands like Abercrombie and Fitch and The Limited, Pedlar decided to return to her roots and design paper dolls again, this time with a cutting edge fashion filter for New York girls.
From the beginning, it was clear to Pedlar, who is African American, that her characters would come from culturally specific backgrounds. She didn't see paper dolls who looked like her when she was growing up, and she wanted to change that. 
Her three characters get new paper clothes twice a year — during New York fashion week, of course. Pedlar's currently at work on the spring 2012 collection. The clothes are designed to match the personalities of the characters — Sunny wears an oversize bow, for example, that Katie, who is preppy, would never consider. Like any fashion house, there's a comprehensive set of clothes: sleepwear (pajamas), beach wear, rain wear, winter coats and even halloween costumes.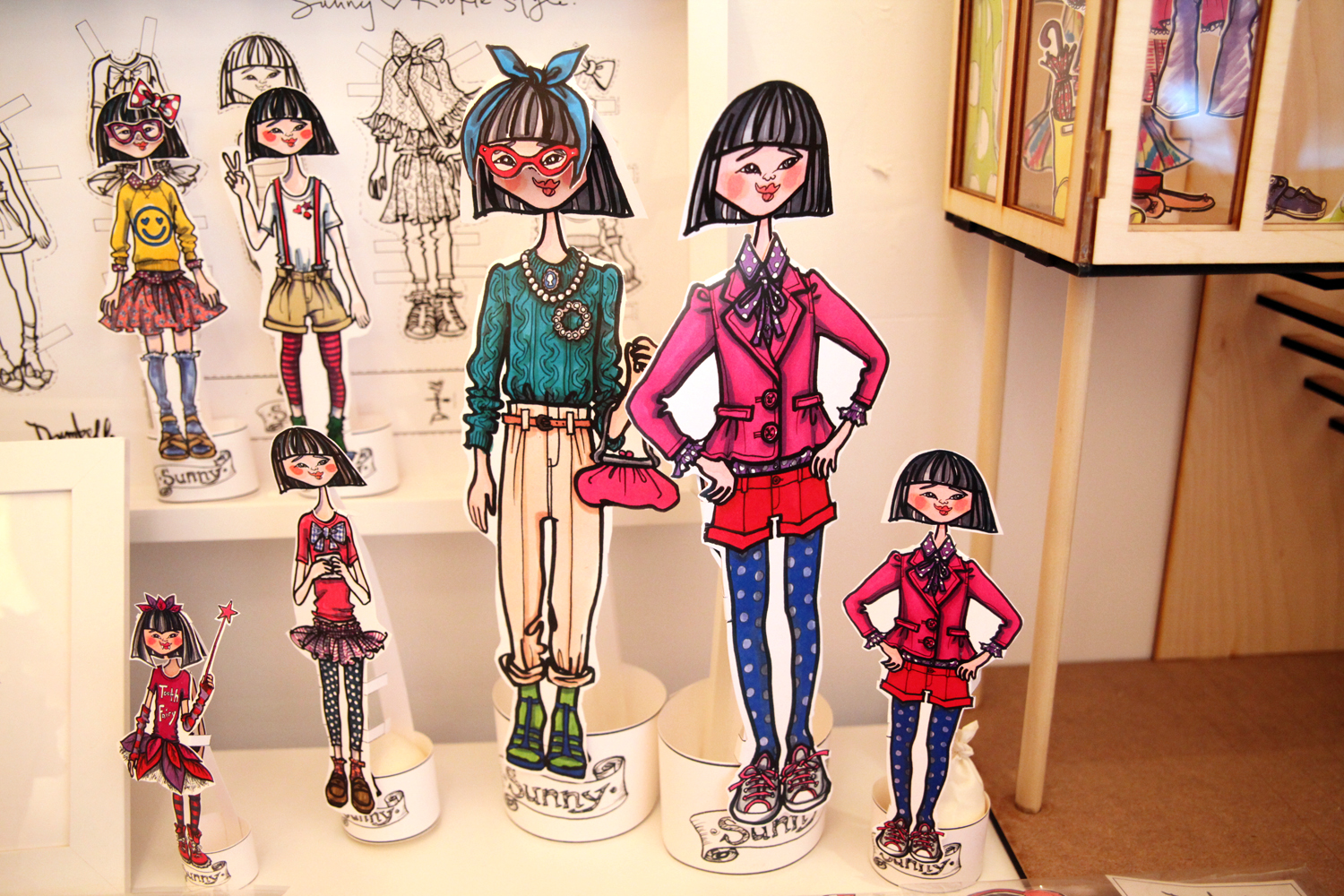 In her coloring and BFF sessions — such as the one Zoe and Esme were attending — Pedlar often teaches drawing techniques like shading and how to make fabric look like fabric. But primarily, the coloring hours are a time for children to draw, stretch their imaginations and play. "I don't feel like there's enough inspiration out there for little girls, I feel like it's more make-up and glitter and nail polish and stuff like that, and I wanted it to be something where they could be inspired to be creative and to dream a little bit," Pedlar said.
At the current BFF session, these two girls were right on target. Between belting Adele songs and chewing on a candy bracelet, Zoe decided Sunny was throwing a birthday party in which everyone would go to the movies wearing Christmas sweaters, designed by Zoe.
Originally conceived as a pop-up, Pedlar never intended the store to last this long — but her customers have become invested in the characters and come in requesting new clothes. There are plans to introduce new dolls too. "I want to do a Latina character and I want to do a little chubby girl, because I was a little chubby girl, and I want her to be fierce and fabulous."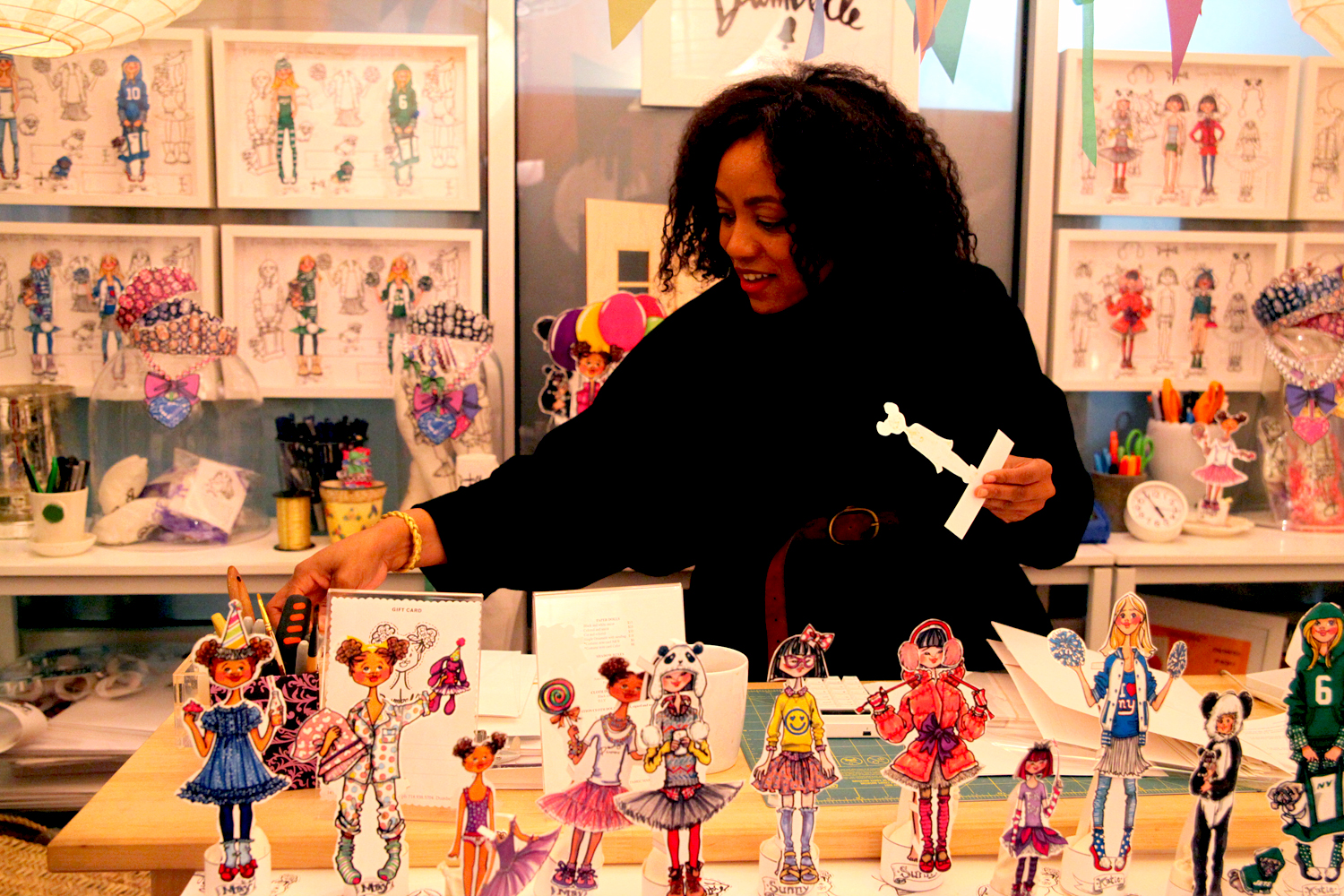 Interview with Elaine Pedlar, owner of Dumbelle.
How did you come up with the name Dumbelle?
It's a store for girls in DUMBO. "Down Under the Manhattan Bridge Overpass," the name of the neighborhood, and "Belle" is French for girl, so it's a store for girls in Dumbo. And the name is also "Dumbelle — Pretty Smart." I like the idea of having that little tagline because I'm a fashion designer so I love the idea of pretty and I love the idea of smart, because smart is intellectual smart and also you're dressed smartly, so I kind of like the whole play on words.
Why paper dolls?
I think it incorporates the things that I love the most. I illustrated a children's book, I've always loved illustration. I got into fashion design as a young kid because I loved to draw girls in beautiful outfits, and as a fashion designer I loved designing clothes, so it kind of does both: it's kind of children's illustration and also fashion design at the same time. I also love that it's not "princess-y." I wanted to do something that was really about real girls, and I just love clothes and I love whimsy and it was a perfect fit for me.
Why did you decided to open up a paper doll store as opposed to doing your own line of clothing?
Doing clothing, it takes a village. You need people who can manufacture and produce the stuff, you need such a large team of people. I wanted to be able to tell a story, to do something that I could contain, I didn't want to have a shop. When you do clothing, say with a pair of jeans, you need to have those jeans in ten different sizes and lengths and you have to hope that they come and buy it before that style is done. I wanted to do something that would have a bit more shelf-life and something I can do myself, and I draw, and I'm like, I can draw and I can illustrate and I want to try and do something on my own steam instead of having a team of sewers and manufacturers and people who make labels and shipping.
Who are your customers?
My customers are mother-daughter, father-daughter, I would say creative types. I wanted to open in DUMBO because it's a creative community, most of my friends have kids and they're in the creative business, either they're designers or graphic artists or sculptors, they're all hipsters and they all have kids, and they are so sophisticated. So, that's who my customers are, the hip mom, hip dad, and their daughter, who understand fashion and who can look at a thing and say, 'Oh, that's a Chanel bag,' they can recognize what something is, they can recognize immediately those are Clarks. I incorporate just a little something into my drawings so people can see it and recognize the authenticity of it.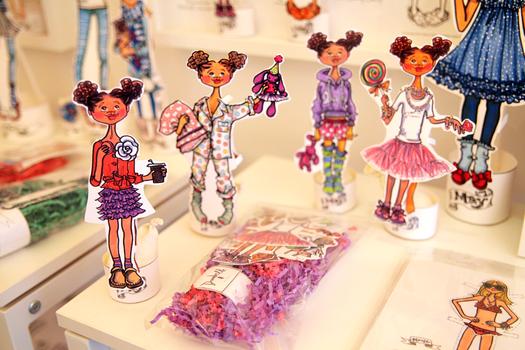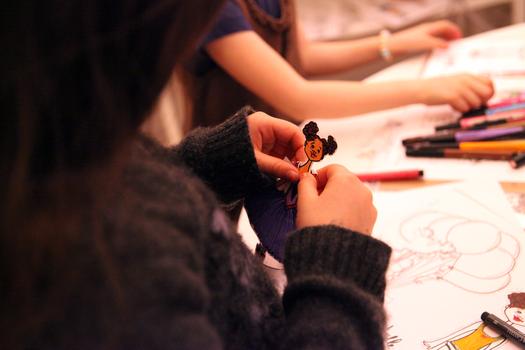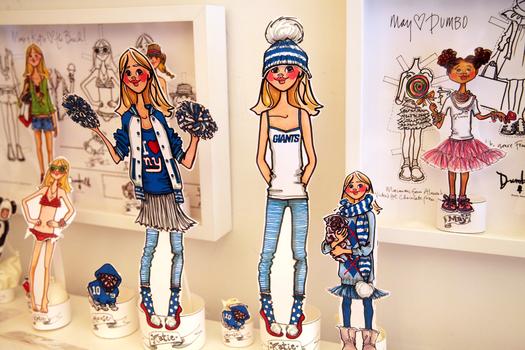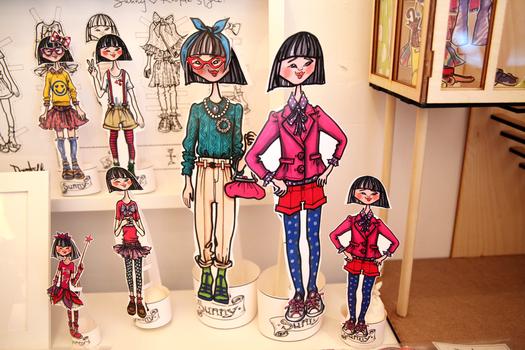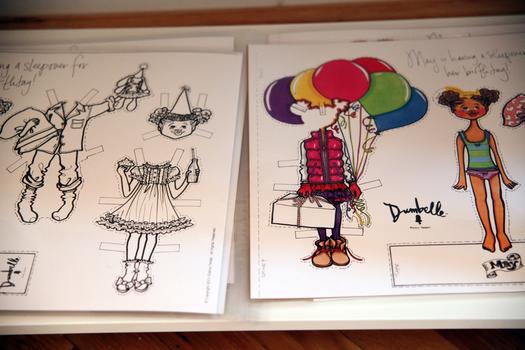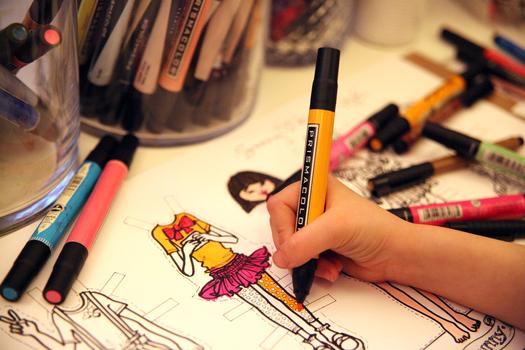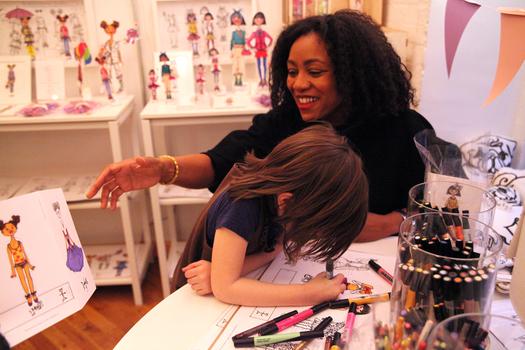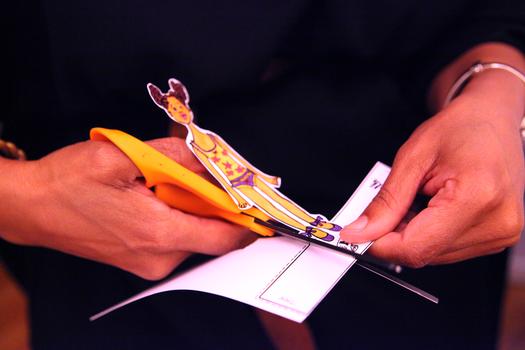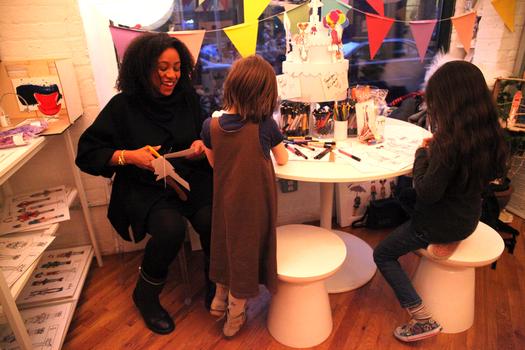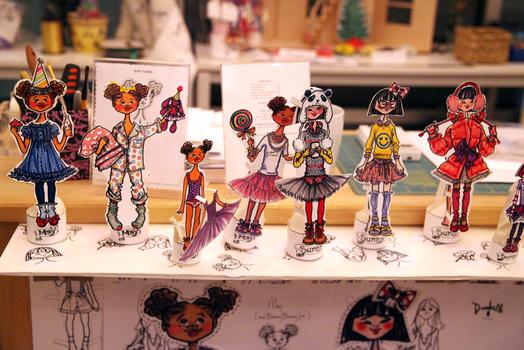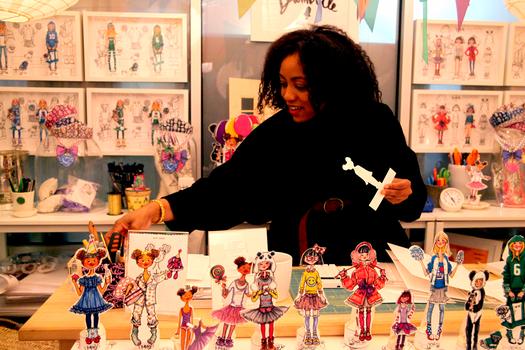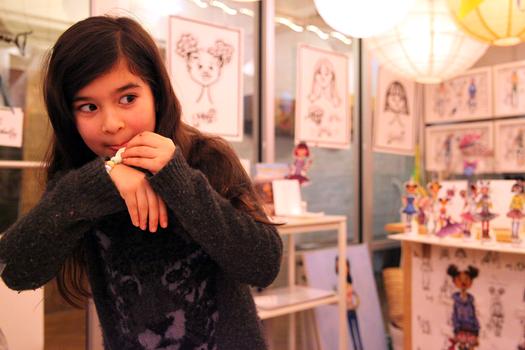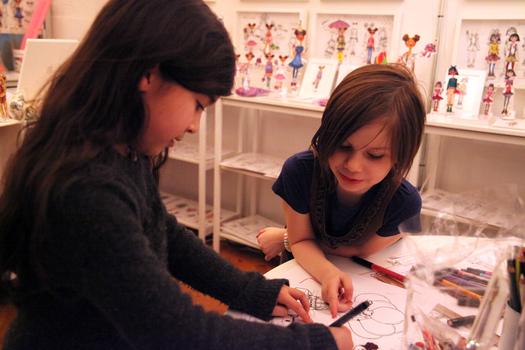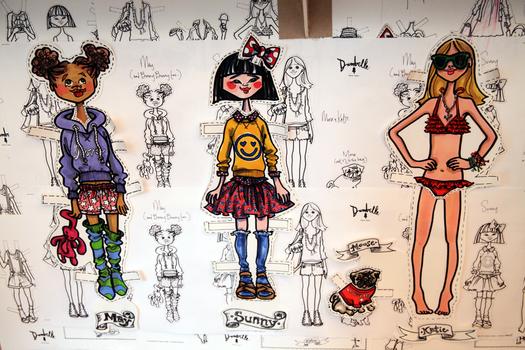 of