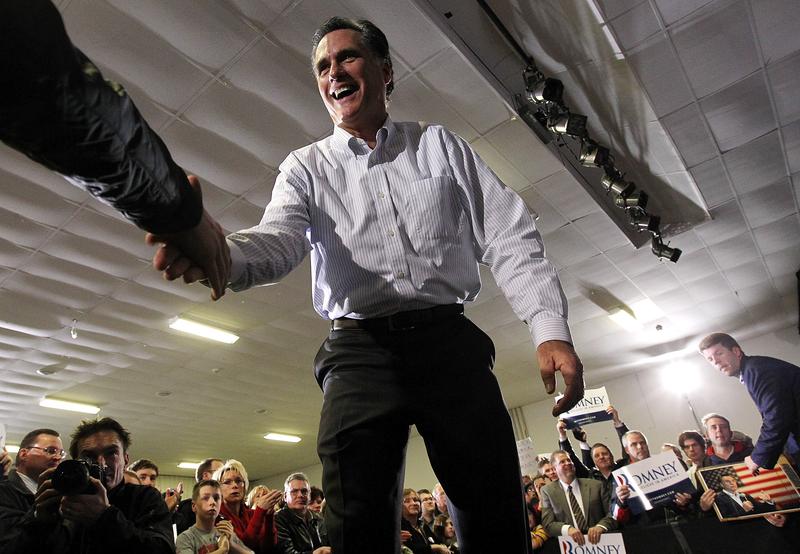 Recap from It's a Free Country.
Welcome to Politics Bites, where every afternoon at It's A Free Country, we bring you the unmissable quotes from the morning's political conversations on WNYC. Today on the Brian Lehrer Show, Josh Rogers, political reporter for New Hampshire Public Radio, and Anna Sale, It's A Free Country political reporter, talked about Tuesday's New Hampshire primary and the last-minute challenges for Mitt Romney.
'I like being able to fire people'
Mitt Romney must have felt that this was too easy. He must have thought that his challengers in the Republican party needed fresh ammo for their stump speeches and negative ads.
The front-runner has long tried to balance his history as a wealthy corporate "turnaround artist" with the image of an authentic, in-touch candidate that has room in his heart for Wall Street and Main Street. He's had to defend himself and his company, Bain Capital, from charges that they specialized in laying off workers and raiding pension funds for the benefit of executives—not exactly helping his case that he's the "jobs" candidate.
But that's been pretty easy so far. So yesterday, when Romney was talking about the need to keep insurance a free market, he remarked that he "liked being able to fire people," in reference to dropping your insurance company if they're not providing a good product. It makes for an out-of-context soundbite perfectly tailored for anyone running against Mitt Romney.
But Brian Lehrer observed an interesting paradox in trying to turn off voters with Romney's business experience: this is a Republican primary, and Republicans are supposed to like free markets, free enterprise, capitalism, and, by extension, what Mitt Romney has done in the private sector. Anna Sale said that was reflected in the Romney campaign's damage control.
His press office sent out a slew of e-mails yesterday, one of which was a list of conservative commentators defending free enterprise and making that exact point. 'Hey guys, remember, we're for free enterprise in the Republican party.'
At a campaign event on Sunday, Anna said, New Jersey Governor Chris Christie provided similar justification for supporting Romney.
Christie is trying to grab onto that and say, Mitt Romney is actually someone we should look to as inspiration: he's been a success in business and Obama, Christie argues, has divided America and is running a cynical, pessimistic campaign.
Attacks landing?
Jon Huntsman was the first candidate to seize on the opportunity to slam Romney with that quote, but he won't be the last, says Sale.
We haven't seen the end of it yet. Even if Romney seals this deal in New Hampshire and we head to South Carolina, this is going to keep being the story.
It's an open question as to whether such attacks accomplish the goal: sufficiently scaring unenthusiastic voters ("soft support," according to Sale) away from Romney.  Sale says that while stoking anxiety about Newt Gingrich's record killed his momentum in Iowa, the same isn't true for Mitt Romney in New Hampshire.
What you hear is, 'I think he might be a little out of touch,' 'I just don't trust him'—hemming and hawing about Romney as opposed to 'I don't trust that my job's safe under a Mitt Romney presidency.'
On to South Carolina
It seems the GOP is limping towards a Romney ticket, and tonight could bring them a step closer. Jon Huntsman's put all his marbles on New Hampshire, and a sluggish showing would almost certainly knock him out of the race, thinning the field further.
Romney's expected to win tonight, but Josh Rogers said that victory alone won't be a bellwether for Romney's continued success.
Presuming that Romney wins, what is the margin? Is it such that he can claim it's a convincing win and will send him on his way in South Carolina, or will it reopen everything down there?