Explainer: Why Dixville Notch Votes at Midnight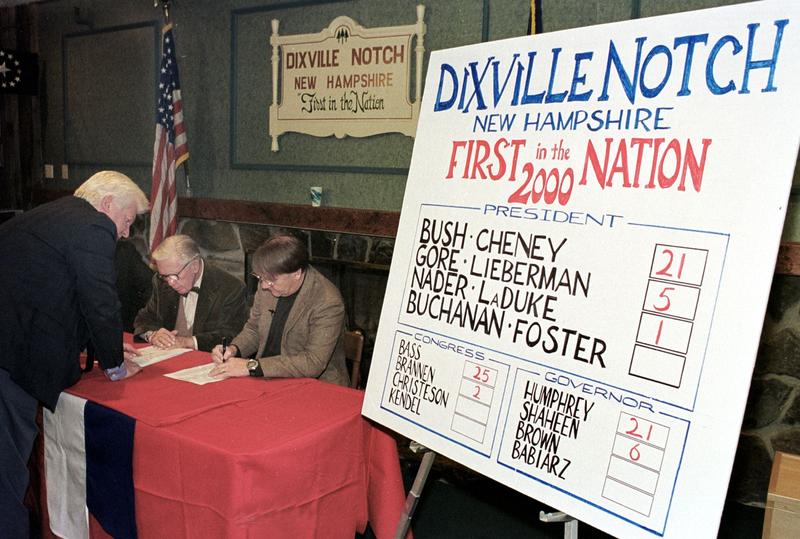 Thanks to a latex pioneer who lived to be 102 years old, the tiny village of Dixville Notch, New Hampshire (pop. 9) is the first community to cast its ballots in the state's first-in-the-nation primary.
Most polls in New Hampshire will be open from 11 a.m. to 7 p.m. on Tuesday, but in Dixville Notch, they'll be open for only one minute: from 12 midnight to 12:01 a.m.
The story of how this came to be is the story of Neil Tillotson, a local who had purchased the Balsams Grand Resort Hotel in Dixville Notch in 1954. Tillotson first rose to prominence as a research chemist turned entrepreneur whose specialty was rubber and whose claims to fame were inventing the modern latex balloon (Tillotson's first was in the shape of a cat's head) and latex examination gloves.
Tillotson retired in Dixville Notch, where he first organized the midnight vote in 1960 for that year's general election for president. State law allows a precinct to close if all registered voters in the precinct have cast ballots. Thanks to Dixville Notch's small population, and even smaller number of registered voters (there were only 17 in the Republican and Democrat primaries of 2008, combined), it's easy for the town to dispense with their vote quickly. At midnight on November 8, 1960, nine voters gathered in the "Ballot Room" at the same Balsams Hotel owned by Neil Tillotson, where they unanimously voted for Richard M. Nixon. Tillotson himself cast the first ballot.
Since then, Dixville Notch has held midnight votes for every primary and general election, and has enjoyed the little publicity that comes with being first in the state that's first in the nation. Other towns in New Hampshire have midnight voting rituals, making it difficult to really call Dixville Notch "first." However, the village does have claim to the longest continuous record of midnight voting, and is often first to report its returns.
What prompted Neil Tillotson to put his tiny town in the spotlight? Perhaps the prospect of articles like this one. Admit it: you'd probably never hear of Dixville Notch or the Balsams Grand Resort Hotel if not for this quirk. Without being cynical, Tillotson managed to parlay national politics into national publicity, both for himself and for his business.
The case of Dixville Notch is a benign manifestation of something most Americans lament: Elections have taken on a circus-like quality, where a candidate can leverage the costs of an unserious campaign with book sales, or a state can jockey for prestige by moving up its primary date. Wealth may or may not trickle down, but the opportunity for attention certainly does; securing primacy within the first-primary state means something, and Tillotson's practice ensures that at least a few more people know about his small town a mere twenty miles from the Canadian border. Not least, it probably brings a few more people to the Balsams Hotel, and almost certainly earned it a spot in the National Register of Historic Places, to which it was added five months after Tillotson's death in 2001.
Ready for the spooky part? Dixville Notch has correctly predicted the eventual Republican nominee in every election since 1960. Their record in the Democratic primary and in the general election is spottier, but they've never been wrong when it comes to picking Republicans. If Punxsutawney Phil were as reliable on Groundhog Day, the rodent would have churches built in his name. (There is also a joke to be made here about Mitt Romney's shadow.)
Of course, past performance is no indicator of future success. And Dixville Notch can't possibly be correct about the Republican nominee this year because the result was a tie: Jon Huntsman and Mitt Romney had two votes apiece, while Newt Gingrich and Ron Paul each received one vote. Barack Obama received three.
Correction: This article originally reported the population of Dixville Notch as 75, which was according to Census numbers for the Dixville Township. Dixville Notch town clerk Rick Erwin says the unincorporated village's population is only nine.