Opinion: Two Anniversaries, One Vision of Nonviolence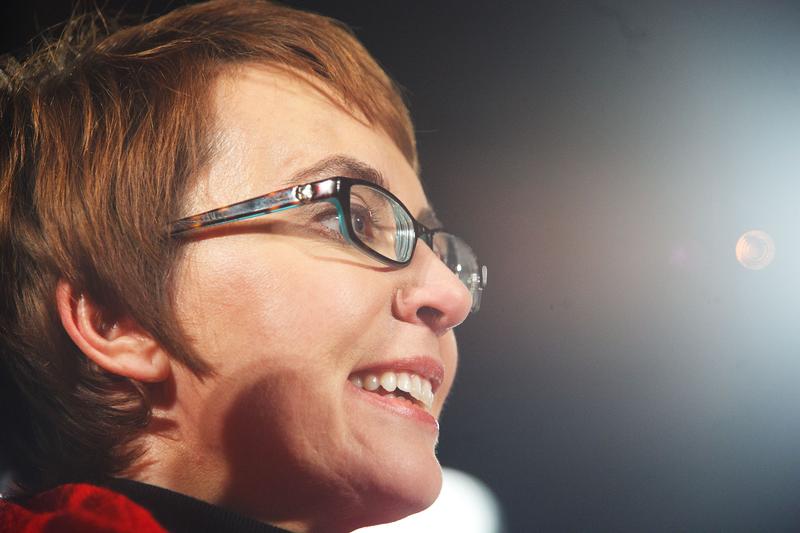 Arizona Congresswoman Gabrielle Giffords led a recitation of the Pledge of Allegiance on Sunday, one year after a shooting spree that claimed six lives and left her gravely wounded.
Giffords is still recuperating from the head wound she suffered in the shooting; but she topped off a daylong series of anniversary tributes and remembrances by attending a candlelight vigil with her husband, retired astronaut Mark Kelly.
Survivors and relatives of the victims took turns lighting 19 large candles, one for each of the six people killed and thirteen wounded when an assailant opened fire at the congresswoman's meet-and-greet for constituents on January 8, 2011.
The dead included a 9-year-old girl, a federal judge and a member of Giffords' staff. The accused gunman, Jared Loughner, a college dropout with a history of mental illness, is charged with 49 offenses, including first-degree murder and the attempted assassination of Giffords. (Loughner was found by two medical experts to have schizophrenia, disordered thinking and delusions, and the 23-year-old was declared mentally incompetent to stand trial at a May hearing.)
The anniversary of the shooting spree comes even as we prepare to celebrate the life and vision of a man who preached non-violence. This Sunday, on Martin Luther King's birthday, Brian Lehrer and I will co-host an event at the Brooklyn Museum, "In MLK's Footsteps: Education as a Civil Right." Our purpose is to examine that part of Dr. King's vision that embraced equal education for all, including the historic victories in the courts that desegregated public schools and universities.
Standing before the Lincoln Memorial, at the Great March on Washington, he outlined his vision with historic eloquence:
I have a dream that my four children will one day live in a nation where they will not be judged by the color of their skin but by the content of their character.
I have a dream today.
Of course, the African-American Civil Rights Movement was first and foremost about race. But as the years went on, the Movement grew. It became about poverty, employment, housing discrimination, even the war in Vietnam. In short, Americans looked to the Movement and to Dr. King for hope, change and the promise of equality for all Americans. They joined hands—black, brown and white; Jews and gentiles; men and women, all working toward a better day for their children and their children's children.
So when Representative Gabrielle Giffords reached out to her constituents for a "Congress on Your Corner" event a year ago, it was precisely the kind of moment Dr. King envisioned for this country.
Dr. King knew, however, he would not live to see the day that a Jewish and female congressional representative would stand on a street corner to solicit ideas from Arizona voters. While he believed that sort of change would come, he also understood, all too well, the violent undercurrent that runs through our culture. He understood America's history of settling disputes with guns, not words. He knew the history of political assassination in this country. The day before his death, he spoke these words:
And then I got to Memphis. And some began to…talk about the threats that were out. What would happen to me...? Well, I don't know what will happen now. We've got some difficult days ahead. But it doesn't matter with me now. Because I've been to the mountaintop. … And I've seen the Promised Land. I may not get there with you. But I want you to know tonight, that we, as a people, will get to the Promised Land. So I'm happy, tonight. I'm not worried about anything. I'm not fearing any man. Mine eyes have seen the glory of the coming of the Lord!
On April 4, 1968, Martin Luther King was shot and killed.
I was just a toddler when Dr. King was assassinated, but everything about that day has informed my life since. I was one of those children who believed in the dream, believed we might one day live in a country in which we would not be judged by the color of our skin, or by any other immutable characteristic. With his death, I feared, dreams of equality would be lost, as well. But they were not.
Dr. King had a voice so full of hope, so powerful that it shattered the chains of oppression, even after he was gone. Thanks to the power of that voice, even after his death, we have come a long way: women in the Senate and House, like Gabrielle Giffords; representation (women and justices of color) on the Supreme Court; three women have served as Secretary of State for the U.S. overseas, one of them African American. Her predecessor, a black man as well, served as Chairman of the Joint Chiefs of Staff before that. Blacks are also represented in the highest sectors of business, academia and the arts. And of course, arguably most significant: the first African-American President. It is good. But it is not good enough.
For being Dr. King's greatest message—the one he preached first and foremost—the message of nonviolence seems to have been lost. The dream of nonviolence very nearly died with Dr. King on the day he was shot and killed. And his dream has died a little bit with each day thereafter, as we struggle to find leadership to fill the void.
King witnessed the murders of Malcolm X and Medgar Evers. He'd suffered, with the rest of the nation, the assassination of a President John F. Kennedy.
However, Dr. King did not live to see the assassination of Bobby Kennedy. He did not witness the attempts on Presidents Ford and Reagan or the murder of John Lennon. And he missed the bizarre national phenomenon of gun violence that spawned the expression, Going Postal: citizens killing their managers, co-workers, fellow students, police officers, and members of the general public in acts of mass murder.
Dr. King did not live to see the day that Congresswoman Giffords nearly lost her life, the day that a sitting federal judge, nine-year-old girl and four others were gunned down. He did not live to see the day that sixteen of her constituents were shot, at an event meant to bring them together for community dialogue.
The ugly violence continues, whether with legally obtained weapons, as in Tucson last year, or with the saturation of our urban centers with illegal firearms.
A national holiday for Martin Luther King is nice, but it is not enough. To honor and respect the memory of Dr. King, those killed in Arizona, and all Americans who have lost their lives to senseless violence, we must show courage on the issue of gun control. On this day, let us pick up the true mantle of Dr. King's movement: nonviolence.