New Bridgegate Subpoenas Probe Christie Chopper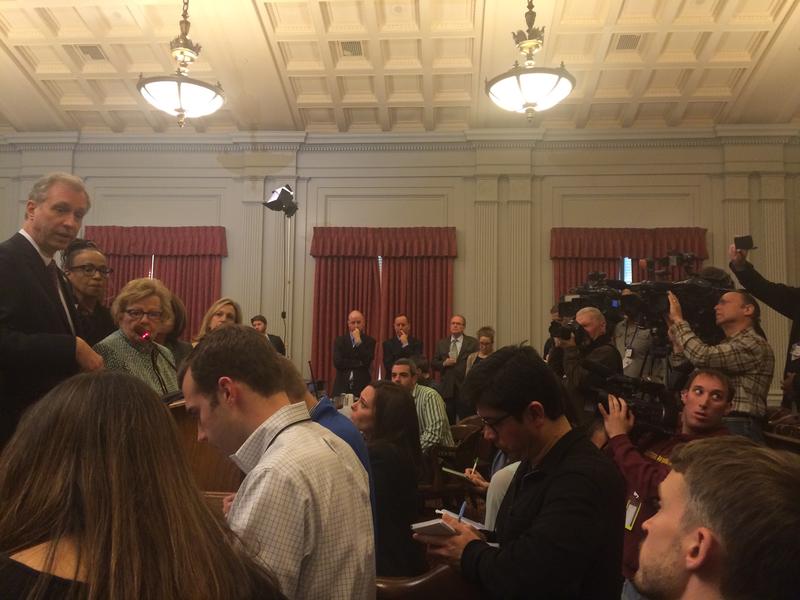 The special New Jersey legislative committee investigating Gov. Chris Christie's involvement in lane closures at the George Washington Bridge issued 18 new subpoenas Monday — including one to the state police aviation unit, which indicates Democrats are examining the governor's helicopter rides.
Also on Monday, the committee passed six motions to fight an attempt by two key witnesses to withhold documents. Bridget Anne Kelly, a former Christie deputy chief of staff, and Bill Stepien, Christie's former campaign manager, refused to turn over correspondence that may shed light on why lanes were closed and whether Christie himself was involved.
Their lawyers cited constitutional protections, but the legislative committee rejected that argument, ruling that it was "invalid" and that any means necessary — including possible court action — would be taken to get Kelly and Stepien to comply. The committee's vote on this action fell on party lines; Democrats voted yes, and Republicans abstained, saying they didn't have enough time to digest the complicated constitutional questions involved.
The subpoena to the State Police aviation unit followed a report in The New York Post indicating that Democrats wanted to know if Christie flew over Fort Lee, where an epic traffic jam ensued after the lane closures, on Sept. 11, 2013. That day was in the middle of the week of lane closures. The paper also said Democrats wanted to know if Christie may have taken that ride with David Wildstein, the Port Authority official who ordered the lane closures, on the way back from a Sept. 11 ceremony that they both attended. A spokesman for the governor said Wildstein has never flown in Christie's helicopter.
Some of those subpoenaed were already targeted before. Here's a list, obtained by WNYC, of the new targets:
Jeanne Ashmore, director of constituent relations, governor's office

Rosemary Iannacone, director of operations, governor's office

Barbara Panebianco, executive assistant to Bridget Anne Kelly, governor's office

Custodian of records, State Police aviation unit

William "Pat" Schuber, commissioner at the Port Authority

Custodian of records, Port Authority

Steve Coleman, deputy director of media relations, Port Authority

Phillip Kwon, deputy general counsel, Port Authority

John Ma, chief of staff to Executive Director Patrick Foye, Port Authority

Matthew Bell, special assistant to former Deputy Executive Director Bill Baroni, Port Authority

Gretchen DiMarco, assistant to Baroni, Port Authority

Arielle Schwarz, special assistant to former Director of Interstate Capital Projects David Wildstein, Port Authority

Mark Muriello, assistant director of Tunnels, Bridges & Terminals, Port Authority