Opinion: Romney's Lead Isn't Safe in New Hampshire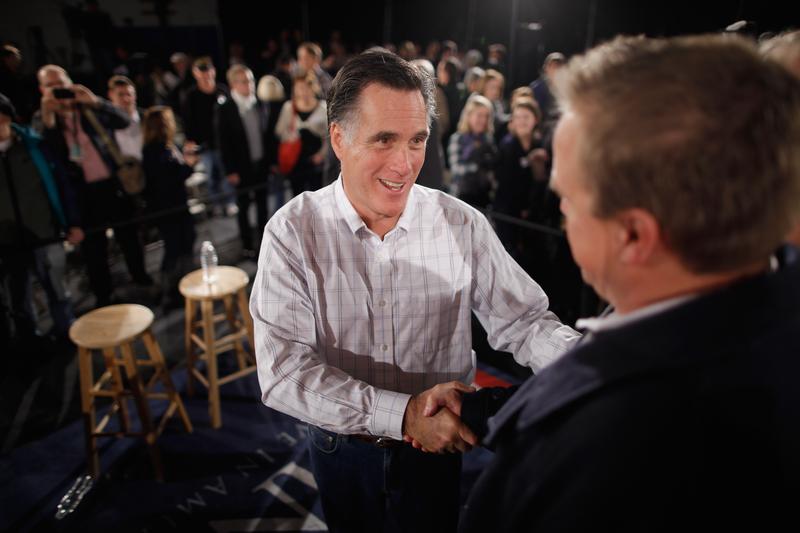 New Hampshire poses a much bigger threat to the Republican Party's struggle to designate a Presidential nominee than we thought.
Coming off the Iowa caucuses on January 3m the herd of Republicans was in fact not "winnowed" as Iowa is supposed to help do. The "serious" field remains the same size, with Bachmann bailing but former Utah governor Jon Huntsman now a factor.
I have said that this year my political mathematics is "Division = Multiplication." That equation is verified in the Granite State, where a deeply divided GOP has spawned a multiplicity of candidates representing each of the major factions in the party. This makes it hard for a front-runner to emerge quickly.
The depth of this animus was striking yesterday, when I did a one-hour CNN en Espanol talk show in which there were two Republican consultants. They were clearly agitated and tried during the entire program to claim that any of the candidates running would rally GOP voters. Even Ron Paul was "better than Obama," in spite of the fact that his foreign policy position (neo-isolationism, let Iran get nukes, cut most foreign aid, and close all overseas US military bases) is patently unacceptable to all but a small contingent of voters and certainly NOT voters within the GOP.
Let's make one thing clear: Mitt Romney did not win Iowa. In fact, he slid down from where he was in 2008, winning fewer counties. Now there is the story of Edward True, 28, who said he helped count the votes at his 53-person caucus at the Garrett Memorial Library. Romney received two votes but the official count reported was 22 votes! True is ticked!
In New Hampshire, Romney now faces an energized Rick Santorum; and an angry Rick Perry who has money and is determined to refurbish his dignity after the Iowa loss, and has a bull's eye (and lots of bucks) on Romney's back, at least in South Carolina. I overheard a conversation in Des Moines that Perry's PAC may be giving money to Santorum and others in New Hampshire to take Romney down a notch. (Amazing what you hear at a martini bar frequented by pols!)
Ron Paul has a loyal contingent that won't shrink. Jon Huntsman has been rising in the polls in New Hampshire and the Boston Globe has endorsed him. There are lots of refugees from "taxachusetts" living in the Granite State, where they've escaped income and sales tax and congestion, so that could make a difference.
If you thought Iowa had too many candidates this year, there are a record 33 Republican candidates who filed to appear on the ballot in new Hampshire. It's easier to get on the ballot here than in Iowa: basically, you pay $1,000 to Secretary of State Bill Gardner—whom I have called the Prince of Primaries for his fierce defense of New Hampshire's first-in-the nation status—and he processes the form! Of course most of these candidates are "vanity" or single-issue candidates, but former Louisiana Governor Buddy Roemer, or Gary Johnson, businessman and former governor of New Mexico, could draw enough votes to make a decisive front-runner victory less likely. (Johnson is now the candidate of the Libertarian Party, but he has some name recognition.)
Here are the latest poll numbers for New Hampshire: Romney, 41 percent of the vote,  followed by Ron Paul (18 percent), Rick Santorum (8 percent), Newt Gingrich (7 percent) and Jon Huntsman (7 percent). That's a nice lead. It's also being threatened.
The Suffolk University and WHDH tracking poll shows Santorum's support " … increasing each day this week, more than doubling (from 3 to 8 percent) in five days. Thursday's numbers also show Romney's support ticking down since Wednesday (from 43 to 41 percent.)
Yikes!
That's exactly what happened in Iowa as the Des Moines Register poll showed in the final days before the caucuses. And remember that New Hampshire polls can be tricky because the sampling has to include non-Republicans (they can vote in the GOP primary.) Polls showed Obama surging in 2008 after his Iowa victory but they also under-tracked support for Hillary Clinton, who won a surprising victory.
If Romney gets a whopping 39% in New Hampshire, the story will be that his support is shrinking. Polls in politics are nothing more than an expectations game. If Santorum rises to 16% he will be the "winner" because he doubled his poll numbers.
I'll be talking to lots of folks in my second home state and will keep you up to date, but I'm betting that January 10th will be a late night. Every vote will count.
Oh well. There's always South Carolina, where I lived for four years, and where Romney could finish off his opponents. Or maybe not.