A Look at Genting: The Powerhouse Tapped to Build New Convention Center
Governor Andrew Cuomo is proposing to build the nation's largest convention center at Aqueduct Racetrack in Queens. He hasn't shared many details of the plan, but one thing is clear: the governor's choice to build the complex is a little-known Asian conglomerate with big ambitions.
Cuomo told his audience at the State of the State address on Wednesday that the new convention center would attract the best trade shows and lift the economy.
What he didn't say is that he'd already signed a non-binding agreement with a developer: Genting Berhad Malaysia, one of the biggest gaming conglomerates in the world. The company, which translates its name as 'Top of the Mountain,' was founded with the creation of a mountaintop resort near Kuala Lumpur in the 1960s.
Over the years, the Lim family, the company's largest shareholder, has expanded Genting in all directions — from casinos across Asia and Britain to oil wells in China and Morocco and palm oil plantations in Malaysia.
Last year, Genting established a foothold in the Big Apple: the racino at Aqueduct Racetrack, which is already considered a success. In the first 10 days, bettors spent more than $160 million, and Genting sent $15 million in taxes to Albany.
Christian Goode, senior vice president of development for Genting Americas, said expanding from a racino to a convention center with three thousand hotel rooms is the logical next step.
 "Our chairman has a vision that talks about destination resorts, talks about bringing something new to the market that hasn't been here," Goode said.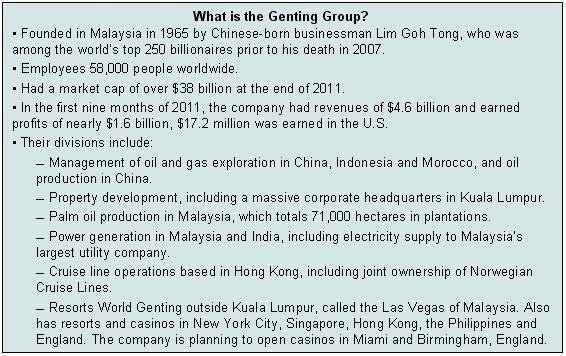 John Oh, a research analyst with CLSA Securities, thinks the convention center is really the side dish to a much larger main, one consisting of restaurants, hotels and entertainment.
 Mayor Michael Bloomberg thinks the governor's idea is good, but added that like any big development project in New York City, this one will make enemies.
The lack of transparency surrounding the choice of Genting has raised concerns among good government groups. Common Cause's Susan Lerner is alarmed the governor's plan advanced so far without public input.
"I think the speed with which the deal was inked really raises some significant questions. The public is entitled to details before a deal of this size is concluded, not after the fact," Lerner said.
It's not yet clear what permissions or hurdles will have to be cleared for deal to go through.
Genting projects that if it gets all the necessary approvals, it could complete work on the convention center in 2014.
Andrew Parsons contributed to this report.
Correction: An earlier version of this article indicated that the racino at Aqueduct took in $15 million in the first 10 days it was open. This was incorrect. In the first ten days, bettors  spent more than $160 million, and Genting send $15 million in taxes to Albany. WNYC regrets the error.
(Renderings courtesy of Genting)