City Transplants Re-Create Music Scene in New Jersey
Drew Eckmann has made his living room into a concert venue.
The retired magazine editor who lives on a tree-lined street in residential Ringwood, New Jersey decided to turn his lofty living room, which overlooks a lake, into a concert venue about 14 years ago.
"I started doing this so people who lived up here wouldn't have to drive into New York to listen to music or to hear music," he said.
He is not alone. Though most people's conception of the New Jersey suburbs doesn't include an underground music scene on par with the East Village in the 1970s, a growing number of New York City transplants who now call New Jersey home are re-creating their night lives in informal, interesting ways.
Over the years, Eckmann has booked artists like Justin Townes Earle, NRBQ and Graham Parker. He had his 100th show last year. In December, the Brooklyn folk rock singer songwriter Joseph Arthur played there. Haskell, New Jersey resident Peter Franklin was really glad he didn't miss the show.
"After the first song, we're like in awe," said Peter Franklin, a resident of Haskell, N.J., who attended the show. "This guy is in Ringwood, New Jersey, singing to a small group of maybe 100 people. Like, where else would we wanna be? Nowhere else."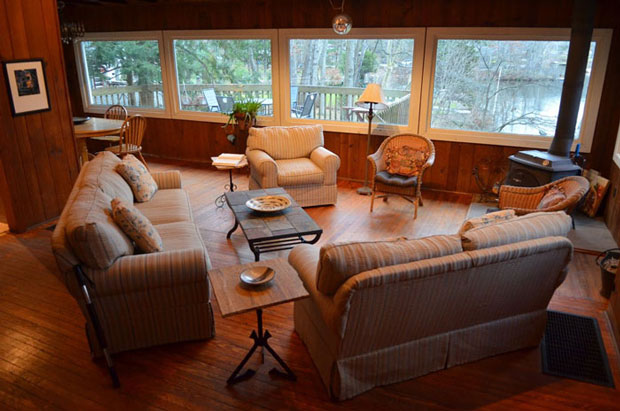 Nicky "L." Latzoni, a 57-year-old Rockland County resident, said he used to photograph bands at Max's Kansas City and CBGBs in Downtown Manhattan in the '70s.
"And this is like the old days because you could only squeeze 75 or 100 people into the club anyway," he mused on Eckmann's wrap-around porch. "So this is just a flashback for me how it used to be and it's really cool. I enjoy that."
Photo: Drew Eckmann's living room. By Arnie Casamenti.
House concerts at Live@Drew's, as Eckmann has dubbed his venue, cost $20. The price of a ticket includes food, and he says all the proceeds go to the performing act.
Eckmann is bringing musicians into the state to play. But other state residents, like David Gomberg, are trying to build a local music scene in New Jersey.
The 44-year-old Maplewood psychologist lived in the West Village in the '90s and played guitar, mandolin and bass in blues and folk rock bands. A part of him misses the days before he and his wife moved to Jersey to raise a family.
"It's certainly a different scene now," he said in his office, which sits on Maplewood Avenue. "But I feel even now, here, I've created a much stronger musical community than I had then."
Three years ago, Gomberg and other Maplewood musicians formed a collective called Rock the House. The group organizes concerts for local bands to play in community centers and bars around town.
Gomberg says he's also discovered three talented groups of musicians to play with -- MoodRing (pictured below; Gomberg is on the left), Big in China and a Led Zeppelin cover band.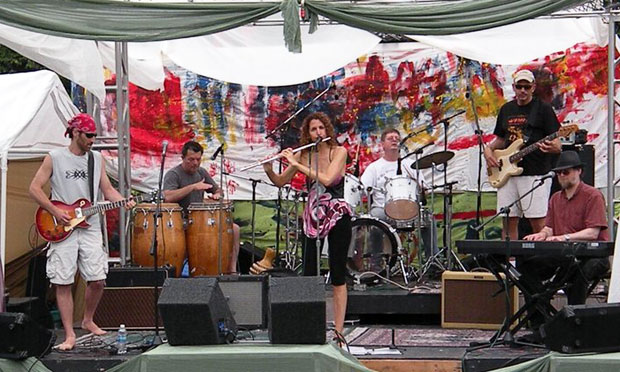 Photo: Maplewood psychologist David Gomberg plays guitar (L) in the New Jersey band MoodRing. here a performance at Maplewoodstock in 2009.
The rock band Juicebox has played at Rock the House shows. The group's frontwoman is graphic designer Leslie Goldman, who has a practice space in the basement of her South Orange, New Jersey, home. She moved there from a fifth-floor walk-up in Manhattan.
"I had a gigantic bass rig," she said. "So I would drag it up and down five flights of stairs and throw it in a cab. So this is kind of easier. Just one flight and the basement ... Throw it in the car. It's easier."
Goldman, who looks like a rock star with her jet black and bleached blonde hair, says there are some disadvantages to living in Jersey.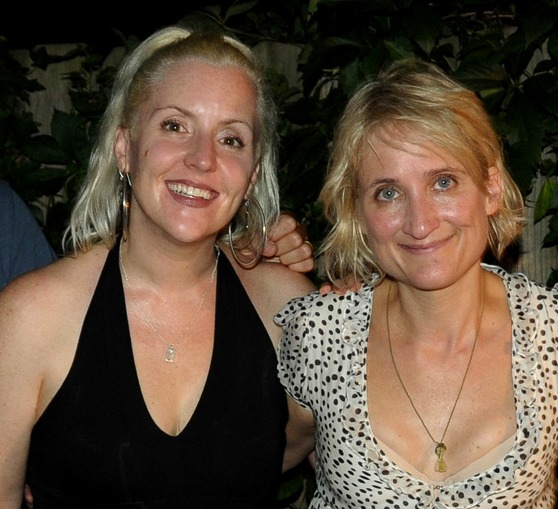 "Venues are hard to come by," she said. "So as a band I know what it's like, and I knew that we needed another venue. So we just decided to make our own."
Goldman and her husband started host music shows in their backyard during the summer. Juicebox has played there, along with other indie rock artists like Jill Sobule, who draws a big crowd from the neighborhood.
Photo: Leslie Goldman (L) with Jill Sobule (R) after the two performed in Goldman's backyard. Courtesy of Leslie Goldman
"You have either, 'Hop on the train,' or 'Go to Madison Square Garden,' or 'Walk around the block and sit in your neighbor's backyard,'" Goldman said. "And Madison Square Garden is cool, but it's just so big. And the backyard around the corner is so intimate that it's really a beautiful thing ... It's probably like a little Jones Beach without the beach."
Goldman says the only drawback is that people have to bring their own booze. But with most bars charging more than $5 for a pint of beer, it may just turn out to be an advantage.