Documentary on Post-Hardcore Band KARP Has New York Premiere
In the 1990s, Olympia, Wash., was the epicenter of a D.I.Y. music revolution. Further up the I-5 highway in Seattle, grunge had been made mainstream, but in Olympia there was the sense of a scene still young and gritty and almost exploding with energy.
A new documentary from Brooklyn filmmaker William E. Badgley captures that moment in time and establishes it as the backdrop for the band KARP, a post-hardcore trio that loved the sludgey-punk-metal band The Melvins almost as much as the bandmembers loved each other.
Despite the film's abrasive (and not to mention lengthy) title of "Kill All Redneck Pricks: A Documentary Film about a Band Called KARP," Badgley's documentary is as sentimental as it is raucous.
"Even at that time -- 1994 -- it was very clear these guys had a very special relationship," recalled Badgley, who has toured the film internationally since its debut in London this past October.
More than four years in the making, Badgley's film is accented by decades-old handheld concert footage, show fliers and current interviews with KARP's two remaining members, as well as their friends and cohorts such as Calvin Johnson of indie record label K Records, Kathleen Hanna from Bikini Kill, Justin Trosper of Unwound and Joe Preston of The Melvins.
The documentary has its New York premiere in Brooklyn on Friday.
KARP was the result of three outsider kids -- Chris Smith, Jared Warren and Scott Jernigan -- growing up in the rainy town of Tumwater, Wash. situated at the south end of Puget Sound. They were bullied, they were different -- a rocker kid, drama and band geek, respectively -- but they were also good-hearted and goofy, and they decided to start a band.
"(It was) just sort of the goodness and the angst all combined into one experience," singer Kimya Dawson, a friend of the band, says in the film.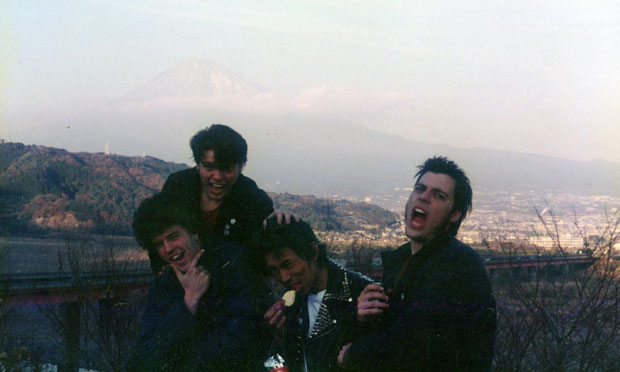 At that same time KARP was forming, Badgley and his friends were going to see shows in Olympia, making the drive from their own similarly small town of Yakima, Wash., 180 miles to the east.
"I've often since then felt really lucky that I was 16 at that time because it was just explosive and you could feel it everywhere," said Badgley, who is now 35 years old. "Olympia was a lot more interesting than Seattle. And quickly KARP became the band that was speaking to us directly."
The underground music scene surrounding Olympia was like The Peanuts cartoon strip: no adults, just kids, says Johnson of K Records, who Badgley calls the "Dad of the movie."
"He has the perspective," added Badgley, "that only someone 10 years older can have."
Fans of KARP know more or less how the band's story goes. As KARP begins to make a name for itself, Smith gets addicted to drugs. Then, there's the sad but inevitable band breakup, followed by a glimmer of rebirth when Warren and Jernigan begin a new band, which is only to be cut short by Jernigan's accidental death in a boating accident. Next Warren struggles to play music again with anyone but his former bandmates.
Badgley, who'd gone on to be in his own rock band Federation X, saw there was a story in KARP. He just didn't know how to make a film.
In 2007 I had to start learning everything," he said. "I ran out into the middle of this concept and then realized I was entirely ill-equipped to do it at all on any level. But I felt serious about it."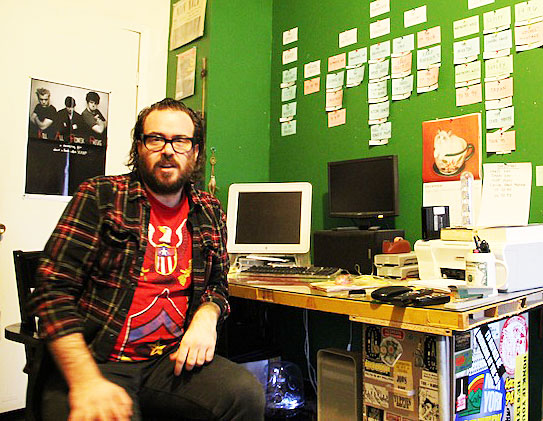 After taking an internship with a small Brooklyn production company, Badgley learned all he could about shooting, editing, outlining and producing for TV. Working various production gigs he'd squirrel away money and skills to channel into his KARP project.
By 2009, the word that Badgley was making a film about KARP was out. Music critics and musicians, like Carrie Brownstein, of the band Sleater-Kinney and the new IFC series "Portlandia," applauded the effort. She posted a YouTube preview for the film on her NPR Monitor Mix blog, hailing KARP as "one of the greatest bands to ever come out of Olympia, Wash. In fact, they were one of the great bands, period."
A year later Badgley had a rough cut of the documentary, which was awful, he says.
"I realized I had a huge story problem with the first cut," Badgley admitted candidly. "It was a 90-minute project and the biggest project I'd every worked on professionally was 12 minutes and that was with a staff. It's a totally different bag of beans."
Sitting in his room in his Bushwick apartment, Badgley points to the wall full of index cards outlining his film. This, he says, is the result of "story boot camp," otherwise known as taking a job at A&E where he learned how to rip a story apart and put it back together again, and again.
Badgley finished his film last year and is pleased with the result: a story of friendship so deep and honest it defines KARP almost as much as its music, which of course makes up the film's blissfully loud soundtrack.
The New York premiere of "Kill All Redneck Pricks: A Documentary Film about a Band Called KARP" is at 7:30 P.M. and 9:30 P.M. on Friday at the Spectacle Theater at 124 S. 3rd St. in Williamsburg, Brooklyn. Admission is $5 at the door. An afterparty with performances by VAZ and Pygmy Shrews follows at Death by Audio at 49 S. 2nd St. in Brooklyn. Watch the trailer below.