Q&A | 4 Questions about the CFPB and its New Director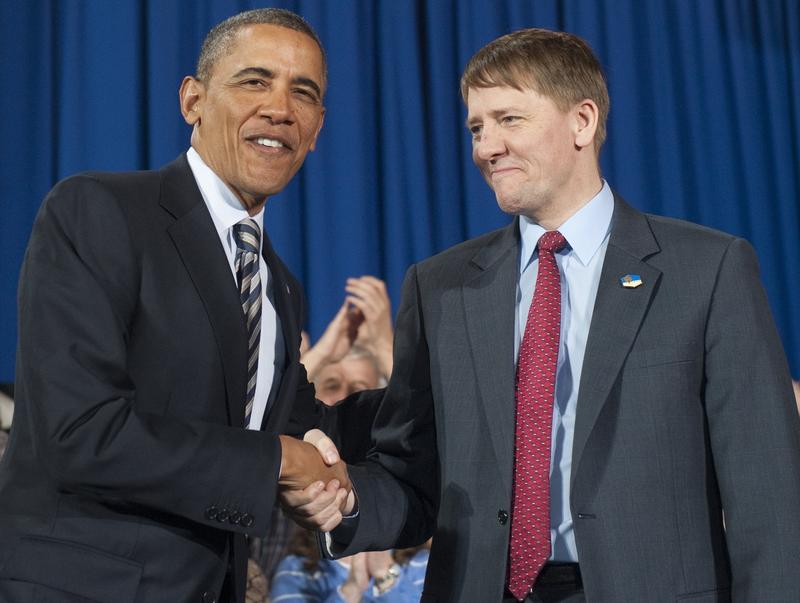 President Barack Obama defied Republican opposition on Wednesday and announced he would appoint Richard Cordray as the director of the Consumer Finance Protection Bureau via recess appointment.
New York Times op-ed columnist and WNYC contributor Joe Nocera said that while the move may please Obama's supporters, "it is going to complicate enormously his chances of getting anybody else approved any time soon."
The president made the announcement in Ohio, with Cordray at his side. Cordray had been the Attorney General for Ohio.
With a director in place, the bureau can begin issuing new rules for mortgage companies, payday lenders, debt collectors and other financial companies. 
Republicans have opposed the Bureau arguing that it has too much power and little accountability.  They effectively blocked Elizabeth Warren, the intellectual architect of the Bureau, from being nominated.  Since then, Republicans have stalled Cordray's nomination.
WNYC spoke with Pamela Banks, senior policy counsel for Consumers Union, about why CFPB has been a contentious issue.
What is the Consumer Finance Protection Bureau (CFPB)?
The CFPB has the authority to stop unfair, deceptive and abusive practices in financial products and services. There are a lot of different ways that they have been doing and will be doing this in the future.

For example, one of the things they are doing is simplifying mortgage documents. As you well know, when a consumer goes to buy a house there is a ream of documents that they must sign, hopefully review and understand. The CFPB is going to reduce those documents to the essential ones — maybe one or two documents that will give the consumers what they need to know in order to make a sound investment in a home.
They are also doing something very similar with respect to credit cards. They are committed to making certain that the terms and conditions of credit cards are in plain English and are easily understood by consumers so that consumers can understand the credit card they're signing up for and perhaps more importantly shop for the best deal possible. So they'll be able to easily compare apples to apples when they look at credit card offerings.

How long has the CFPB been without a director? How has that impacted its role in consumer protection?
They've been without a director since July of last year, that's when the president nominated Richard Cordray for the position. Without his confirmation the Department of Treasury has opined that the CFPB could not go after nonbanks. By nonbanks I mean, those entities that deal in financial transactions but aren't considered banks — payday lenders, check cashing operations, debt collection activity, student loans and those areas that, up until this point, have not been regulated and aren't considered banks in the traditional sense.

Republicans and business leaders have expressed concern with the CFPB.  What are their issues with the panels?
Their concern arises with the ability to change the structure of the CFPB. First, they would want to change the director to a commission.
Also, the way it is now is that, if the CFPB published a rule that poses a risk to the U.S. financial system, members of the current banking agencies could veto that rule with a two-thirds vote. What some in Congress were proposing to do is instead of a two-thirds vote, they want a simple majority to over turn a rule.
Why have Republicans held up Cordray's nomination?
They have certainly stated that their concern is not Richard Cordray's qualifications or his ability to do the job. Rather their objection is that they want to change the structure of the CFPB. They made it clear that they would not confirm Cordray or any nominee to head the CFPB.