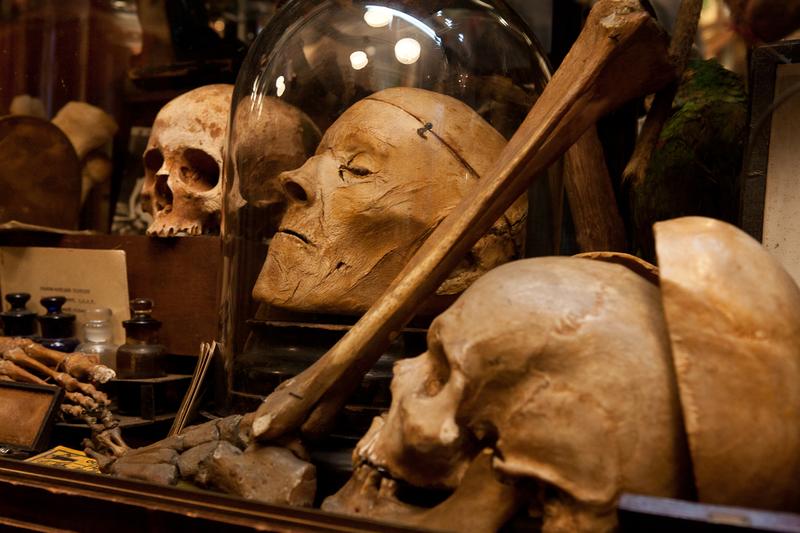 New York is a city of specialists from foodies to academics, laborers to shopkeepers. Every Wednesday, Niche Market will take a peek inside a different specialty store and showcase the city's purists who have made an art out of selling one commodity. Slideshow below.
Obscura Antiques & Oddities
280 East 10th Street
New York, NY
If Tim Burton, Bob Dylan and Edward Gorey had a yard sale it might look something like Obscura Antiques and Oddities in the East Village — where antiquated and dangerous medical devices are perched next to old jars of poison, and taxidermy too frightening to display in the Natural History Museum is crammed in every nook of the shop.
"We specialize in scientific antiques, medical antiques, taxidermy. A friend of mine called it, 'Stuff you didn't think you needed until you saw it.' I call it, 'An alternative kind of beauty,'" said Evan Michelson, one of the co-owners of the over 20-year old shop.
Michelson calls it a "proto-Natural History Museum," and likens it to the treasure houses of the 17th Century or European Cabinet of Curiosities.
The crown jewel in the shop now is a yellow-hued mummified human head with it's eyes closed. Visitors lean close half expecting the eyes to pop open. It's a medically prepared specimen from the early 1900s.
"We don't carry new human heads," Michelson said.
Michelson, who is in her 40s, Mike Zohn, 43, her business partner and one of the store's buyers, Ryan Matthew Cohn, 31 scour estate sales, medical schools and flea markets from coast to coast in search of rare turn-of-the-century items.
Michelson began collecting things like cicada shells and rabbit fur mice, and making dioramas in her head board as an Army brat in Europe. Zhon began soon after he got his driver's license and would get lost in Long Island hoping to stumble on an antique store that sold old cameras.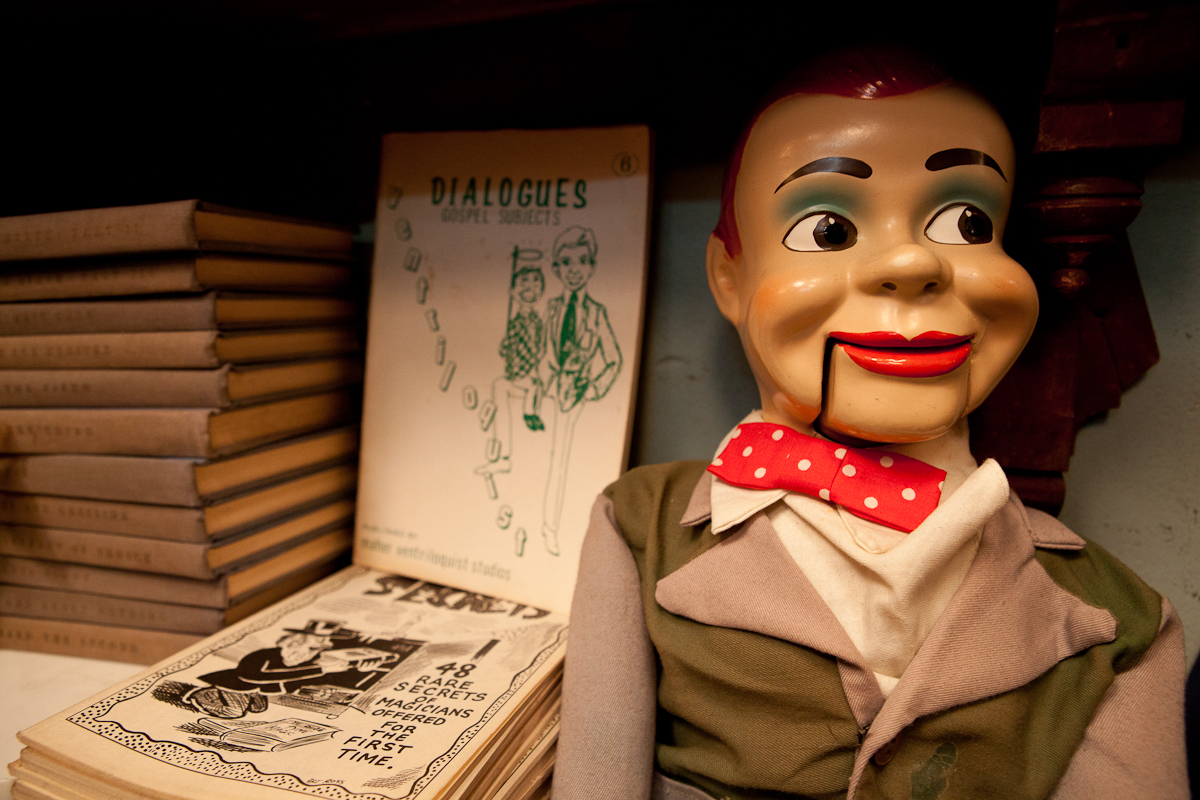 "It's about being out there at three or four in the morning on a cold or possibly rainy day, hoping to find the rarest specimen you've ever seen. Or walking away with nothing," said Cohn, who specializes is in Victorian taxidermy and pickled specimens.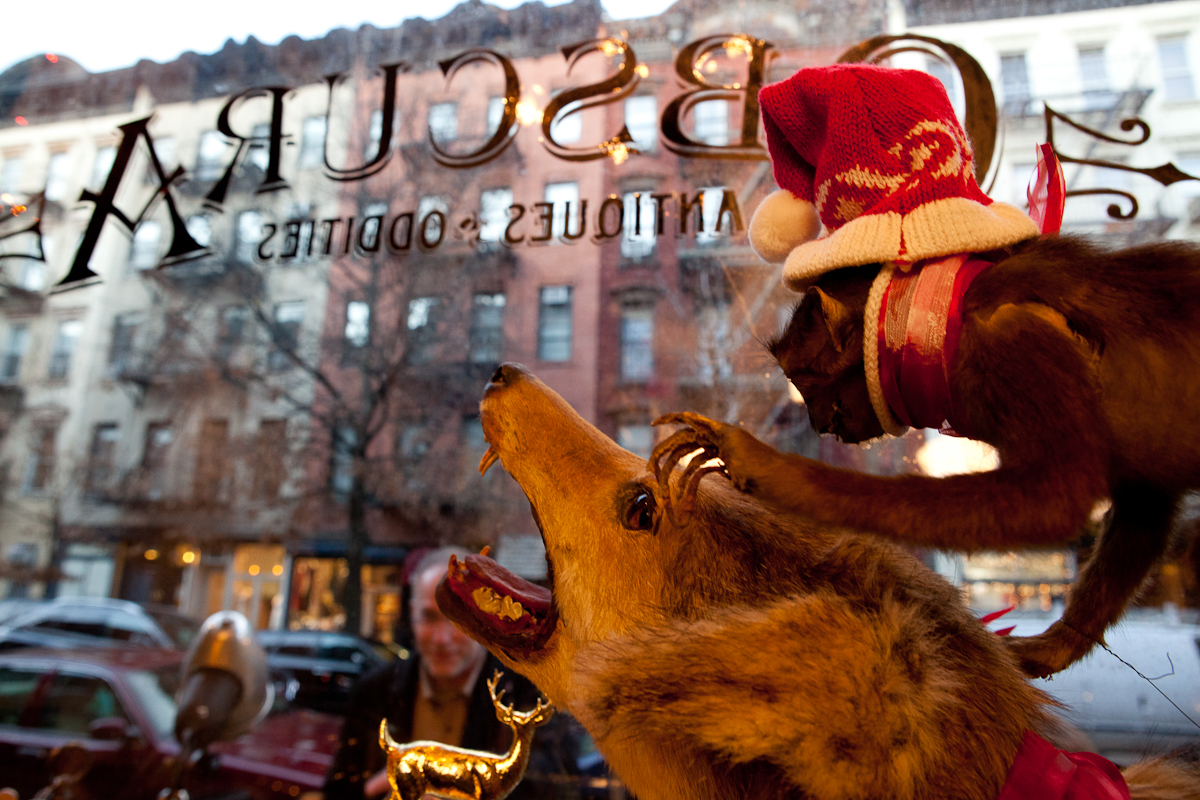 In the early 1990s the store specialized in Asian art, "like walking in a little store in Shanghai in the early '30s," Michelson said. She and Zohn soon took it over, changing the focus, but retaining the social aspect of the store.
Zohn said people used to hang out all night, and that people still bring dates in, "almost like a filter, so see if it's going to work out."
On a recent evening, the tiny store front was packed shoulder to shoulder with holiday shoppers and even a few kids marveling over the life-like taxidermy.
Jack Cappello, 12, a self-proclaimed war-buff was visiting from Florida and came in on his third day in the city.
"The bottles of old medical equipment and poisons, and all that cool stuff — you don't find that everywhere everyday," he said.
He says the shop is more fun than the Natural History Museum. "Where else are you going to see a coyote being ridden by a monkey? Yes, better than a museum."
Obscura is also the focus of a reality TV show on the Science Channel, but most customers had never heard of it.
And although Michelson admits there may be ever weirder finds online, the experience of the shop cannot be replicated.
"You lose the context, which is what we try to do here," Michelson said, "we don't actually sell online. It's about creating a complete atmosphere so you step back in time. We play a lot of hot jazz, so it sounds older, it smells older; that's part of the appeal of this stuff."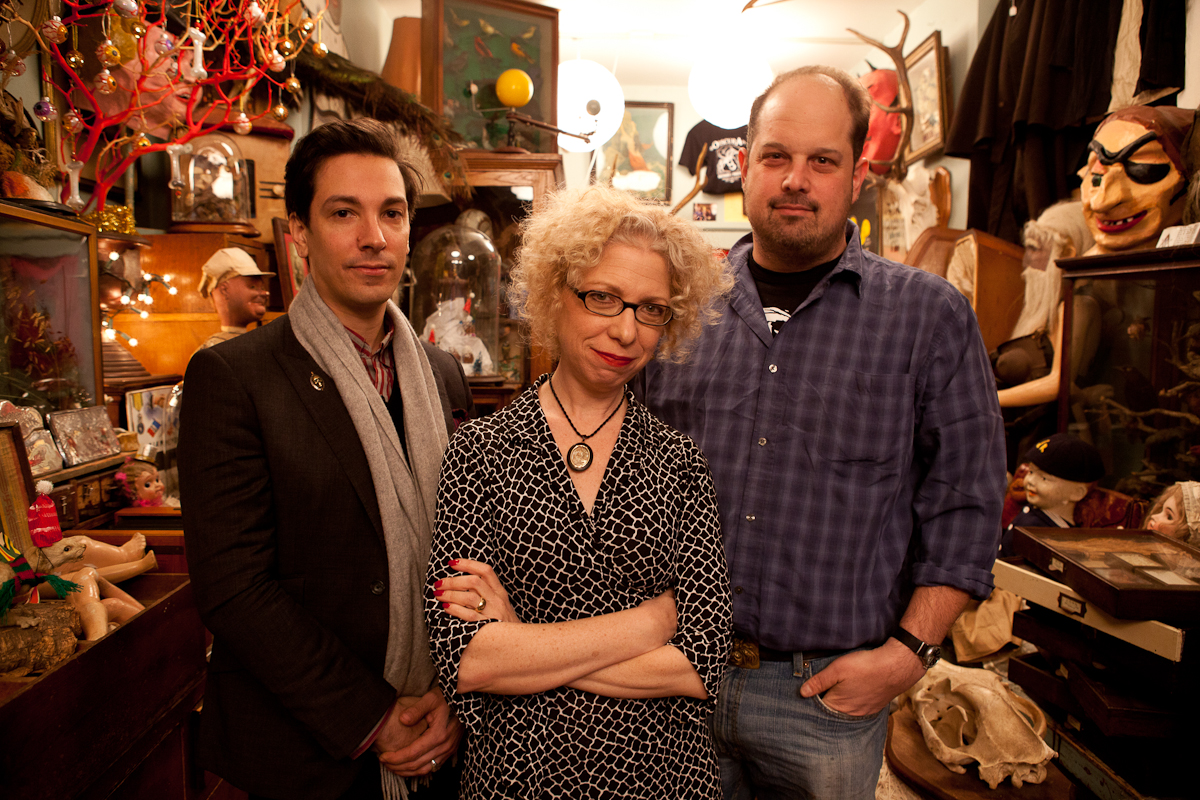 Interview with buyer Ryan Matthew Cohn (L) and co-owners Evan Michelson (C) and Mike Zohn (R).
Where does this stuff come from?
EM: We go to a lot of auctions, flea markets, antique shows. It involves usually getting up very early in the morning and driving very long distances and being out in the cold when everyone else is warm in their beds. That's the hard part. Everything is sort of dwindling. Grandma's not Victorian anymore. I specialize in mourning stuff and hair work, used to be able to find that, now grandma's mid-century, World War IIish so the stuff's not coming out anymore. Markets are getting smaller and smaller, newer and newer. We try to keep it between the 1850s and the 1920s.  But time marches on, especially with the medical stuff, we're bumping into the '40s, unfortunately. Early in America is early Victorian. Go to Europe this is all new stuff.
RMC: There's no real rhyme or reason other than it's out there, it exists at flea markets and antique stores. It can be very difficult. Like right now, it being winter, most of the flea markets close down. It's about being out there at three or four in the morning on a cold or possibly rainy day, hoping to find the rarest specimen you've ever seen. Or walking away with nothing.
What is most commonly purchased items?
EM: Catholica, the early last rites kits, holy water bottles. Little disease cards, 3-D stereo cards of diseases always sell when we get them. Beautiful examples of syphilis and postulating sores in three dimensions. Also, some not so horrible things. Early natural history engravings like 1820s to 1840s. Not everything is aggressively unpleasant here.
What is it about humans that they've desired cabinets of curiosity for so many years?
EM: The Romans collected Greek, so there've been collectors, but it got weird around the proto-Enlightenment time when things went from superstition into science. It's not only aesthetic, there's a little politics, religion, all kinds of spirituality involved. Only humans do this.
Is there anything you wouldn't sell?
EM:  Antiques-wise? I wouldn't deal in Nazi (antiques), that's too far. A lot of people do, but it doesn't gel. We're trying to move people in time and space here to a more interesting place. Not that place. Pure evil throws the whole thing off.
Tim Burton would have a field day here. Do people come here for movie props?
Tim Burton has never come in. It's really weird. We have done a lot of movies. We did "Smurfs" most recently. "Sorcerers Apprentice" — we did his alchemy lab. They go to the big prop houses, and then they discover us at the last minute. We did "Kinsey," that was my favorite. They bought a lot of insect collections and specimens. That was a great movie and conveyed a lot of what we're about here. We do a lot of fashion shoots: Zink, Mademoiselle, Italian Vogue.
What was the single best day of finds?
RMC: Recently I cleared out a medical school. It was a lot of stuff they were ready to throw out. Instead of doing that, I took it and restored the collection. 
What is a golden find?
RMC: Things like mummified heads, hands, skulls with a deformity or abnormality, personally that's the stuff I look to sell or keep in my personal collection. That's the stuff that makes me wake up in the morning and stay in this business. But you don't find that stuff everyday. It does exist, but it takes a lot of moving around, visiting different collections, talking to people, basically getting yourself out there. When people die this stuff changes hands, goes to auction, goes to people that don't know what to do with it. That's when auctions can come in handy and can be very interesting.
What's your favorite thing about owning this store?
MZ: The store has a big social aspect. Yes, it's a store, but it's very social. Years ago we used to be open to two, three, four in the morning. People used to come in the old shop and ask, 'Is this a store, or do you live here? Or, 'Is this an installation or a speakeasy?' "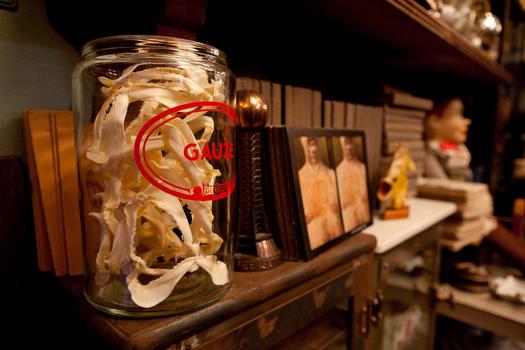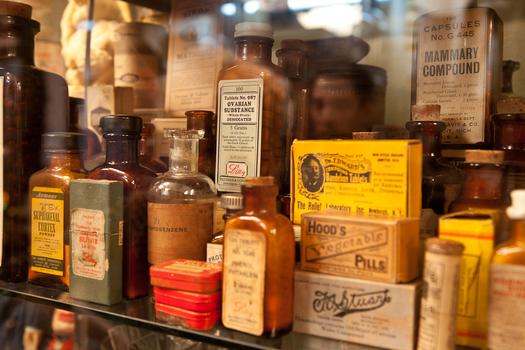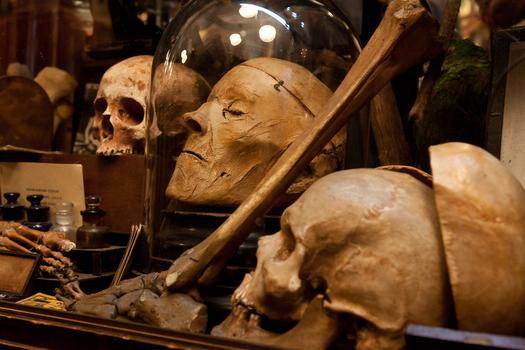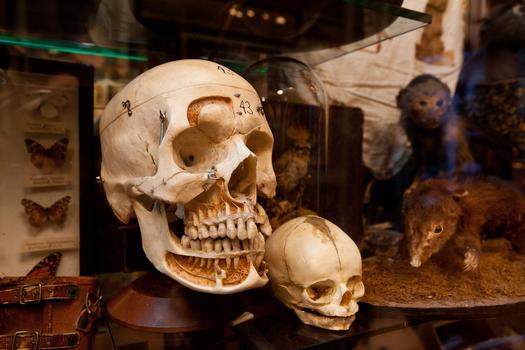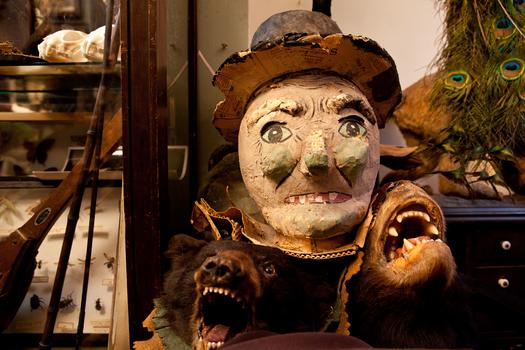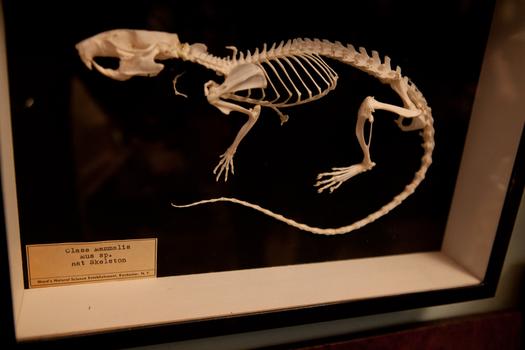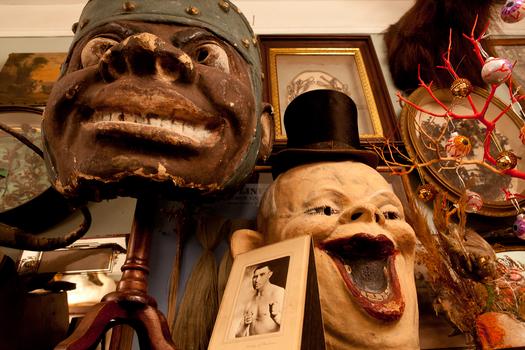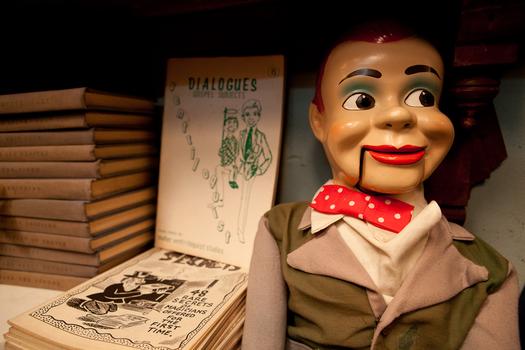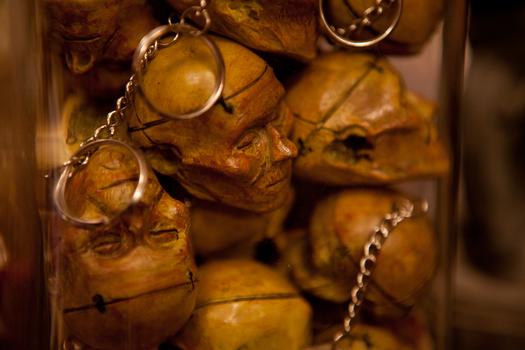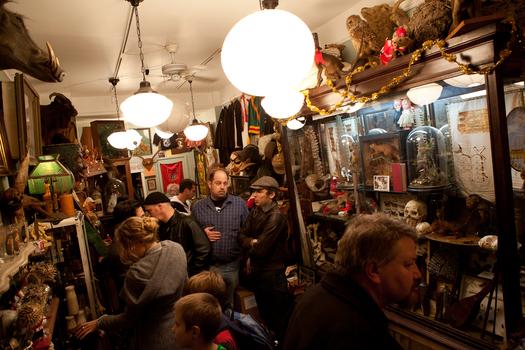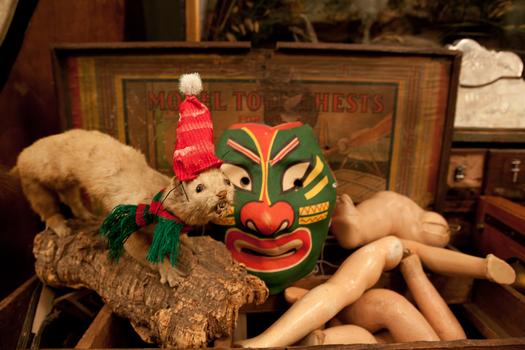 of