Suspect Confesses in Firebomb Attacks, NYPD Says
New York City police say a man has confessed to a string of arson attacks at an Islamic cultural center and four other sites on New Year's Day.
Ray Lazier Lengend, 40, faces charges of criminal possession of a weapon, arson as a hate crime and arson. He was taken into custody Tuesday.
Police spokesman Paul Browne said he made statements implicating himself in the attacks and had personal grievances with each targeted location.
"When they were pushing him out of the store, he said words to the effect that `We're going to get even. We're going to get back at you,"' Police Commissioner Raymond Kelly said.
The man was tracked through a car with Virginia license plates that was believed to be at the scene of at least two of the attacks Sunday evening on a convenience store, two homes and the cultural center, police said.
"Whether it was senseless violence or a hate crime will be determined down the road," Mayor Michael Bloomberg said Tuesday. "But in either case, we're just not going to tolerate it in this city."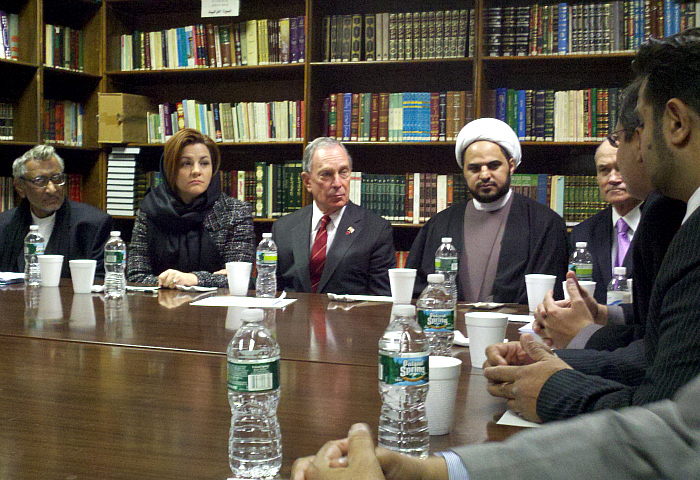 (Photo: Mayor Michael Bloomberg, Council Speaker Christine Quinn and faith leaders meet after firebomb attacks that could prove to be hate crimes, authorities said. Yasmeen Khan/WNYC)
Religious leaders came together at the Imam Al-Khoei Foundation Tuesday morning — one of four sites in Queens allegedly targeted in arson attacks over the weekend.
"There are two stories," Rabbi Joseph Potasnik with the New York Board of Rabbis said. "One is a story of what occurred, unfortunately, Sunday evening. But the other story is what occurs each and every day of the week when all of us, of different faiths, stand together as one family."
No one was injured in the Sunday evening attacks. Police said at least three Molotov cocktails were thrown, though some did not explode.
Many community members around the Imam Al-Khoei Foundation building said they were startled by the attacks, and concerned.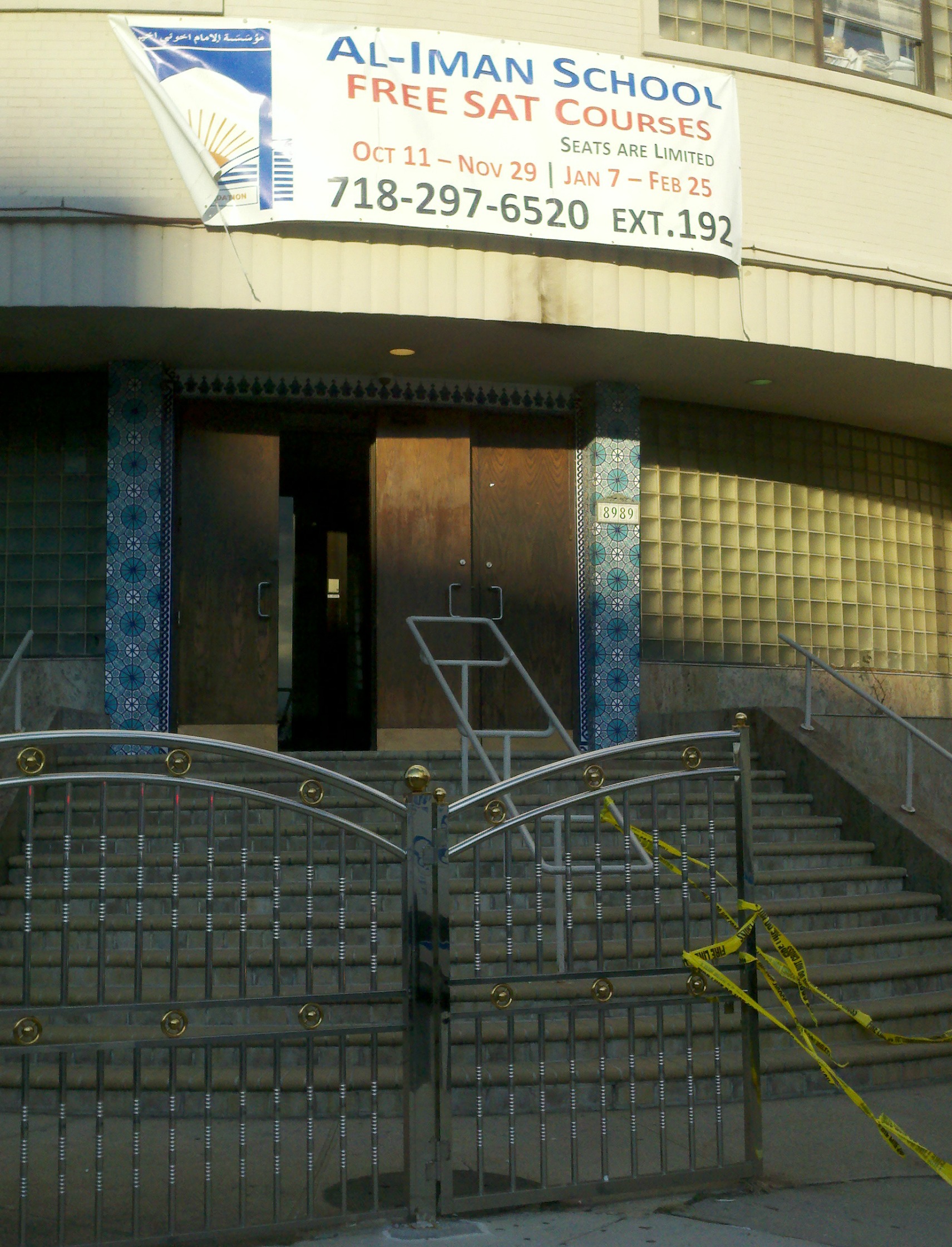 "We were very surprised," assistant Imam Maan Al-Sahlani said. "This has never happened here before."
He added the center was working with authorities and trying to move forward.  The police were keeping close watch, with cruisers parked outside. And authorities questioned him about contacts the Muslim cleric has had recently, either by phone or in person, he said.
Malik Abid, who often prays at the Imam Al-Khoei Foundation, was there on Monday to show his support. "If you know this community around this mosque, the center, you can be very comfortable this is not a hate crime," he said. " I think this is an individual isolated incident."
(Photo: The doors of the Imam Al-Khoei Foundation remained open on Monday. Yasmeen Khan/WNYC)
One of the other targets Sunday night was a deli on Hillside Avenue in Jamaica. There was a heavy police presence Monday evening, with several squad cars lined either side of the street and officers by the door, as business continued.
Customer Moses Speedly comes to the deli just about everyday, and he was surprised to hear about the attack.  "I don't understand why anybody would want to do it. It's like -- they're good people here. They don't bother nobody. They're very well-liked in the community."
The decades-old Islamic foundation is among the foremost Muslim institutions in New York, with branches around the world,  Al-Sahlani said. The center also has a full, accredited school that resumes Tuesday after holiday break, and some parents were concerned about the attack, he said.
Other targeted locations were more substantially damaged.
At 8 p.m., a bottle was thrown at a counter at a deli on Hillside Avenue.
Ten minutes later, a nearby house was damaged after possibly being set on fire; it took 65 firefighters 40 minutes to bring the blaze under control, authorities said.
At 8:44 p.m., the Imam Al-Khoei Foundation was targeted, damaging a door, authorities said.
And at 10:14 p.m., two bottles were thrown - but did not explode - at a house police said was used for Hindu worship services.
With reporting from the Associated Press