Governor Opens His Door to the Public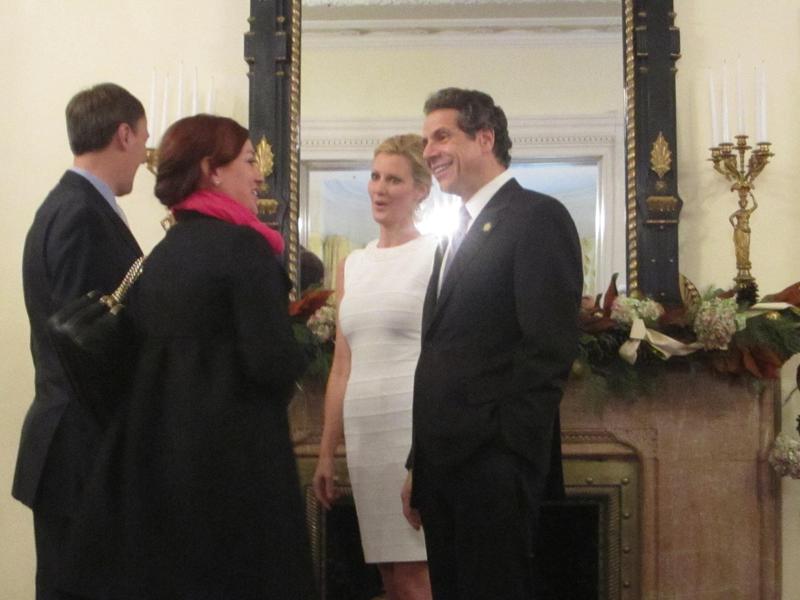 Governor Andrew Cuomo continued a New Year's Day tradition this year by opening up the doors of his executive mansion in Albany to members of the public.
Of the 1,600 people who applied to a lottery, only about 300 were granted access to the governor's residence on Sunday afternoon.
Not surprisingly, many of the people who turned out to meet the governor were happy with his first year in office. Gina Crossetta of New City, N.Y. came with her same-sex partner and their daughter. The couple has been together for 17 years and they now plan to get married. 
"We think he's been doing a great job," said Crossetta, "I personally am very pleased with the Marriage Equality Act. I mean I was actually just reading up on some of his accomplishments for 2011 and it's very impressive."
Crossetta's partner, Beth Rooney, agreed. She's works as the manager of port security for the Port Authority of New York and New Jersey and was impressed with his response to recent storms.
"First year on the job, it's hard for everybody," said Rooney, "He had a lot of different issues to deal with, let alone all the natural disasters that occurred within the first year of his term ... I think he's done a very good job."
Although most of the visitors to the mansion had nice things to say about Governor Cuomo's leadership, not everyone was completely happy.
Sharon Cupoli works for the comptroller's office and is a member of the Public Employee Federation (PEF). The union was locked in a standoff with the governor during much of 2011 and narrowly avoided thousands of layoffs last fall by accepting a new contract.
But Cupoli said she understands the governor's position. "He comes well prepared, at least from what I observe. Yeah, I'm a PEF member . . . but you have to understand there has to be sacrifices now," she said.
While only a few hundred people got to meet Governor Cuomo in person on New Year's Day, the rest of New York will get to hear from him as he outline his plans for 2012 in the annual State of the State Address on January 4.