Bloomberg Avoids Surveillance Controversy at Interfaith Event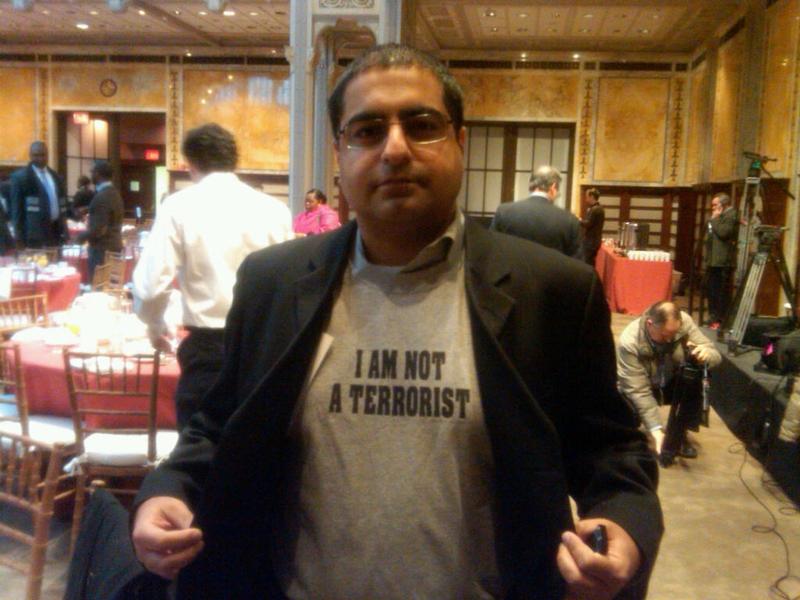 Mayor Michael Bloomberg sidestepped a growing controversy over his police department's surveillance of Muslims at an interfaith breakfast Friday, avoiding any remarks on the subject. 
Some invited guests announced in advance they would boycott the annual meal this year in protest. But more than 300 priests, ministers, imams and monks joined the mayor inside a belle epoque ballroom at the New York Public Library, and none of the invited speakers made reference to the controversy.
Afterwards, reporters swarmed around some of the Muslims in attendance, including one man who wore a t-shirt that read "I AM NOT A TERRORIST" underneath a dark blazer.
"My t-shirt is a way to let people know that the NYPD spying that is going on against Muslim communities is something that's absolutely deplorable," said Hussein Rashid, an adjunct instructor of Religion at Hoftstra.
"Right now, while it's targeting Muslims, I firmly believe that it will reach out to other New Yorkers," Rashid said.
Other Muslims took a very different view. Qazi Imam Mohd A. Qayyoom, a marriage officiant based in Jackson Heights, called the boycotters "radicals." He said, "If they have anything to say, they must come here, join together, and say it….these people [boycotters] is a radical minded people in [my] belief."
Qayyoom's business card and website feature an image of himself shaking Mayor Bloomberg's hand.
A spokeswoman for the boycotters wouldn't respond to the Qayyooom's comments. She said the real issue is the "blanket surveillance on entire community."
Linda Sarsour, with the National Network for Arab American Communities, said she believes the community made a great decision to boycott, to continually shed light on the NYPD's suspicion-less surveillance of the Muslim American community.
"I think the issue at hand is much larger than the controversy that imam Qazi from Jackson Heights is trying to make," she said. "The issue at hand is NYPD suspicion-less surveillance of an entire Muslim community. So I want to go back to what this story is really about, which is about the NYPD doing blanket surveillance on an entire community."
The AP has reported the NYPD has developed aggressive anti-terrorism surveillance programs in mosques and Muslim communities, with the help of a CIA officer. Mayor Bloomberg and the NYPD said the reports are erroneous.
Asked whether he works with the NYPD, Qayyoom hesitated while formulating an answer. "They come to our office to say hi,. hello, you know. They're very good. Not just us, everywhere. All the mosques, all the synagogues, all the churches they are going. They are doing tremendous job." He added that Muslims depend on the police for protection.
Earlier in the day, Bloomberg denied that there is any kind of profiling going on. 
"It's like saying you're going after people that are my height with brown hair. if the perp is described that way, you look at everybody with brown hair, my height and stop them." he said on the John Gambling Show. "We have great race relations here, the communities, whether they're Muslim or Jewish or Christian or Buddhist or whatever, all contribute to this city, we don't target anyone of them."