A New Year's Message from Mayor La Guardia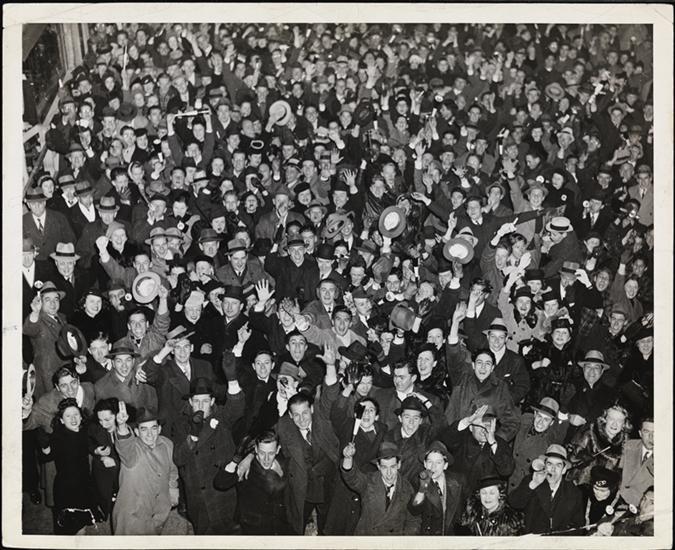 On New Year's Eve, 1944, Mayor F. H. La Guardia devoted the first few minutes of his weekly "Talk to the People" broadcast to bidding a somber farewell to a harsh year of international war, domestic hardship and staggering loss of life. Listen to his short address to New York City citizens, delivered on the last day of a year many Americans were glad to see end.
Among the great number of milestones and setbacks that occurred in 1944 was the Battle of the Bulge, a German offensive launched in mid-December in Belgium, France and Luxembourg that lasted well in to January, 1945. The tremendous impact of the offensive was felt at home: the U.S. Department of Defense statistics claim that 19,000 U.S soldiers were killed and 47,500 were wounded.
In the midst of this news, Mayor La Guardia delivered his short end-of-the-year message to New Yorkers, urging them to persevere through the hard work and sacrifice that lay ahead:
"This is the last day of the year. It has been a difficult year. It has been a hard year. But we are nearer to victory than we were yesterday or the day before. Yes, around Christmas time it was pretty gloomy, but all in all, our armed forces in the air, on the land, on the sea and under the sea have been successful and we are in the enemy's territory. I do hope though that the American people realize that the war is not over. Surely what happened around Christmas time must have brought home to every man and woman in our Country that we still have a formidable, cruel enemy to fight, and that next year there will be more fighting. They are fighting now, they will be fighting tonight. Yes, they will be fighting tonight while a great many of us will be celebrating. They will be fighting tomorrow and the day after that. It means that 1945 will be another trying and difficult year for us all. We must all work hard - I have said that so many times.


"We must all do more and we must all realize that we have to give up some things. Don't you feel rather ashamed when you grouse and complain that the meat is tough or that you cannot get the right kind or shade of stocking, or that you cannot get something else, when men are dying? Yes, the number of yellow messages - ''We regret to inform you" - delivered by the Western Union during the last few days was very large. Families give up a great deal, the boys give up their all. So in bringing in the New Year tomorrow, remember that it is a year that will try men's souls - not only the men who are fighting, but those who are at home and do not have the privilege of fighting. Everyone working in war industries should realize that a let-up, slow-down or reduction in production may mean the lives of hundreds of thousands of our own men. So be prepared for 1945 as the year of work, work, work and build, build and build and prepare, prepare and prepare for a new world, for a new life and for a happier one."

 
As usual, La Guardia ended this broadcast with his preferred salutation: "Patience and fortitude!"
Audio courtesy of the NYC Municipal Archives WNYC Collection.