MTA to Shut Down Lexington Avenue Line for Repairs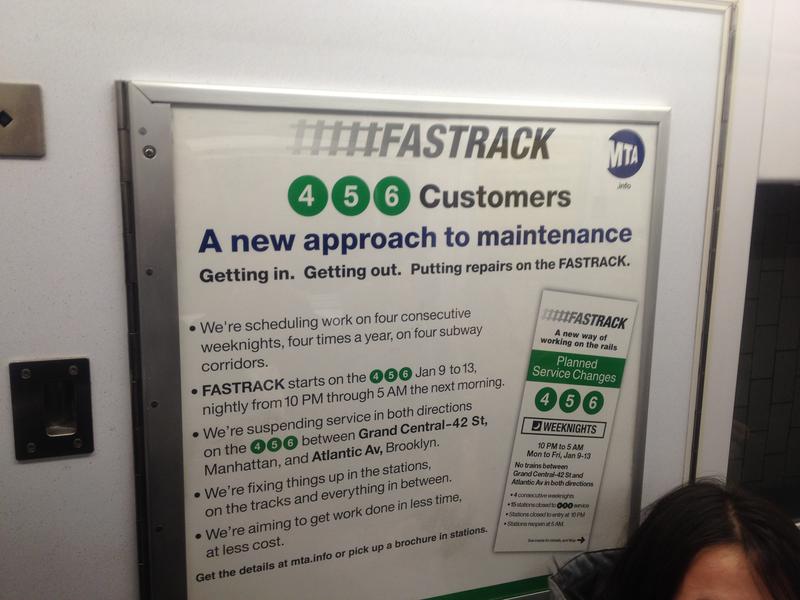 New York has one of the few transit systems in the world that runs twenty-four hours a day, seven days a week. Which is why what will happen next week on the Lexington Avenue subway line represents a sea change for the city.
Starting on Monday, January 9, the MTA will be suspending all 4/5/6 subway service between Grand Central/42nd Street and Atlantic Avenue, Brooklyn, in both directions, for four consecutive weeknights, from 10pm to 5am.
This is the first time the city is closing down sections of an entire subway line for track and signal work. And it's not the last. The MTA is piloting something it's calling Fastrack, which it calls "a new way of working on the rails."
In 2012, sections of four subway lines — the 4/5/6, the B/D/E, 1/2/3 and the A/C/E — will be entirely shut down. Gene Russianoff, a spokesman for the Straphangers Campaign, said it's worth looking at.
"There's some good arguments," he said, "particularly about worker safety, not having trains do movements around repair sites, but it's a big change for the riding public and for some riders it could mean serious inconvenience."
Deirdre Parker, a spokesperson with the MTA, said the agency knows it will affect a lot of people. "The late-night weeknight ridership is approximately 250,000," she said, "so this will affect 10 - 15 percent of riders." But she said the shutdown makes conditions safer for employees — and it will save the MTA between $10 and $15 million a year.
The MTA added it's only doing this work on lines where there are a lot of alternatives, but that the shutdown will add about twenty minutes to riders' usual travel times. While it's not adding shuttle buses, Parker said for the upcoming Lexington Line shutdown, the MTA will operate the Times Square Shuttle all night, and it will have additional N/Q/R trains standing by.