2011 Year in Review: The Year's Most Talked-About Last Chance Foods
Traditionally, religion and politics are topics to be avoided in polite company. For many, food might as well be added to that list since opinions on what people eat and how they eat it are often cause for heated debate.
But being New Yorkers, we love a good fight. In 2011, Last Chance Foods segments on bluefish and foraging for morel mushrooms (in conjunction with turkey hunting) had some listeners' blood running hot. On the other hand, for some, episodes on sorrel, oatmeal and even infamously stinky durian fruit brought back fond memories of beloved foods and experiences.
Here's a list of some of the most commented on Last Chance Foods episodes of 2011.

Oatmeal Got Its Moment in the Spotlight Listeners shared their favorite ways for preparing oatmeal, as Mark Garrison and Dan Pashman of the Sporkful podcast debated the merits of instant, quick cook and Irish oatmeal. Garrison declared that making good oatmeal requires a sacrifice: "If you're not going to devote just a little bit of extra time, maybe you don't deserve oatmeal. Oatmeal demands that you respect it and give it just a little bit of your time." Listen to the segment, which aired in March, here.

The 'Merkel' of Morels Perhaps this segment should have come with a disclaimer, warning vegetarians that the segment included talk about turkey hunting. Field & Stream editor Colin Kearns mentioned that morel season in the spring coincides with turkey hunting. However, he did note that simply interacting with vocal "gobblers" by calling back and forth with them is just as fun as actually hunting them for food. "I think if you were to ask 10 hunters what his perfect spring day would be, his morning would be his turkey hunt and his afternoon would be a morel hunt in the woods," said Kearns. Listen to the segment, which aired in April, here.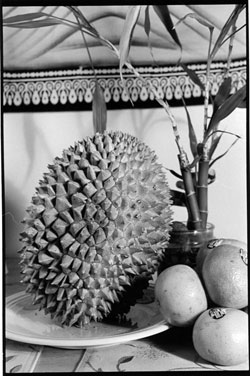 Talking About the Tart Taste of Sorrel Dr. Pamela Yee of Hook Mountain Growers touted the health benefits of this tangy leafy green plant. Sorrel is so high in vitamin C that it used to be eaten to prevent scurvy. It also supports the soil around it by serving as nutrient-dense compost. Listener Barbara Wasserman of Ossining, N.Y., remembered a sorrel recipe her mother used to make. "What memories you evoked in me with your discussion about sorrel," she wrote. "My mom and grandmother made a cold sorrel soup called schav." Listen to the segment, which aired in June, here.

Durian Wins as King of the Stink Trying durian proved to be very memorable experiences for many listeners. Brian from Astoria recalled sampling it in Hong Kong and asserted that it's "absolutely vile." Raphael Bergman added that the fruit made his small East Village apartment smell like "camel-hide lathered in way-expired non-organic milk." However, Lisa Ramici of New York City ate it on her honeymoon and insisted that "the taste is not as brutal as the smell." Helena Messina noted that she tried it in Thailand, where it was creamy, sweet, and odorless, because the fruit had been submerged in water after it was cut. Listen to the segment, which aired in July, here. (Photo of The Durian by Mansoor Khan)

The Much Maligned Bluefish Hank Shaw, the author of Hunt, Gather, Cook, remembers Yankee bat day as being beloved by fisherman in the Northeast because souvenir bats are perfect for clubbing sharp-toothed bluefish. Charles from Carmel, N.Y., said that the brutality of reeling in a fish was disgusting, however. Shaw's description of pulling in bluefish suggests that fisherman have to work hard to get the creature aboard, though. "It's like pulling a pony," he said. "I mean, you know, if you hook a 20-pound bluefish, this thing's taking you for a ride. It's going to pull on the line, it's going to make crazy runs." Listen to the segment, which aired in September, here.
Which Last Chance Foods segments did you love — or love to hate? Tell us in the comments below.