Saying Goodbye to the Merce Cunningham Dance Company
On New Year's Eve, December 31, 2011 passed into 2012. And with it passed one of the country's most important cultural institutions. The Merce Cunningham Dance Company ended a two-year, 50-city Legacy tour with a final performance at New York City's Park Avenue Armory.
The company was founded in 1953 by the choreographer Merce Cunningham, who died in 2009.
Cunningham was born in 1919, and over the course of a 70-year career made significant contributions to modern dance, and to the idea of dance in relation to other art forms such as music and the visual arts.
"Merce," as he was widely known, began his formal career as a dancer with the Martha Graham Company, but soon realized that he was not interested, as Graham was, in dance as a narrative form or as an encoded psychological state. In a 2002 interview with John Tusa for BBC Radio 3 he said, "I think movement by itself is what absolutely touches me."
In pursuit of the idea of what could be done with "movement by itself" Cunningham and his life and professional partner, the composer John Cage, pioneered work in which music and dance were equal but separate partners, often coming together only on the night of a performance. Later, the visual arts were added to this mix — Robert Rauschenberg and Jasper Johns were among those who contributed to Cunningham's growing repertory. 
Cunningham and Cage also introduced the idea of creating works using chance operations, such as the casting of pennies to obtain a reading from ancient Chinese "Book of Changes" or the rolling of dice.
"People say, well, does it always work?," he commented in an interview with Alicia Zuckerman for WNYC in 2003. "That's actually to me a rather foolish question — does anything always work? It always works for me simply because I find out something that I didn't know about before."
Cunningham began that process of discovery as a soloist, but the creation of his company allowed him to transfer his ideas to a dynamic group of dancers trained in his exacting technique. The result was works of propulsive energy, elegance, and clarity, and the company shaped several generations of dancers who went on to become movers and shakers in their own right. Cunningham alums include Carolyn Brown, Paul Taylor, Trisha Brown, Lucinda Childs and Karole Armitage.   
The Merce Cunningham Dance Company has performed Merce's works — 150 dances and some 800 performance "events" — all over the world, but has also called Westbeth Arts Center home for many years. Now, it is preparing to leave and Cunningham's legacy will take on a different character, in the form of what has been dubbed a "Legacy Project" which will be managed by the Cunningham Trust. 
As the company's long-time archivist and historian David Vaughan notes, 80 of the choreographer's most significant works, such as "Crises," "Antic Meet," "RainForest" and "Squaregame" are being preserved in the form of "dance capsules." A capsule might include performance and rehearsal videos, music and lighting notes, Cunningham's own "voluminous" notations ("These are hard to read," Vaughan said, "but people will learn,") and a performance history supplied by Vaughan. The Trust has the right to license new productions of the works, and, "This means that anyone planning to stage a Cunningham work on another company will have everything she needs." 
Vaughan also believes that, although the advent of technology made creating a multifaceted record of a given work possible, the dancers themselves, able to transmit not only Cunningham's steps, but his complex technique, remain the greatest available resource. Part of the Legacy Project includes fellowships that will help former company members stage works elsewhere.
One of Cunningham's most often quoted observations is that he was strongly influenced by Einstein's statement that, "There are no fixed points in space." However, for over 50 years, one stable element in his fluid and peripatetic life was his company. But its passing clearly doesn't signal the disappearance of Cunningham's aesthetic. In addition to the Cunningham Trust's stewardship of his works, his ideas, as realized in those works, have already altered our perception and become an indelible part of our culture. Future generations viewing licensed revivals of his dances will be just as much a part of his legacy as the works and performers.
Bringing us back to New Year's Eve ... In a year marked by extraordinary change, most of it the result of violence or disaster (man-made and natural), it may mean something that the end of the Merce Cunningham Dance Company affords us the opportunity to recognize one quiet revolutionary, who, though modest, diffident, and unfailingly courteous, nevertheless managed to alter his world, and its many points, forever.
Click below to see some of WNYC's coverage of the legendary choreographer and his company.
2011
Shen Wei, Elizabeth Streb and Merce Cunningham at the Park Ave. Armory From Dec. 29 through 31, 2011, the Merce Cunningham Dance Company performs six shows at the Park Avenue Armory. "Events," as they are called, are the last shows in the company's roughly 60 years of dance.
Young Artist Selected for Cunningham Finale Set Design In August of 2011, the Merce Cunningham Dance Company announced that it had commissioned artist Daniel Arsham to create the set design for the last Merce Cunningham Dance Company shows at the Park Ave. Armory.
Merce Cunningham Dance Company Returns to NYC for Final Performances After nearly 60 years of performing its contemporary choreographic collages worldwide, the Merce Cunningham Dance Company announced that it would return to New York for the final performances of its two-year, farewell Legacy Tour. In July of 2011, the Park Avenue Armory announced the final details of the company's final performances -- two shows a night on multiple armory stages.
Walker Center Acquires Merce Cunningham Dance Group Costumes and Décor In March of 2011, the Walker Arts Center in Minneapolis announced it had purchased 150 costumes, set pieces and backdrops made for the Merce Cunningham Dance Company over the course of Cunningham's career. The pieces were created by New York artists including Robert Rauschenberg, Andy Warhol and Jasper Johns.
2010
Merce's Legacy Tour The Merce Cunningham Dance Company announced in February of 2010 that it planned to hit the road one last time, going round the world for its Legacy Tour before disbanding.
2009
Cunningham Remembered Through Dance and Music A memorial for Cunningham was held on Oct. 28, 2009 at the Park Avenue Armory. Men and women who had worked with Cunningham throughout his career, including Glen Rumsey, Valda Setterfield, Lisa Boudreau and Banu Ogan, performed to his choreography on three different stages,
Merce Cunningham Dies at 90 On July 27, 2009, Merce Cunningham passes away. A spokeswoman for the Merce Cunningham Dance Company, Leah Sandals, said Cunningham died at his Manhattan home of natural causes. His career spanned more than 60 years and some 150 works.
Merce Cunningham's 'Nearly 90' Merce Cunningham celebrated his 90th birthday on April 16, 2009. In his honor, BAM presented the world premiere of a new piece called: "Nearly 90", with music by Sonic Youth and John Paul Jones of Led Zeppelin.
2003
Alicia Zuckerman interviewed Cunningham on the occasion of the company's 50th anniversary season. Listen to the story here:
2002
Cunningham on Soundcheck On August 30, 2002, Soundcheck host John Schaeffer interviewed Cunningham. Listen to the interview here:
No Fixed Points: Merce Cunningham Recovers the Past In July of 2002, the Merce Cunningham Dance Company inaugurated its 50th anniversary season with two programs for Lincoln Center's Festival 2002. WNYC's Sarah Montague reported on the season, which included several historic revivals.
Check out a slideshow of some of the company's performances below.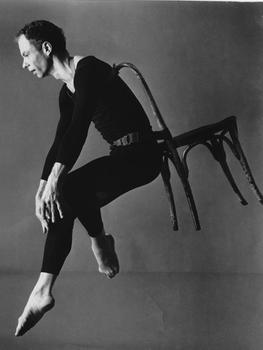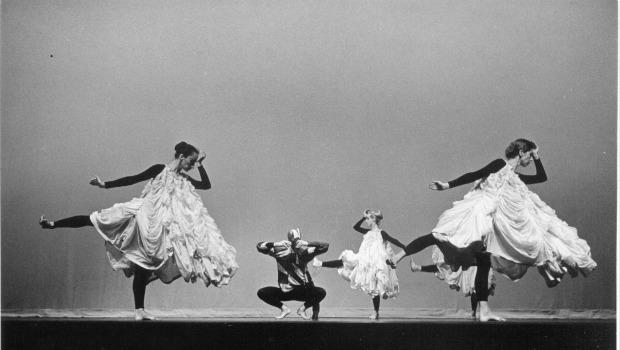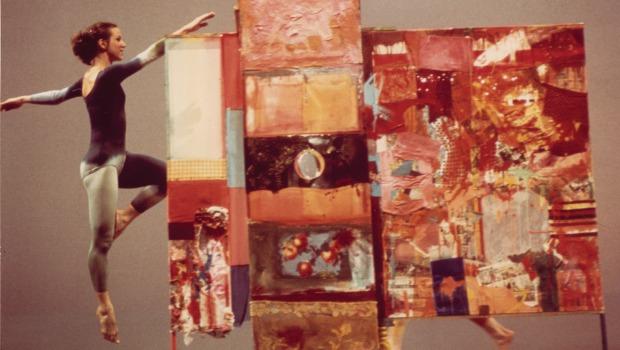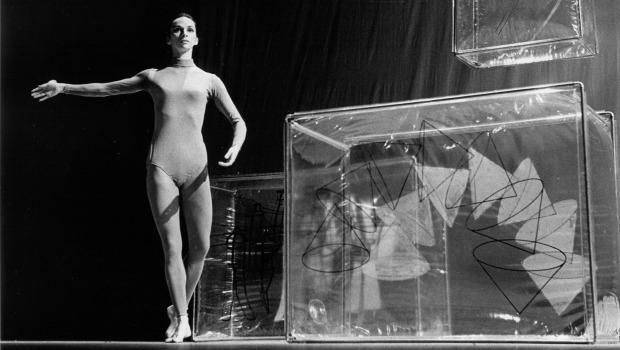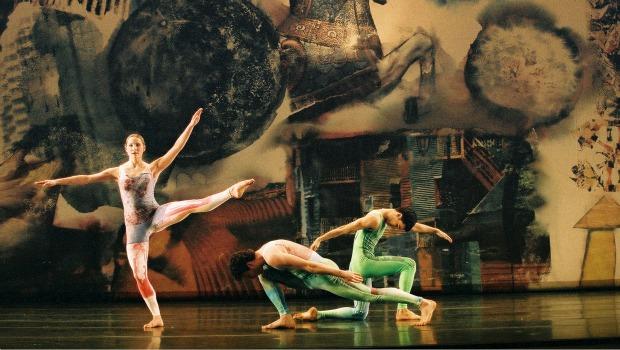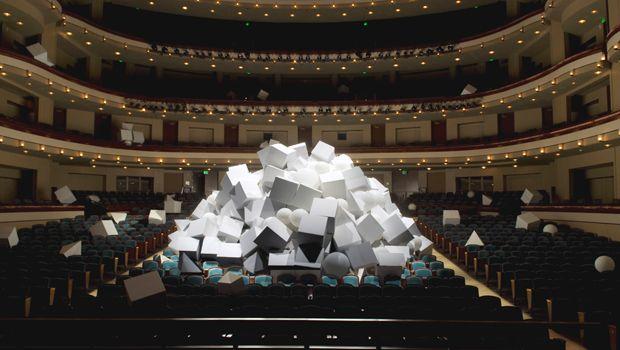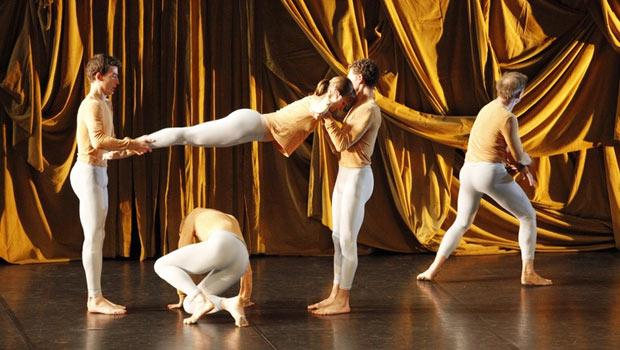 of