Marilyn
Friday, December 30, 2011
Actress Michelle Williams has received multiple nods this awards season for her portrayal of Marilyn Monroe in "My Week With Marilyn." For WNYC's Sara Fishko, it's another in the chain of actresses trying to capture the essence of the iconic blond star of stars. Here's "Marilyn," a holiday highlight of this year's Fishko Files…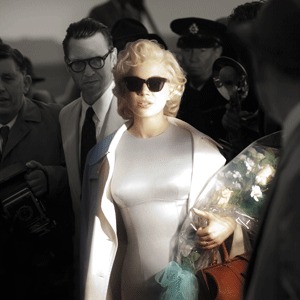 Michelle Williams as Marilyn in "My Week with Marilyn."
One Blonde Leads to Another 
PHOTO CAPTION:
Clockwise from top left: Catherine Hicks played Monroe in Marilyn: The Untold Story (1980); Diana Dors had a career in Britain in Marilyn's day; Mira Sorvino played Marilyn in Norma Jean & Marilyn (1996); Theresa Russell played a character modeled after Marilyn in Insignificance (1985); Poppy Montgomery played a fictionalized Marilyn in Blonde (2001); and Jayne Mansfield was a Marilyn-inspired entertainer in Monroe's time.
For more from the speakers featured in this episode of Fishko Files...

*Susan Doll is a writer and editor at Facets Media. You can read a selection from her book, Marilyn: Her Life & Legend here.
*Lois Banner is currently at work on her second biography of Marilyn Monroe. To see her first book, MM-Personal: From the Private Archive of Marilyn Monroe, click here.
*Joyce Chopra's 2001 mini-series about Monroe, Blonde, is available here.
Assistant Producer Laura Mayer went to Times Square on a buying trip. She came back with one Marilyn Monroe salt and pepper shaker, four postcards, two magnets, and a framed photo spread of Marilyn images. 
WNYC Production Credits
Mix Engineers: Paul Schneider and Bill Bowen
Assistant Producer: Laura Mayer
WNYC Newsroom Editors: Karen Frillmann and Gisele Regatao