Muslims Upset by NYPD to Boycott Mayor's Breakfast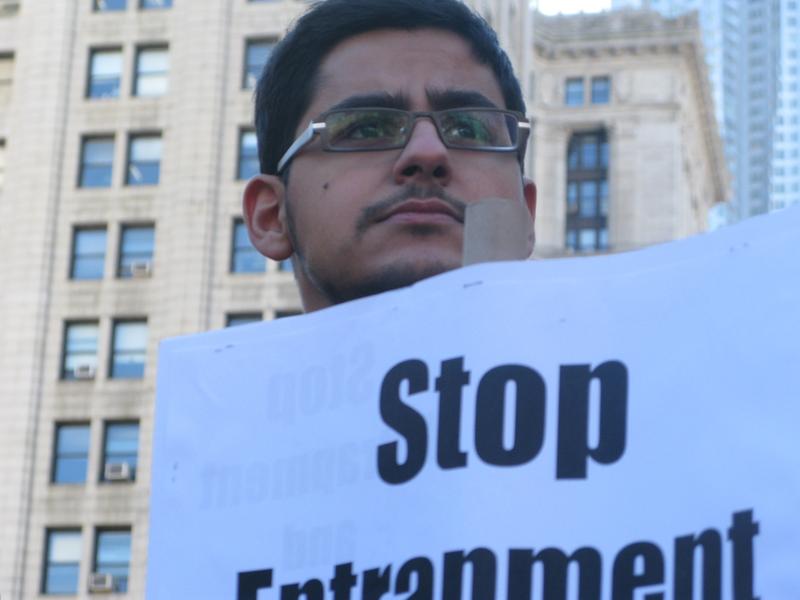 Several Muslim leaders and community activists are planning to skip Mayor Bloomberg's annual Interfaith Breakfast tomorrow. In a letter to the Mayor's office, the group expressed concern over a series of AP reports about NYPD surveillance of the Muslim community. 
The letter to Bloomberg contained the names of several dozen Muslim leaders and organizations and said they believe the police department's tactics "threaten the rights of all Americans, and deepen mistrust between our communities and law enforcement." About three dozen Jewish and Christian leaders also signed the letter, though it was unclear how many of them had been invited to the breakfast.
The letter also asked for a private meeting with Mayor Michael Bloomberg. Among the signors was Imam Al-Hajj Talib 'Abdur-Rashid. He leads the Mosque of the Islamic Brotherhood in Harlem and he's president of the Islamic Leadership Council of New York.
"We made it clear: we want to sit with the mayor. It's just that as a matter of conscience we cannot sit pretending everything is okay, with our community and with all New Yorkers when we know that it's not," he said.
Bloomberg has defended the department, saying last week it doesn't take religion into account in its policing.
"We have a couple dozen Muslim community leaders who have RSVPed that they will be at the breakfast, which is about the same as previous years," said Stu Loeser, spokesman for the mayor. "The Mayor's Office and the NYPD maintain their strong ties with the City's Muslim communities – in fact, the Police Commissioner spoke at the Masjid Salaam Mosque in the Bronx this afternoon just after announcing the great year-end crime statistics with the Mayor at City Hall."
Among those who will be at the breakfast Friday morning is Sheikh Moussa Drammeh, who chairs the Islamic Cultural Center of North America in the Bronx. He praised Bloomberg for his support for Muslims since September 11 and thinks the disagreement within the Muslim community is actually a good thing.
"Muslim New Yorkers in particular are no different than any other group of Americans. So it only shows our strengths that we can disagree," he said.
Muslim leaders did say they appreciate the mayor's staunch support a year ago during an uproar over a planned Islamic center near the World Trade Center site.
Documents reviewed by the AP revealed that undercover police officers known as rakers visited local businesses such as Islamic bookstores and cafes, chatting up store owners to determine their ethnicities and gauge their views. They also played cricket and eavesdropped in ethnic cafes and clubs.
The AP stories also revealed that one of the CIA's most experienced clandestine operatives began working inside the police department in July as the special assistant to the deputy commissioner of intelligence.
The CIA is prohibited from spying domestically. Its unusual partnership with the NYPD has troubled top lawmakers and prompted an internal investigation.
In October, Bloomberg defended the arrangement, saying it was necessary in a dangerous world.
"There are people trying to kill us," he said. "And if the CIA can help us I'm all for getting any information they have and then letting the police department use it as - if it's appropriate to protect you and to protect me."
Kelly, meanwhile, met Wednesday evening at a Bronx mosque with two imams who weren't listed on the letter and with young fans of a police department youth soccer league, whose winners were presented with a trophy.
"Contrary to such assertions, the NYPD lawfully follows leads in terrorist-related investigations and does not engage in the kind of wholesale spying on communities that was falsely alleged," said Paul Browne, deputy commissioner for Public Information for the NYPD, in a statement. "The use of NYPD undercover officers was grossly exaggerated in the AP series. Their selective use has resulted in important Federal and state prosecutions of terrorist plots, including one to bomb  Herald Square Station and more recently to conduct a series of bombings, targeting returning members of the military and police in New York City."
With reporting from Brigid Bergin and the Associated Press