Strike Looms as Cleaners' Contract Negotiations Continue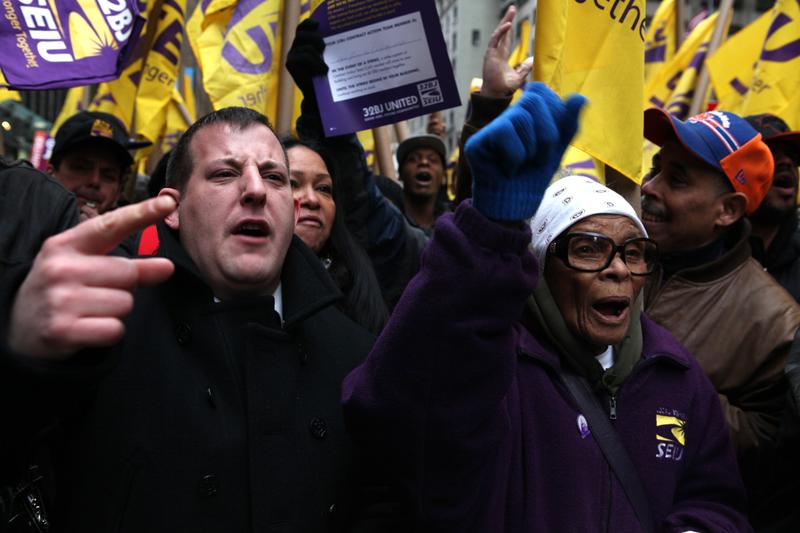 Office cleaners and building management returned to the bargaining table Wednesday for round-the-clock discussions, attempting to settle on a four year contract before the January 1 deadline. Members of the union, 32BJ, have ordered a strike if a deal is not reached, and say both sides are at loggerheads now.
"What we're talking to the union about is trying to figure out a way to have the current costs reflect the current economic times," said Howard Rothschild, president of the Realty Advisory Board (RAB), who was in discussions with union officials.
Rothchild said landlords were notified of the possibility of a strike months ago, but wouldn't specifically say if contingency cleaning plans were in place.
Kevin Doyle, executive vice president for 32BJ, said management is asking to reduce wages, the amount of pay for health care and pensions, and the number of sick and vacation days. "What they're asking for is a systematic attack on the wages and benefits that we negotiated for over the last 50 years," he said.
Rothschild said his group has negotiated with unions for over 80 years and is confident an agreement can be reached. The last strike of office cleaners was in 1996.
The strike could affect 1,500 office buildings and 22,000 members of 32BJ.
"I'm living a struggling life, it's not easy and we have to keep fighting till we get a fair contract," said Jonathan Martinez, 28. Martinez cleans schools in the Bronx and came to support his fellow 32BJ members. 
The Realty Advisory Board said workers earn an average of $47,000, and cost management $76,721 including benefits. 
Anthony Sam, 29, from the Bronx cleans offices on 7th Avenue countered the wages are hardly sufficient for a life in the city. "In New York City that's very little, especially if you're raising a family. It's ridiculous, in New York you need to make at least $55,000 or more, especially having a family and raising kids in New York," Sam said.