Protesters Go but Barricades Remain
Over a month after police cleared the Occupy Wall Street encampment from Zuccotti Park, some remnants still remain — the police barricades
Metal barricades still surround Zuccotti Park, much to the chagrin of some of the small businesses around the park. Stacy Tzortzatos, general manger of Panini & Company, doesn't understand why the barricades still surround the park.
"I feel it needs to go," she said. She added that many of her customers like to eat in the park or go into the park. "It feels completely closed off and it's not."  
Further south on Broadway, a symbol of Wall Street, the charging bull, is also surrounded by police barricades. Tourists line up to get a picture next the bull's head.
Bernard Freiling, who's visiting from Switzerland, saw the bull ten years ago and wanted to get an updated photo. "I don't really know if it's necessary to do it. It's not good to see the financial world so secured," he said.
Arthur Piccolo, chairman Bowling Green Association, said when threats against institutions are received in the area, usually a police car and some extra NYPD officers are assigned and "not this 24-hour, seven day a week, two police officers on overtime who everytime I see them say they could be better off in neighborhoods that they need more police." he said. "Why are they doing that for 3 and half tons of bronze? It's striking me as being Orwellian"
Authorities counter the bull must be protected because it's a possible target of vandalism.
"The cops have to make a decision. If it looks like someone's going to deface it, they've got to be there and it's just sad that there are people who might want to do it," Mayor Michael Bloomberg said.
The mayor added the police have been accommodating people who want to get a picture with the bull.
But Community Board 1 President Julie Menin is concerned about the impact the barricades are having to businesses in the area, noting that small business owners have been complaining about the barricades for weeks.
"I understand the need for balance," she said, "but the balance is too much in favor of the barricades."
She wants the NYPD to do a walk through of the area and see what barricades are truly needed.
Marc Garber and Richard Yeh contributed to this report.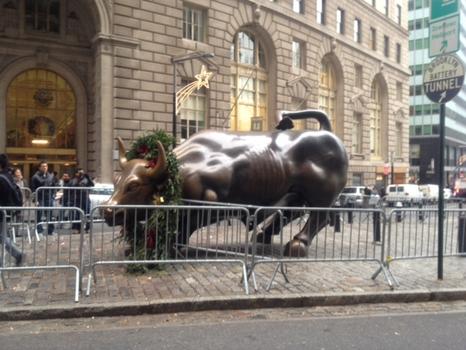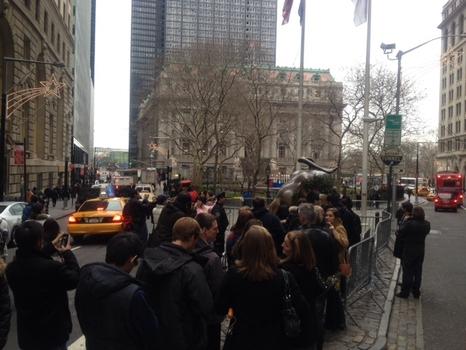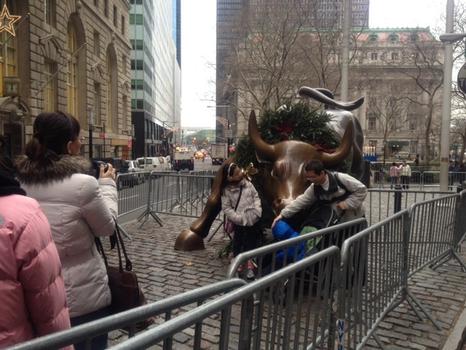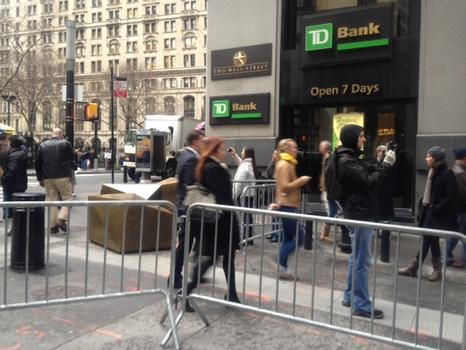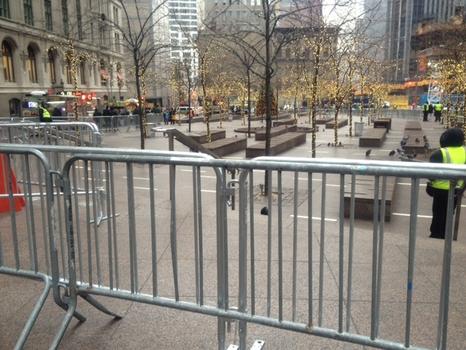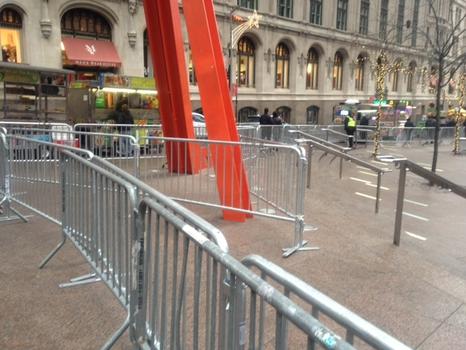 of