New Yorkers Live Longer Than Other Americans
New Yorkers already live longer than other Americans, and new stats from City Hall show life expectancy in the city is improving faster than the nation as a whole.
"If you have friends and relatives that you deeply care about, and they live elsewheres, on average if they move to New York City, they will live longer," said Mayor Michael Bloomberg.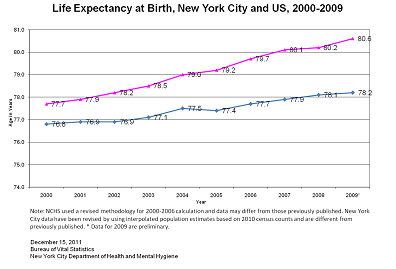 The mayor shared the findings at a maternity ward in the South Bronx where around 50 babies are delivered each day. He said the newborns in incubators at the city-owned Lincoln Hospital now can expect to live more than 80.6 years on average, compared with national life expectancy of 78.2 years. Both figures are from 2009.
But the mayor stressed that the benefits of living in New York don't only accrue to newborns.
The city's Health Department says that between the year 2000 and 2009, life expectancy for 40 year-olds in New York City rose by 2.5 years. By contrast, Americans added just 1.2 years to their life expectancy over the same period.
The mayor credited several of his own initiatives with lowering the mortality rate, including the 2003 ban on smoking in bars, and his efforts to stem the flow of illegal guns into New York City.