NY Recovered Jobs Faster Than the US, Data Shows
New York City is recovering jobs much faster than the rest of the nation, according to a new analysis of data.
The city has recouped about 60 percent of the jobs lost in the Great Recession, compared to 30 percent regained in the US as a whole, according to an analysis of government data by the real estate firm Eastern Consolidated.

The city has added 49,000 jobs so far this year — nearly double the number of jobs gained in 2010.

"Fifty thousand isn't bad, but it's moderate, and it's certainly better than it's been," said Barbara Byrne Denham, chief economist with Eastern Consolidated.
The biggest gains were in retail, food services and hospitality, and education. Higher-paid professions like the law, insurance, and banking lagged. A surprising bright point, Denham said, was an almost 6 percent gain in the number of jobs in the advertising business.

But healthcare, which has been strong for much of the past decade, shed more than 3,000 jobs, the result of several hospital closures concentrated in the outer boroughs. In August, Peninsula hospital in the Rockaways sent layoff notices to nearly 900 workers.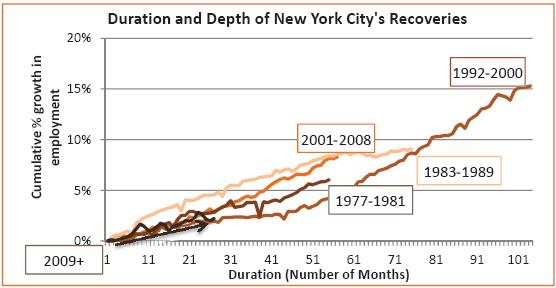 Despite the overall positive employment trend, joblessness remains high in New York City. The city had an 8.9 percent unemployment rate in November 2011, higher than the nation's (8.6 percent), and equal to the rate in November 2010.

Even when jobs are created, the unemployment does not always sink, in part because the long-term unemployed may begin looking for work again.
(Graph: This chart shows the current trend in job growth for NYC declined and remains below the comparable rate of growth for three of previous four recoveries. BBD/Eastern Consolidated)
A key area to watch in 2012 will be financial services. Citigroup, Bank of America, Goldman Sachs, and the Bank of New York-Mellon all announced layoffs in 2011.

Byrne warns the full effect of the pink slips may not be measurable until well into 2012. "A lot of people when they lose their jobs, they get a severance package, and they're technically on the payroll for a number of months," Denham said. "So there's always a delay with the reporting of these job losses."

New York is very dependent on high-paying securities industry jobs, both for tax revenues, and for the money those workers spend on businesses and services, like dry cleaners, day care, and home renovations.