Last Chance Foods: WNYC Morning Edition Host Soterios Johnson's Favorite Christmas Cookie
Leaving cookies out for Santa Claus is a time-honored tradition that calls up images of Norman Rockwell's America. While chocolate chip or sugar cookies might be the standard, many families across this melting pot of a nation have their own spin on the traditional Christmas cookie.
For WNYC Morning Edition host Soterios Johnson, who is of Greek descent, Christmas isn't complete without his mother's melomakarona (pronounced meh-loh-mah-KAH-roh-nah) cookies.
"Even when I moved out and I went to college, I would always go back to school with a care package full of melomakorona," he told All Things Considered host Amy Eddings.
Johnson's mother, Marina Johnson (pictured below with her melomakarona cookies), learned to make the cookie from her mother. Over the years, she has perfected the recipe for the honey syrup–soaked, lightly spiced, crumbly cookies.
It's worth noting that Marina Johnson's recipe for melomakarona makes 96 cookies and requires nine cups of flour. (She suggests rookies halve that recipe to make a mere 48.)
One happy result of that bounty is that those in the WNYC newsroom have come to look forward to sampling melomakarona every holiday season. This year, Marina personally brought in a platter of melomakarona and agreed to sit down and share her baking secrets for this week's Last Chance Foods.
Making melomakarona is a time-intensive process. First, it's necessary to make and bake the dough. Then, the cookies should rest for a day or two to be firm enough to be soaked in honey syrup.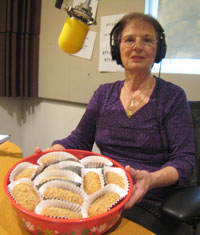 "I think it's important to use Greek honey, which is different than the kind of honey you get here," said Soterios. "And I'm not being chauvinistic, but it's actually the nectar that the bees collect in that area of the world in Greece is unique, so it tastes different."
Marina recommends not soaking the cookies for too long in the syrup, otherwise they'll fall apart. Each cookie is then garnished with a mixture of chopped walnuts, powdered sugar, cinnamon and ground cloves. She takes the trouble to place each cookie in its own foil baking cup so that the cookies don't crumble too much and the walnut toppings stays put.
"It takes a little time," Marina said with a laugh.
Another motherly tip Marina shares is to not be discouraged if the cookies don't come out perfect the first time.
"Sometimes, if you make it the first time, whatever you make, it's not come out good," she said. "When I give my cousin my cookies for Easter, she make it and it not come out good and she says, 'I'm never going to make it.' I say, 'Listen, you have to try [again].'"
Watching an experienced baker go through the process is also helpful.
Ultimately, though, many "kids" have the advantage of leaving the holiday baking to the experts.
"I have not tried making [melomakarona]," admited Soterios. "I have made other things. But I don't know if I have the endurance to do it. And why should I make it when I've got  the master making them for me?"
What are your family's favorite holiday treat? Check out snapshots sent in by listeners and send in your own here.
Marina's Melomakarona

This recipe makes approximately 96 melomakarona. If you are making these for the first time, you may want to cut the recipe in half to make about 48 melomakarona. 
In addition to the ingredients, you will also need foil baking cups for the final presentation.

Cookie dough
1 lb. unsalted butter  (soft)                                                                
1 ½ cups olive oil (100% pure, not extra virgin, should have a light color)
¾ cup sugar
3 teaspoons baking powder
1 teaspoon cinnamon powder
1 teaspoon cloves ground
½ teaspoon nutmeg ground
1 ½ teaspoons allspice
1 ¼ cups orange juice (fresh squeezed)
2 tablespoons zest of orange
9 cups unbleached flour (have an extra half-cup ready, in case the mix is too loose)
In a mixer, whip the butter, oil and sugar. Add all the spices and zest of orange.
Start adding the flour and orange juice a little at a time, so that it doesn't splash up.
As it gets thick, you'll have to finish by hand. The mixture should be firm, but not hard. If necessary, add some of the extra flour to get this consistency. You should be able to spoon some dough in your hand and form an oblong cookie (3- to 3.5-inches long, 1-inch high). Do not flatten the dough, it will go down as it bakes.
Bake cookies at 350F for 15-20 minutes, until they turn a nice light gold color.
Cookies should be left to cool and rest for a couple of days before soaking in hot syrup.
After the cookies have cooled and rested, make the chopped walnut topping from:

2 cups finely chopped walnuts
2 tablespoons powdered sugar
1 teaspoon cinnamon
1/4 teaspoon ground cloves

Mix well.

To make the syrup:

2 cups sugar
2 cups water
8 oz. honey
3 tablespoons lemon juice

In a 2-quart pot, combine sugar and water. Heat to a boil, then lower to simmer for 20 minutes.
Remove from heat. Add the honey and stir in lemon juice.
One at a time, place a cookie in a large spoon and gently place in the syrup, until you have about 4 or 5 in the pot. Let them soak for 3 to 4 minutes total, carefully flipping cookies after about 2 minutes. Remove cookies one at a time and put on a dish.
While the cookies are still warm, sprinkle with walnut mixture. After they cool place in foil baking cups.