Enter Through the Gift Shop: NYC Museums Step Up Their Retail Game
The Museum of Modern Art has a pop-up booth in Grand Central Terminal. The Metropolitan Museum is intercepting travelers at its stores at Kennedy and Newark Airports. The Bronx Zoo has a kiosk inside FAO Schwarz.
These museum gift shops — and others — are going all out to get the attention of consumers in the days remaining before Christmas.
"The biggest trend — and it's been going on for some time — is just really considering it as a business," said Rena Zurofsky, who is a consultant for museums and other non-profits. "Museum shops and what we call 'regular retail' are coming closer together all the time." 
The increased attention non-profits are paying to their retail operations is adding up. The public now spends roughly $2 on mechandise for every $1 spent on admissions at both The Metropolitan Museum and The Museum of Modern Art.
But a paradoxical result of expanding museum retail operations is that even self-professed art lovers may skip the museum exhibition and head straight for the gift shop.
"We try to get to the actual museum probably every other trip to New York, but we love the store," said Cindy McGinley, a Department of Homeland Security employee visiting from Virginia with her husband, Rick.
The McGinleys had just emerged from The Metropolitan Museum of Art Store at Rockefeller Center with two Christmas tree baubles in a brown bag.
"We come here every year," Rick McGinley said. "We buy for us and for our friends 'cause they don't make it up here as much as we do."
To learn more, listen to the audio above and check out WNYC's interactive chart about consumer spending at museums.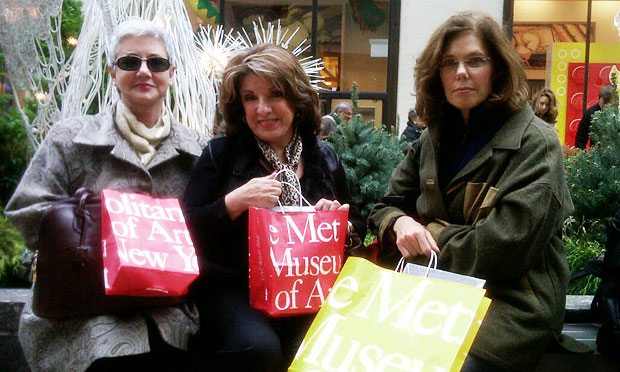 Photo: Nan Garvey, Alice Chaleff and Carol Mace have been patronizing the Met Museum store every year for the past six years.