Chelsea Record Collector Creates Eclectic Christmas Mixtape
If you're one of those people who say, "Bah, Humbug!" when you hear yet another version of "Silent Night" on the store muzak systems, give a listen to the eclectic holiday mixtape that Chelsea resident Bill Adler has been doing for close to 30 years.
Adler, who happens to be Jewish, also happens to be married to Sara Moulton, the television chef. In 1982, Adler decided to create his own soundtrack for the long drive from their loft in Manhattan to Moulton's family's home in Massachusetts. He called it "Xmas Jollies" and  initially produced the mix on cassette, a much admired format in the days before MP3 files. Today Adler burns his mixtape onto CDs.
"I just wanted it to be lighthearted and joyful, probably as a way of piercing what I consider the oppressive corniness of the holiday overall," explained the 60 year-old Adler. "My Northern Star in this has always been Santa Claus, not Jesus."
Adler has a long history in the music business, including a stint as the founding publicist of Def Jam Recordings. He is the author of a new history on Def Jam published by Rizzoli. His admirers say Adler has what musicians refer to as "big ears" and could be described as an obsessed collector. His holiday mixtapes rarely repeat tracks from year to year.
"I do my best to design each CD as a program," Adler said. "I want to program sequence them in such a way that it does create a harmonious whole."
Almost every Christmas Jollies CD has a rap track, which is not surprising given that when Adler worked at Def Jam he came up with the idea for Run DMC to record "Christmas In Hollis."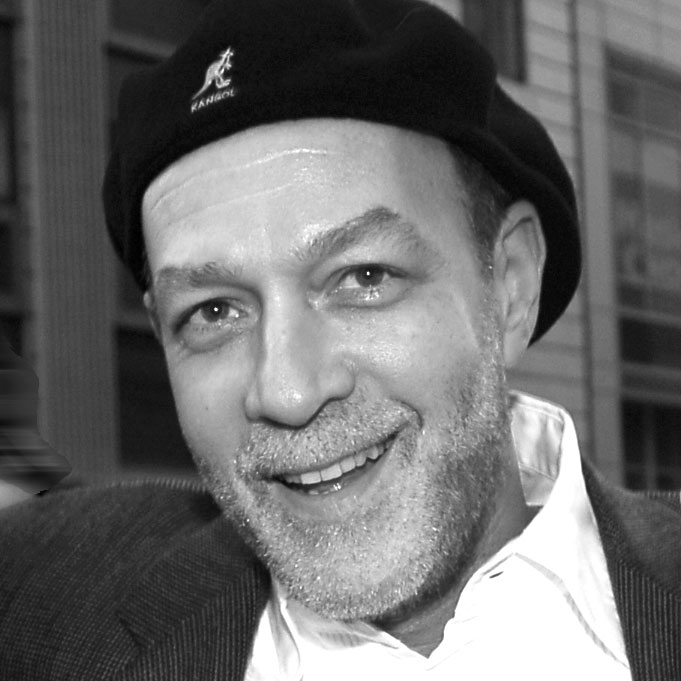 Adler (pictured right) searches for new material pretty much year-round, scouring the bins at flea markets, haunting Caribbean record stores in Brooklyn and following up leads from friends who continually hip him to obscure Christmas music.
"It's pretty obvious that a ridiculous amount of work goes into these little treasures," noted Dan Rubin, a columnist for The Philadelphia Inquirer and a fan of the Jollies. "You can tell this guy has spent a lifetime collecting, listening and presenting music. This is serious stuff."
Well, not totally serious. Every Christmas Jollies contains season's greetings from pop culture figures — everyone from Yogi Bear to the animal trainers, Siegfried 'n Roy. One year Johnny Cash is heard saying, "It's not cool to kill on Christmas but if you must, make it the guy who sings that 'Grandma Got Run Over a Reindeer' song." Another year Krusty the Clown from "The Simpsons" wishes everyone "Merry Christmas, Happy Chanukah, Kwazy Kwanza, a tip top Tết and a solemn dignified Ramadan."
Adler's friends tell him that Christmas doesn't start for them until they get their Christmas Jollies CD in the mail. Many won't play the mixtape until Christmas Eve or Christmas.
"I have friends who dub up copies of my CDs and pass them out to their friends, so the Jollies definitely get a kind of wider circulation than I intend.
Here's the track list for Bill Adler's Christmas Jollies 2011 mixtape:
1.  Peggy Seeger, "Babe of Bethlehem," 1953
2.  Robin Williamson, "Drive the Cold Winter Away," 1986
3.  Stompin' Tom Connors, "Down on Christmas," 1970
4.  Huey "Piano" Smith and The Clowns, "Almost Time For Santa Claus," 1962
5.  Twistin' Kings, "Xmas Twist," 1961
6.  Ska Santas, "Let It Snow," 2010
7.  Little Jimmy King with the Memphis Horns, "Happy Christmas Tears," 1995
8.  Seasons Greetings from Lee Shot Williams, 2006
9.  The Three Suns, "Skaters Waltz," 1959
10. Bob Crosby & His Orchestra, "The Skaters Waltz (in Swingtime)," 1939
11. George Formby, "Sitting on the Ice in the Ice Rink," 1933
12. Rev. Edward W. Clayborn (The Guitar Evangelist), "The Wrong Way to Celebrate Christmas," 1928        
13. Seasons Greetings from Ms. Sheba Potts-Wright, 2006
14. Solomon Burke, "Silent Night," 1982
15. Brian McKnight, "O Come All Ye Faithful," 2008
16. Ivan Lins, "Um Bom Natal (O Tannenbaum)," 1999
17. Bubber Johnson, "It's Christmas Time," 1955
18. Stephanie Davis, "I Heard the Bells On Christmas Day," 2005
19. Tuli Kupferberg, "Christmas in the Workhouse," 1992
20. Roy Orbison, "Pretty Paper," 1963
21. Byron Lee and the Dragonaires, "Winter Wonderland Reggay," 1966
22. Reuben Anderson, "Christmas Time Again," 1967
23. Ras Pidow, "Winter Storm," 1992
24. Joe Loco Quintet, "Rudolf the Red-Nosed Reindeer," 1955
25. Mike Epps' Christmas Wish, 2008
26. Flaco Jimenez, Freddy Fender, and Friends, "Jingle Bells," 1994
27. Odilio Gonzales, "Peticion Al Nino," mid-'60s
28. Seasons Greetings from Ricky Powell 2011
29. "Swatch Watch Presents a Merry Christmas" w/ the Fat Boys, 1984
30. Seasons Greetings from Jr. Walker, mid-Seventies
31. Huey "Piano" Smith and The Clowns, "Happy New Year," 1962
32. Seasin's Greetinks from Popeye, 1933
Photo Credit: Courtesy of Adler Archives