Last Chance Foods: Cauliflower
Think being a golf star with various mistresses is hard? Try the life of a farmer growing cauliflower. While the latter may not get as much press, cauliflower can really play havoc on the emotions, since it's notoriously difficult to grow.
"As a crop, it can be very rewarding or very devastating," said Jack Algiere (pictured below), the farm manager at Stone Barns Center for Food and Agriculture. "It's a very delicate creature. It likes real moderate care from the beginning to the end. It needs coddling the whole way."

Algiere recently sat down with WNYC's Amy Eddings to talk about cauliflower, which he describes as "the pig of vegetable  world, it just eats and eats," getting bigger the more its watered and fed. The farmer oversees more than six acres of fields and gardens at Stone Barns, a nonprofit four-season farm and education center in Westchester County, N.Y.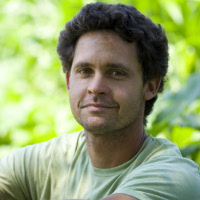 Of the various types of cauliflower that he's grown at Stone Barns, including Romanesco, orange and purple varieties, he has noticed a particular phenomenon: People ascribe tastes to cauliflower based on color. Algiere has been told the orange cauliflower tastes like cheese and has convinced gullible audiences that the purple smacks of blueberry. "It's all cerebral," he said with a laugh. In reality, they all just taste like cauliflower, and he prefers growing the traditional white variety because it's sweeter, crisper and less woody.

In particular, Algiere enjoys a "cauliflower steak" recipe from Dan Barber, the chef at Blue Hill, which is the restaurant partnered with Stone Barns. Eddings added her own take on the vegetable, noting that cauliflower gratin is one of her favorite dishes to make. Find both recipes and more below.

"Cauliflower Steaks with Cauliflower Purée"
by Dan Barber, executive chef/co-owner, Blue Hill and Blue Hill at Stone Barns
1.5-pound head of cauliflower
1 1/2 cups water
1 cup whole milk
2 tablespoons vegetable oil plus additional for brushing
1. Heat oven to 250°F.
2. Using sharp heavy knife and starting at top center of cauliflower head, cut two 1-inch-thick slices of cauliflower, cutting through stem end. Set cauliflower steaks aside. Cut enough florets from remaining cauliflower head to measure 3 cups.
3. Combine florets, 1 1/2 cups water, and milk in medium saucepan, and sprinkle with salt and pepper. Bring to boil and cook until cauliflower florets are very tender, about 10 minutes. Strain, reserving 1 cup cooking liquid.
4. Spread florets on large rimmed baking sheet, and bake 10 minutes until slightly dry.
5. Transfer florets to blender. Add reserved 1 cup cooking liquid and puree until smooth. Return puree to same saucepan and increase oven temperature to 350°F.
6. Heat 2 tablespoons vegetable oil in heavy large ovenproof skillet over medium-high heat. Brush cauliflower steaks with additional oil and sprinkle with salt and pepper. Add cauliflower steaks to skillet and cook until golden brown, about 2 minutes per side.
7. Transfer skillet to oven and bake cauliflower steaks until tender, about 10 minutes.
8. Warm cauliflower puree over medium heat. Divide puree between 2 plates; top each with cauliflower steak.

Amy Eddings's Favorite Cauliflower Gratin Recipe
(adapted from a recipe in Cooks Illustrated, March/April 2002)
Serves 6

Bread Crumb Topping:
4 slices sandwich bread with crusts, each slice torn into quarters
2 tablespoons of unsalted butter, softened
¼ teaspoon salt
¼ teaspoon freshly ground pepper

Filling:
1 large head of cauliflower (about 3 lbs.), trimmed into ¾ inch florets
2 tablespoons unsalted butter
1 medium shallot, minced (about 2 Tbls)
1 garlic clove, minced
1 tablespoon flour
1 ½ cups heavy cream
Pinch fresh ground nutmeg
Pinch cayenne
Ground black pepper, to taste
1 teaspoon minced fresh thyme leaves
½ cup plus 2 tablespoons grated Parmesan cheese
For the topping: Pulse bread, butter, salt and pepper in food processor until mixture resembles coarse crumbs, about ten 1-second pulses. Set aside.

For the filling:
1. Adjust oven rack to middle position; heat over to 450 degrees.
2. Bring 4 quarts water to a boil in big pot over high heart. Add 1 tablespoon salt and cauliflower florets; cook until outsides are tender but insides are still slightly crunchy, about 3 minutes. Err on the side of underdone. Drain cauliflower in a colander and rinse under cold running tap water until no longer hot.
3. Heat butter in large pot over medium heat. When foam subsides, add shallot and cook until softened, about 1 minute. Add garlic and cook until fragrant, about 30 seconds.
4. Stir in flour until combined. Whisk in cream and bring to boil. Stir in nutmeg, cayenne, ¼ teas salt, pepper, thyme and ½ cup cheese until incorporated. Off heat, gently stir in cauliflower until evenly combined.
5. Transfer mixture to 11x7 inch (2 quart) gratin dish. Sprinkle remaining 2 tablespoons cheese evenly over surface, then sprinkle evenly with bread crumb topping.
6. Bake until golden brown and sauce is bubbling around edges, 10-12 minutes. Serve immediately.

Here are more recipes:
Thomas Kelleher's Cauliflower Soup with Red Beet Chips (ABC)
Cauliflower Manchurian Chinese-Indian appetizer (Showmethecurry.com)
Roasted Romanesco Cauliflower (Brooklyn Farmhouse)