Niche Market | Terrariums
New York is a city of specialists from foodies to academics, laborers to shopkeepers. Every Wednesday, Niche Market will take a peek inside a different specialty store and showcase the city's purists who have made an art out of selling one commodity. Slideshow below.
Twig Terrariums
274 3rd Avenue
Brooklyn, New York 11215
Half a dozen hazmat workers in blue and yellow suits scour the beach. The yellow sand sparkles, contrasting nicely with the lime-green Reindeer moss looming over the clearing.
"Can we put a Peeping Tom somewhere?" Adrienne Haeberle asks.
The master "terrarist," Michelle Inciarrano, laughs. "Someone in the bushes with a camera, taking photographs of the completely under the radar toxic spill?" she said.
Somewhere between a miniature movie set and a Natural History museum diorama of the human experiences is Twig Terrariums.
Plants grown in glass containers aren't a new or kitschy concept. The Greeks reportedly grew plants in transparent vessels 2,500 years ago, according to the University of Missouri and this horticultural endeavor became popular in 1842 with the publication of "On the Growth of Plants in Closely Glazed Cases." These plants grown in glass could be easily transported around the world and go weeks without watering.
Michelle Inciarrano and her business partner, Katy Maslow, use this Victorian method of growing plants in glass containers and add an unexpected twist — little figurines, in each terrarium.
On a recent afternoon, Haeberle, 37, is in Twig's Gowanus studio getting a private lesson on creating a terrarium in a massive piece of glass shaped like a large balloon.
There are 4 different types of plants in the glass and two types of lichen, in addition to the figurines that look like tiny people captured with a tilt-shift camera lens.
Inciarrano pulls out a tiny cameraman and drops him on a rock using a long, thin pair of tongs. "It's already an interesting idea to have a contained universe, might as well make it a contained universe of your own weirdness," Haeberle said.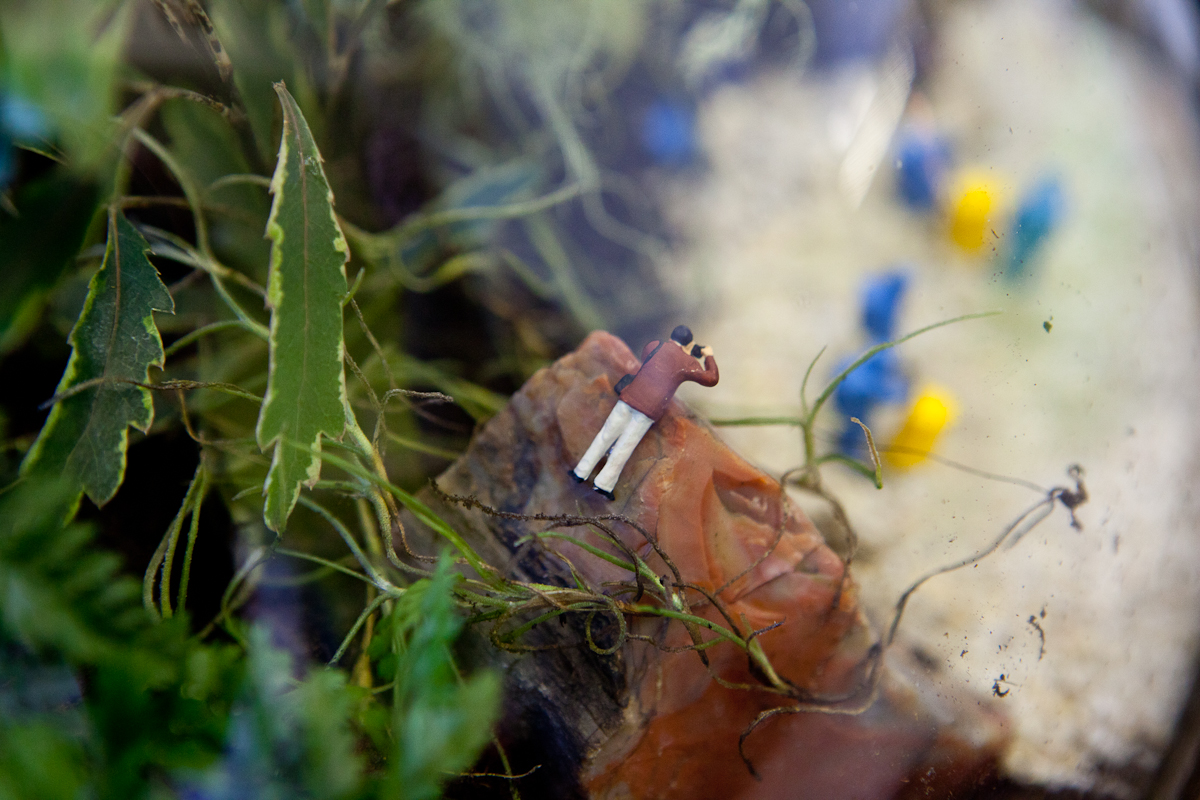 (Photo: A photographer taking pictures of the toxic spill is added to the terrarium. Stephen Nessen/WNYC)
Twig started 2-and-a-half-years ago, and it didn't take long for Inciarrano and Maslow to quit their day jobs and become full time "terrarists," as their photographer calls them. The Brooklyn-born women were fast friends in middle school, and have been inseparable since they reunited four years ago. Maslow has a degree in poetry from Brooklyn College, and Inciarrano was a full-time student and worked in the family business when she quit to work at Twig full time. They made their first terrarium on a Friday craft night and have been addicted ever since.
"Before we knew it, we had it all over our apartments," Inciarrano, 35, said. "And we had a choice, either give them to our friends for the holidays, or we try and sell them."
They began selling them at the Brooklyn Flea Market, and soon moved into their open studio in Gowanus on 3rd Avenue.
The women say no two terrariums are ever alike. They use repurposed laboratory glass, old cake stands, apothecary jars, light bulbs and little eggs from the 1970s, which also was a time of renewed interest in terrariums. The scenes range from the pastoral to the pathological. Grazing sheep, a woman standing on her head doing yoga, zombies, ax murderers, flashers and a couple copulating in the.
They do custom scenes as well. One woman asked for two parachuters, one stuck in a tree, which was based on a customers' experience. Another customer had a dream about a deceased father handing a giant lion to a little girl, all outlined in gold. They made concocted the perfect terrarium for him. Another woman lost all her pets that year, so Twig made a terrarium of dog heaven with her pets running around.
Just weeks before Christmas, Twig is bustling as they scramble to make enough terrariums for the holiday markets. There is an assembly line of goblet-shaped glasses in various states of creation. It's one of their most popular, and features a few sheep grazing on a lawn of moss.
"It's a little more complicated than just a jar of dirt, which some people like to joke that we make. There's a science to it," Inciarrano said.
The terrariums need several layers, including a layer of stones, so the roots have room for drainage, soil, moss and plants—all artfully laid out, so as not to grow on top of each other. 
"It's always a nice sense of accomplishment when you complete it because you are this benevolent creator who just completed a lovely world. And you get to observe it and sit back and feel like you made something good," Maslow said.
"It's very peaceful too," Inciarrano added. "There's a serenity that comes over you as you're making these things. They call it horticultural therapy…it's an amazingly peaceful creative way of expressing yourself."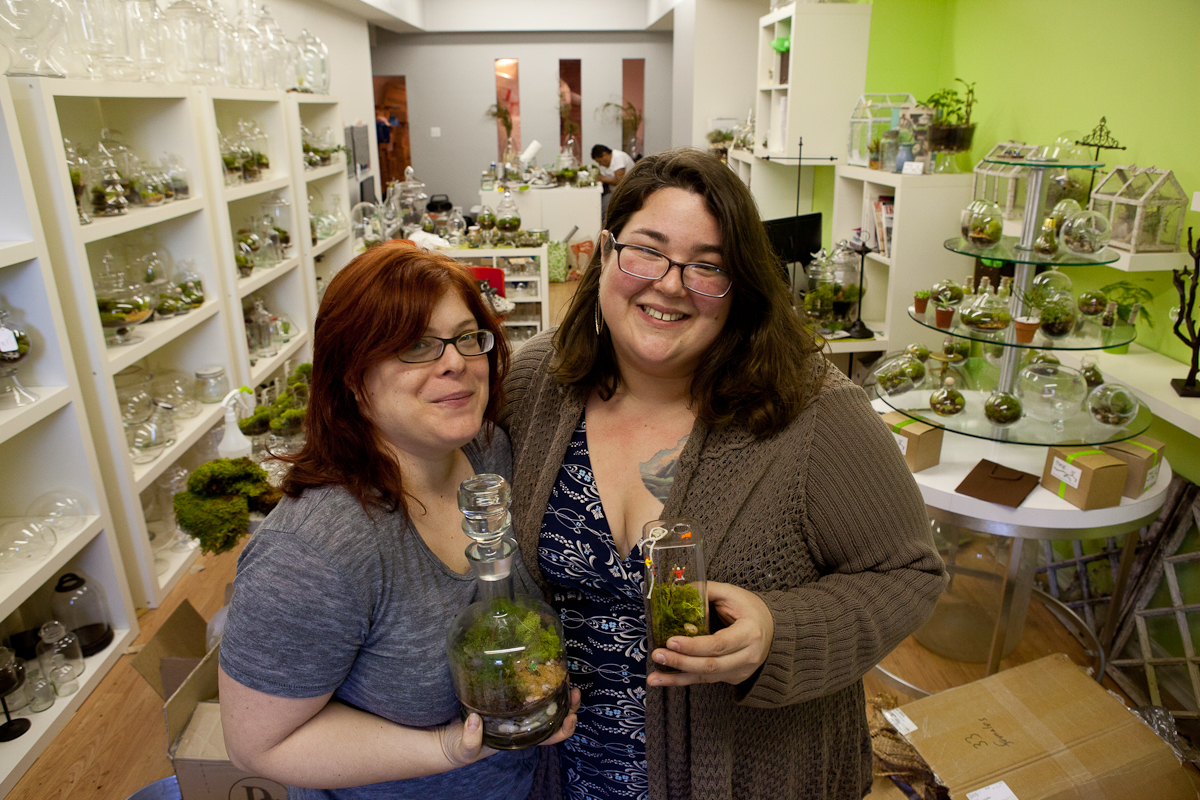 Interview with owners of Twig Terrariums, Michelle Inciarrano and Katy Maslow.
Where do you get the ideas for the scenes?
Maslow: I had a dream a couple weeks ago about an octopus killing people. So, I found a little rubber octopus and made the boaters flying out of the boat and made this whole terrarium around it. Sometimes it's customers. We do so much custom work. One time we recreated someone's dream, where someone's recently deceased father was handing over a giant lion to the little girl and they're all outlined in gold. So many speak to a person's hobbies or a person's interests. This one woman had a creating one for her friend who lost all three of her pets this year, a place, a little pet heaven, where all of her animals are running around and happy. It's kind of a way to make a snap shot of…
Inciarrano: A moment.
Maslow: And something that you really, really love. As much as we love irony, we really just love something that is beautiful.
What are some of your favorites?
Maslow: The guy holding "The End is Near" sign will always be one of my favorites because he's in his own little world that's not going anywhere. Making unicorns and zombies is awesome. Making people and their families is great. For the scenes, we tell people sky's the limit. We do hobos to hikers to hookers, and everything in between.
Inciarrano: One of the scenes I made recently was really cute, two parachuters where the male parachuter was stuck in the tree, which actually happened to the person that was buying the terrarium. People have some amazing ideas, so they come to us to recreate them. 
What is the process of making a terrarium?
Maslow: Terrariums are made in layers, each one is very important and every single step is important to its longevity. We've based all this on trial and error and experimenting. For the moss terrariums you mist theme every few weeks, keep them out of direct sun and they're hunky dory.
Can you turn any piece of glass into a terrarium?
Maslow: The "terrarible glass." We've been known to repurpose lab glass. I like to gut and waterproof gum ball machines. We love using apothecary jars from any era. New glass, vintage, crystal glass, hand-blown glass. Repurposed kitchen ware, cake stands and cupcake stands. We use little eggs, which are a reproduction of a vintage glass from the '70s that was made for making terrariums, because making terrariums was huge in the '70s. They are our favorite thing to make a terrarium in because they are a perfect new world.
Where does your moss come from?
Maslow: We go mossing. We also have freelance mossers. "Mosseesome." It is not legal to take from public and private land, so we only get it where we have permission.
Where do you get the figures in the terrariums?
Maslow: That is our little secret. They're from tiny town, and we are the mayor. We like to constantly challenge ourselves and come up with new and interesting ideas. We want to get better and improve as terrarists, and get more and more elaborate with our scenes, get more and more detailed without figurines.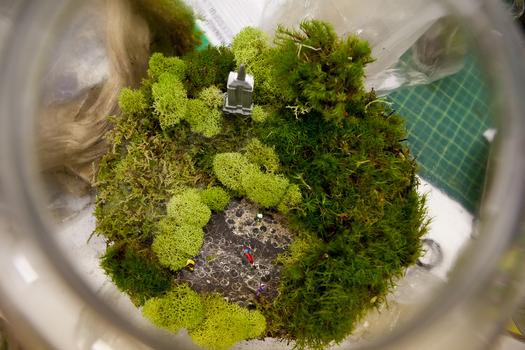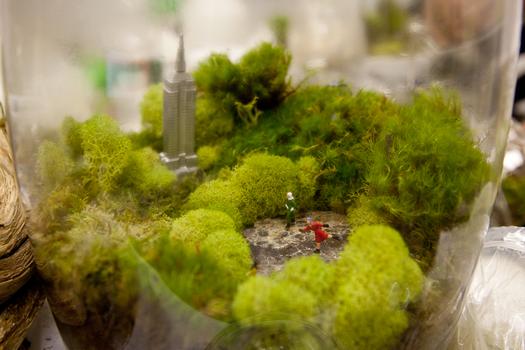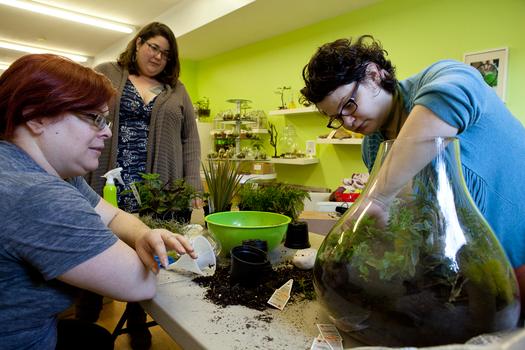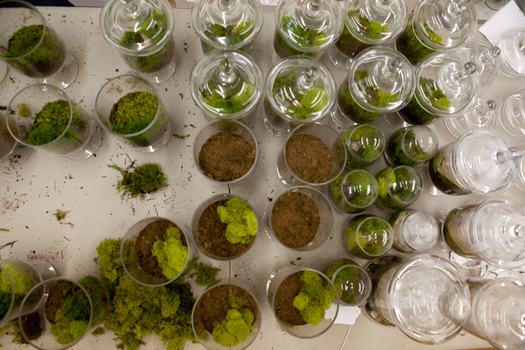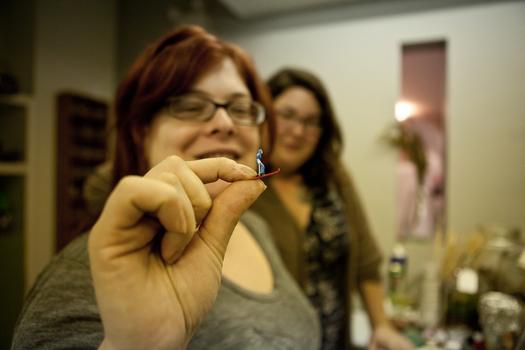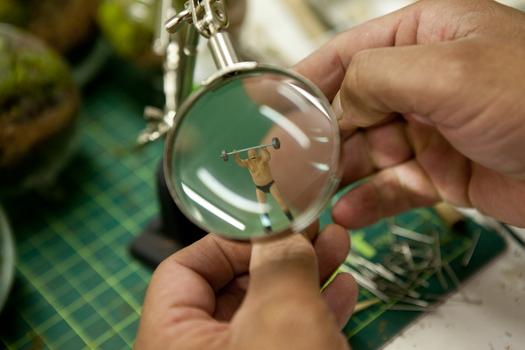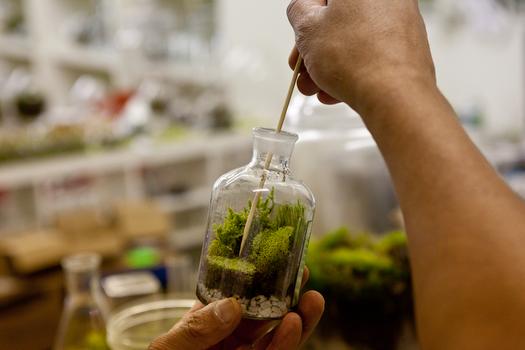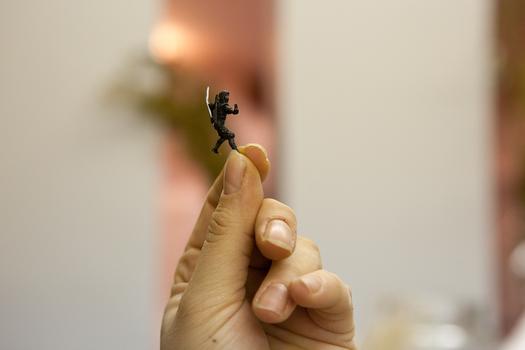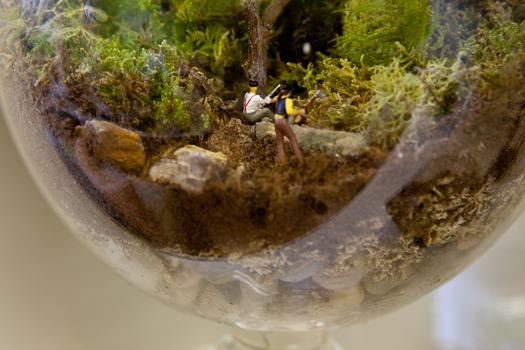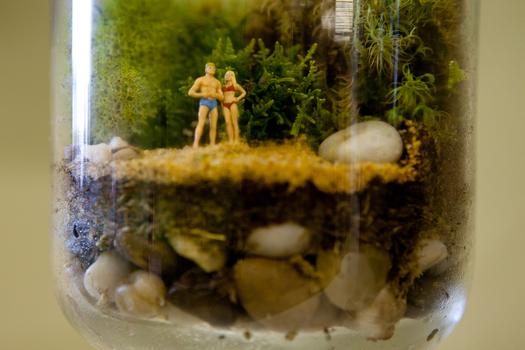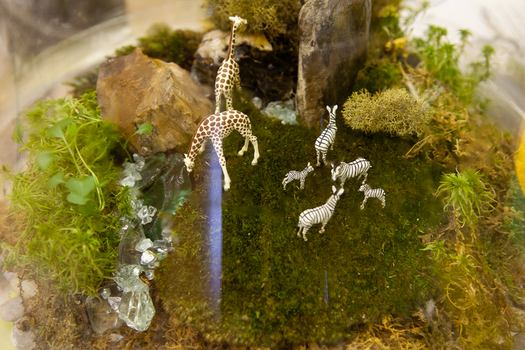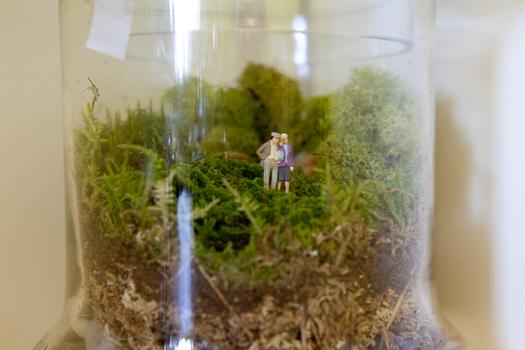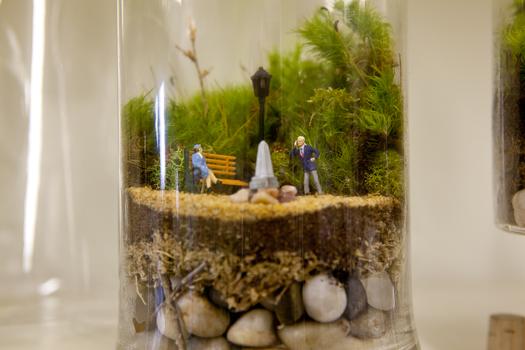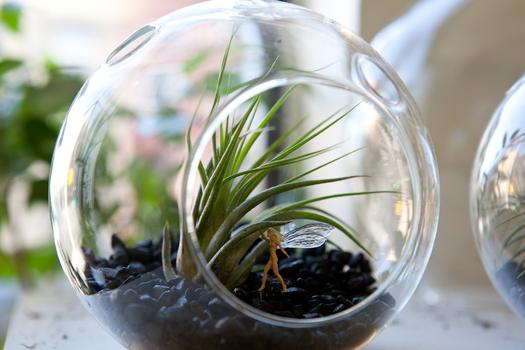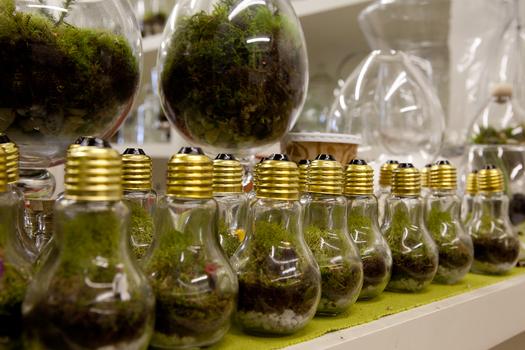 of