Cornell Wins City's Science Campus Contest
Mayor Michael Bloomberg declared Cornell University the winner of a competition to build an applied sciences campus in New York City.
The mayor announced the selection of Cornell and its partner, the Technion - Israel Institute of Technology, Monday afternoon.
"It promises to create a beehive of innovation and discovery, attracting and nurturing the kind of technical talent that will spawn new companies, create new jobs and propel our city's economy to new frontiers," Bloomberg said.
The proposal includes an an 11 acre campus on Roosevelt Island that, according to Cornell's October proposal, "will eventually grow to more than 2 million square feet on Roosevelt Island, accommodating, at full build-out, nearly 2,000 graduate students and 250 faculty, as well as visitors and corporate researchers."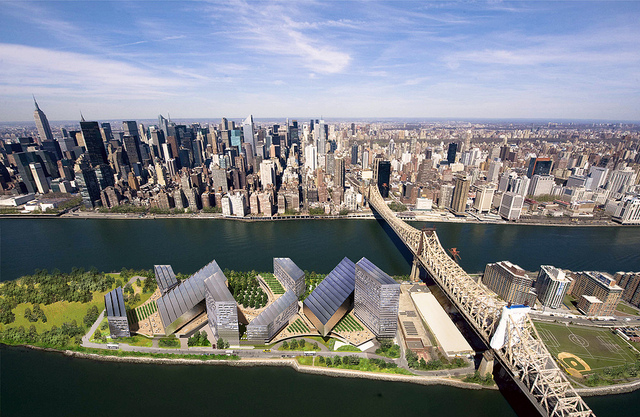 (Aerial Rendering of New Cornell University-Technion Applied Sciences Campus on Roosevelt Island./ Courtesy of the NYC Mayor's Office)
Bloomberg added that this campus would transform Roosevelt Island and be "a game changer" for the city in the long run. "A new analysis conducted conducted by the city's Economic Development Corporation predicts that it will generate more than $23 billion in economic activity over the next three decades,a s well as $1.4 billion in total tax revenues."
The city is not ruling out the possibility that another of the proposals could be approved later on.
"The competition is not over," Bloomberg said. He added that the city is in "active discussions" with NYU, Columbia and Carnegie Mellon.
Cornell said Friday it had received a $350 million donation for its plan.
The city hopes to spark a boom in technology and science entrepreneurship. The winners will receive nearly-free land and up to $100 million in city improvements.
Seven universities and consortia submitted bids.
With reporting from Jim O'Grady and the Associated Press